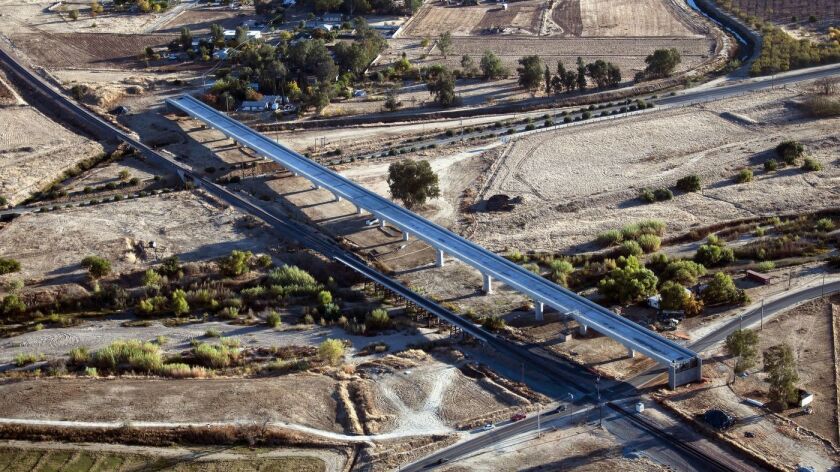 Good morning, and welcome to the Essential California newsletter. It's Thursday, Feb. 14, and here's what's happening across California:
TOP STORIES
It was billed as the most ambitious public works project since the transcontinental railroad opened up the West. But bite by bite, huge cost overruns, mismanagement, political concessions and delays ate away at the sleek and soaring vision of a bullet train linking San Francisco to San Diego. A project meant to drive home California's role as the technological vanguard of the nation was looking more and more like a pepped-up Amtrak route through the Central Valley. During his first State of the State address on Tuesday, Gov. Gavin Newsom announced he was scaling back the $77-billion project. While his wording was open to interpretation, it signaled to many a death knell not necessarily of the project itself, but to that original dream. Los Angeles Times
Plus: After Newsom announced plans to scale back the high-speed rail project, President Trump demanded that California return billions of dollars to the federal government. In a tweet Wednesday, Trump said the state had been forced to cancel the project and referred to it as a "green disaster." Newsom fired back in his own tweet, decrying what he called "fake news." Los Angeles Times
A closer look at the sheriff's numbers
Los Angeles County Sheriff Alex Villanueva says the jails he now supervises are a dangerous mess: Inmates increasingly are assaulting one another, staff members are suffering more attacks and use of force has gone way up. He also says that his immediate predecessor, Jim McDonnell, covered up data on the jail violence in order to hide the problem from the public. But many of the numbers Villanueva is using to make his case are known to be unreliable. Los Angeles Times
Cracking down on Huawei
The White House is preparing a sweeping executive order that could bar Chinese companies from selling equipment for use in future U.S. telecommunications networks, claiming Beijing could exploit the technology to carry out cyber intrusions and espionage. The main target of the draft order, expected to be released in days, is Huawei, the world's largest telecommunications equipment manufacturer. The order would not affect U.S. consumer electronics companies whose products incorporate components from China. Los Angeles Times
Get the Essential California newsletter »
L.A. STORIES
Wet weather: A storm that forecasters say is the strongest this winter created havoc in Northern California, then descended on Southern California. Los Angeles Times
Plus: Atmospheric rivers are pounding the state. What are they exactly? Los Angeles Times
The tide turns: Three of West Hollywood's five City Council members have called for Mayor John Duran to resign amid allegations that he sexually harassed fellow members of the Gay Men's Chorus of Los Angeles. Los Angeles Times
USC update: As federal regulators continue investigating USC's handling of a campus gynecologist accused of sexual abuse, the university is pressing forward with a $215-million class-action settlement with former patients. Los Angeles Times
A good Valentine's Day read: Fall in love with the work of Yesika Salgado, a Salvadoran poet in Silver Lake. L.A. Taco
IMMIGRATION AND THE BORDER
Headed to the clink: Drug lord Joaquin "El Chapo" Guzman twice escaped from prison in Mexico. With his conviction on drug trafficking and murder charges in U.S. federal court this week, he is likely headed to a much more secure facility: the so-called "Alcatraz of the Rockies." Los Angeles Times
POLITICS AND GOVERNMENT
Rough stuff: Michael Avenatti agreed to relinquish financial control of his longtime law firm hours after a former partner filed papers accusing him of hiding millions of dollars from the court that oversaw its bankruptcy. Los Angeles Times
A wild wall: Can Democrats prevent Trump from using his executive power to build a wall? Los Angeles Times
Gross: All that trash on Bay Area highways? Caltrans is under threat of fines if it's not cleaned up. San Francisco Chronicle
CRIME AND COURTS
Big news: Los Angeles County supervisors this week narrowly approved tearing down the dungeon-like Men's Central Jail downtown and building at least one mental health treatment facility in its place. Los Angeles Times
Manhunt ends: A man who was placed on the FBI's Ten Most Wanted list when he skipped bail after his arrest in connection with a series of sexual assaults in the Los Angeles area was shot and killed by federal agents in North Carolina, authorities said Wednesday. Los Angeles Times
Wild: Billionaire Henry T. Nicholas III was charged in Las Vegas with multiple counts of narcotics trafficking six months after police discovered heroin and meth in the Broadcom co-founder's massive suite at the Encore hotel. Los Angeles Times
Arrested: A 20-year-old North Carolina man who federal authorities say is part of a hacker collective was arrested Tuesday and charged with threatening Southern California schools and Los Angeles International Airport. Los Angeles Times
Trouble in Fresno: Is Granite Park still cursed? The Fresno district attorney is reviewing an audit tied to a local developer and newly elected Rep. TJ Cox. Fresno Bee
THE ENVIRONMENT
A helping hand: Gov. Newsom signed a pair of bills into law to immediately provide $131.3 million in funding to expand access to clean drinking water, improve emergency preparedness and support wildfire-ravaged communities. Los Angeles Times
CALIFORNIA CULTURE
RIP: Opportunity, the intrepid NASA rover that spent 15 years on Mars climbing in and out of craters to gather evidence of the planet's watery past has been brought down by tiny particles of dust. Los Angeles Times
Laker trouble: Luke Walton's job is said to be safe, even as the Lakers keep losing games. Los Angeles Times
Be like Mike: LeBron James wants to own an NBA team. ESPN
Not just for the office pool: New Jersey has become the first state in the United States that will take legal Oscars bets. Associated Press
Plus: How Hollywood's diversity push is also changing the makeup industry. NBC News
Troubling story: Musician Ryan Adams dangled success. Though the musician denies wrongdoing, women say they paid a price. New York Times
CALIFORNIA ALMANAC
Los Angeles area: rainy, 63, Thursday; rainy, 57, Friday. San Diego: rainy, 63, Thursday; cloudy, 61, Friday. San Francisco area: showers, 56, Thursday; showers, 52, Friday. San Jose: showers, 60, Friday; showers, 52, Friday. Sacramento: thunderstorms, 55, Thursday; showers, 52, Friday. More weather is here.
AND FINALLY
Today's California memory comes from Dorothy Daily:
"Arroyo Seco Parkway, one of the first, if not the first, freeways. My mother drove our 1936 Dodge from Pasadena to downtown Los Angeles to do our annual school shopping. I don't think we passed more than two dozen cars. Of course it was wartime (1942-1944) and gas and tires were rationed. After shopping at the May Co. we had lunch at Clifton's cafeteria. My favorite was the orange sherbet."
If you have a memory or story about the Golden State, share it with us. Send us an email to let us know what you love or fondly remember about our state. (Please keep your story to 100 words.)
Please let us know what we can do to make this newsletter more useful to you. Send comments, complaints and ideas to Benjamin Oreskes and Shelby Grad. Also follow them on Twitter @boreskes and @shelbygrad.
---