Newsletter: Essential California: Guess who's been a big investor in the National Enquirer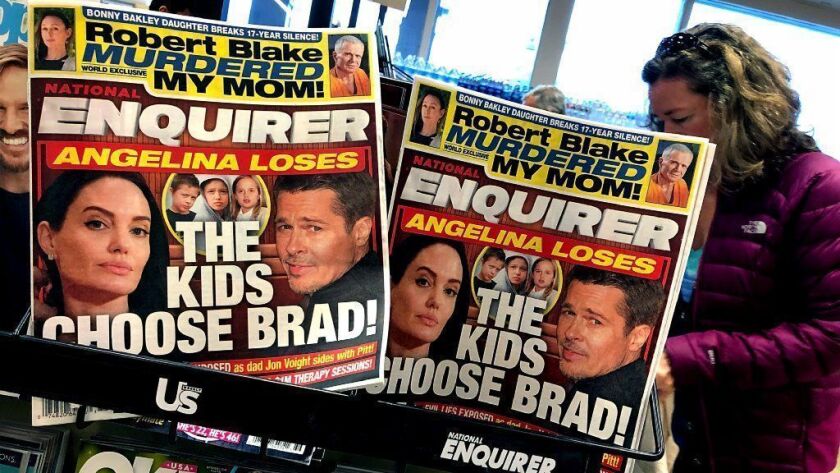 Good morning, and welcome to the Essential California newsletter. It's Friday, Feb. 22, and here's what's happening across California:
TOP STORIES
In 2016, as the National Enquirer tried to boost Donald Trump to the presidency — at one point paying $150,000 to silence one of Trump's alleged mistresses — the controversial tabloid had a surprising financial backer supporting the company: California taxpayers and state employees. The state's public pension fund, CalPERS, has been one of the biggest Wall Street investors helping prop up the National Enquirer's debt-laden parent company in recent years, according to public records reviewed by The Times. Through an investment managed by a New Jersey hedge fund, California's public pension fund appears to have owned as much as one-third of the National Enquirer's parent company, American Media Inc., during the election year in 2016 — a disclosure that is likely to agitate liberal-leaning taxpayers and state employees whose contributions fund California pensions. It is not clear whether CalPERS continues to hold a major stake in the tabloid publisher. Los Angeles Times
You can buy what?
Facebook makes money by charging advertisers to reach just the right audience for their message — even when that audience is made up of people interested in the perpetrators of the Holocaust or explicitly neo-Nazi music. Despite promises of greater oversight following past advertising scandals, a Times review shows that Facebook has continued to allow advertisers to target hundreds of thousands of users the social media firm believes are curious about topics such as "Joseph Goebbels," "Josef Mengele," "Heinrich Himmler," the neo-nazi punk band Skrewdriver and Benito Mussolini's long-defunct National Fascist Party. Los Angeles Times
Looking for a new leader
There's at least one thing California Republicans can still agree on these days: To recover from brutal midterm losses, they need to raise a lot more money. But when delegates vote to elect the party's next chair this weekend, they'll be weighing pitches from candidates with very different views on just how to put Republicans on the offensive again in a blue state that's a reliable cash machine for Democrats. Los Angeles Times
Get the Essential California newsletter »
L.A. STORIES
Wild weather: Grab your warm jackets, because Southern California had a snow day. Los Angeles Times
Not the first time: In 1949, Angelenos got a rare taste of snow at home. Los Angeles Times
Trojans at a crossroads: USC athletic director Lynn Swann's words ringing hollow in tough times, writes columnist Dylan Hernandez. Los Angeles Times
History lesson: A look back at Charlotta Bass, the fearless newspaper publisher who crusaded against racist housing laws. Curbed LA
IMMIGRATION AND THE BORDER
Nope, didn't work: The Trump administration's plan to shrink the ballooning backlog of immigration cases by pushing judges to hear more cases has failed, according to the latest data, with the average wait for an immigration hearing now more than two years. Los Angeles Times
Plus: "After nearly two years of delays, the Trump administration is moving ahead with its plan to stop granting work permits to the spouses of many high-skilled visa holders, an effort that could jeopardize tens of thousands of immigrant families in California alone." San Francisco Chronicle
Good news for these people: Nearly a dozen Iranians who had been denied asylum in the United States despite a special program for religious minorities have landed in Los Angeles after having their cases reconsidered. Los Angeles Times
POLITICS AND GOVERNMENT
By the Bay: The Oakland teachers strike is putting new pressure on California to fix school funding. Los Angeles Times
Abcarian says: On the campaign trail, Sen. Kamala Harris tried on a sequined jacket, and men went nuts. Los Angeles Times
One thing the DMV does quickly: The California Department of Motor Vehicles is getting its third leader in 32 days. Sacramento Bee
The big picture: Trump's war on California. Politico Magazine
CRIME AND COURTS
Crackdown: Federal authorities announced the arrests of several doctors and other health professionals in California and two other states in connection with prescribing opioids that led to overdose deaths. Los Angeles Times
New take: A landmark new police transparency law should apply to internal investigations of officer shootings and misconduct cases that occurred before this year, California Atty. Gen. Xavier Becerra argued in a new court document. Los Angeles Times
In Napa County: A man who opened fire on a sheriff's deputy standing outside his car window during a traffic stop was in the U.S. illegally and had been deported three times, authorities said. Los Angeles Times
THE ENVIRONMENT
Falling apart: Already-faltering negotiations between the Trump administration and California aimed at resolving a dispute over fuel-economy standards have broken down completely, the White House said Thursday. Los Angeles Times
CALIFORNIA CULTURE
Why she resigned: When Lisa Borders announced her resignation this week as the inaugural chief executive of Time's Up, she cited a need "to address family concerns that require my singular focus." It turns out sexual misconduct allegations against her son prompted the resignation. Los Angeles Times
Frank Gehry at 90: Aging, music and the one building he most wants to design. Los Angeles Times
Before the big show Sunday: What went wrong for "A Star Is Born" on the road to the Oscars. Los Angeles Times
Prized pupil: The Lakers' Kyle Kuzma is out to prove the doubters wrong. Sports Illustrated
Great shots: "California Love with Nipsey Hussle and Lauren London." GQ
Big new acquisition: How and why the Padres went after Manny Machado. San Diego Union-Tribune
CALIFORNIA ALMANAC
Los Angeles area: Sunny, 61, Friday. Partly cloudy, 62, Saturday. San Diego: Sunny, 59, Friday. Sunny, 61, Saturday. San Francisco area: Sunny, 54, Friday. Partly cloudy, 55, Saturday. San Jose: Sunny, 56, Friday. Partly cloudy, 58, Saturday. Sacramento: Sunny, 56, Friday. Partly cloudy, 57, Saturday. More weather is here.
AND FINALLY
Today's California memory comes from Larry Powers:
"I lived in Los Angeles during the 4th grade [1968/1969?]; that year was probably the high-water mark of my academic and social career. My teacher, Mr. Marquise ['MAR-kwih-see'] saw that another student (a Hispanic American male) and I (who were in the 'gifted students' program) were bored during math class. He told us to work at our own pace through the textbook. So, we raced through that textbook, with Mr. Marquise grading our work, and granting/denying us permission to do the next lesson, based on the scores we achieved. We finished the textbook in March, and for the rest of the year Mr. Marquise taught us from the 5th-grade math book. My family moved away from California that summer; in my new school, the curriculum taught some of the stuff in the 6th grade that I had learned, under Mr. Marquise, in the 4th. I have learned under many great teachers; Mr. Marquise was the best. (Although I hope that Miss Benatovich, Mrs. Toth, Mrs. Sevades, Mrs. Burgess, Mrs. Kaplan, Mrs. Villela, Mrs. Swann, Mr. Toler, Mrs. Peterson, Mr. Phillips, Miss Smart, Mr. Weber, Mrs. Jeschke and Mrs. French don't hear or read that I've said such a thing, considering what they — along with others whose lessons I learned, but whose names I've forgotten — did, for me.) But he was the first one who let me (and helped me) 'work at my own pace.' Academic achievement and competition make learning a pleasure. (Note: I say that, even though 'the other guy' finished that math book ahead of me in Mr. Marquise's class. I might have been 'the loser' in that competition, but the experience of working as hard as I could, as fast as I could, on a project in which it was an honor and a privilege just to be a participant felt pretty good.)"
If you have a memory or story about the Golden State, share it with us. Send us an email to let us know what you love or fondly remember about our state. (Please keep your story to 100 words.)
Please let us know what we can do to make this newsletter more useful to you. Send comments, complaints and ideas to Benjamin Oreskes and Shelby Grad. Also follow them on Twitter @boreskes and @shelbygrad.
---