Newsletter: Essential California: When a killing near school hits home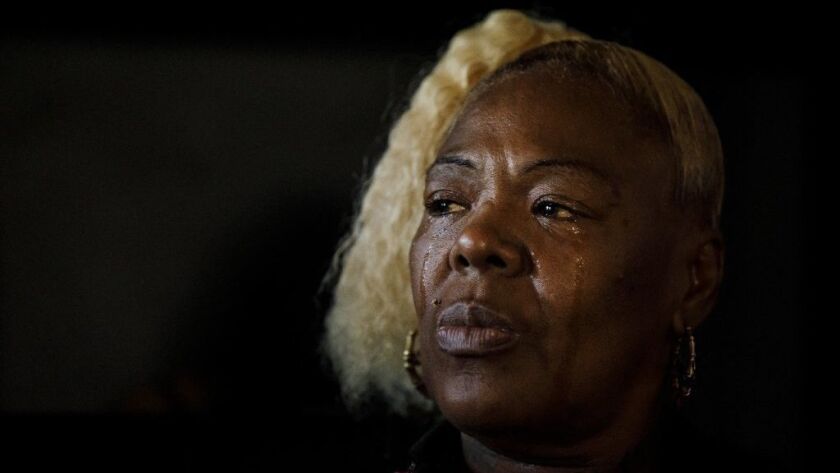 Good morning, and welcome to the Essential California newsletter. It's Thursday, Feb. 28, and here's what's happening across California:
TOP STORIES
Brigitte Green hasn't entered her son's bedroom since she replaced his doorknob with a lock. That was the day she returned home from the hospital without him. Her son, Monyae Ikeyli Jackson, was 15. As he and three friends walked from a party early on Mother's Day last year, they were gunned down. Two survived. Monyae and La'marrion Upchurch, also 15, were killed.The deaths shook nearby schools in Los Angeles and left friends shattered. They left Green grieving, while she tries to keep the rest of her family going. Los Angeles Times
Plus: How should journalists write about killings near schools? The students weigh in. Los Angeles Times
Violence in juvenile detention
Violence at times erupts with little warning inside Los Angeles County's juvenile detention halls and camps. That's what happened one February night two years ago as Edgar Arrondo — then a senior guard at a sprawling facility in Sylmar — walked a teenage detainee to a mental health evaluation. A rival gang member charged at the teen, ignoring Arrondo's verbal warnings. The youths collided. A fight ensued. Without backup, Arrondo tried to break it up — without using pepper spray — because one juvenile might have been taking psychotropic medicine. He absorbed heavy punches. When a third youth joined the fracas, Arrondo's head got slammed into a wall and then the floor, landing him in the emergency room with a concussion. He ultimately retired early from Barry J. Nidorf Juvenile Hall. Los Angeles Times
More wild weather
Days of torrential rain stemming from a strong winter storm that's hammered Sonoma County has swelled the Russian River past flood stage, sending water spilling over its banks and inundating nearby communities, authorities said Wednesday. Officials ordered people living in about two dozen areas near the river to evacuate Tuesday in preparation for what could be the worst flood in the region in more than 20 years. Officials staffed extra deputies and dispatchers to help with evacuations and field emergency calls, while two boats were deployed to the lower Russian River to get people out. Los Angeles Times
Plus: Atmospheric river storms pounding Northern California with rain have also brought epic snow to the Sierra. Los Angeles Times
L.A. STORIES
Lawsuit filed: The mother of a gay black man who died in the West Hollywood home of Ed Buck has filed a wrongful-death lawsuit against the longtime Democratic donor, alleging he was a drug dealer who injected her son with a fatal dose of crystal methamphetamine. Buck's attorney said in an email that he and his client "categorically deny each and every allegation." Los Angeles Times
Get the Essential California newsletter »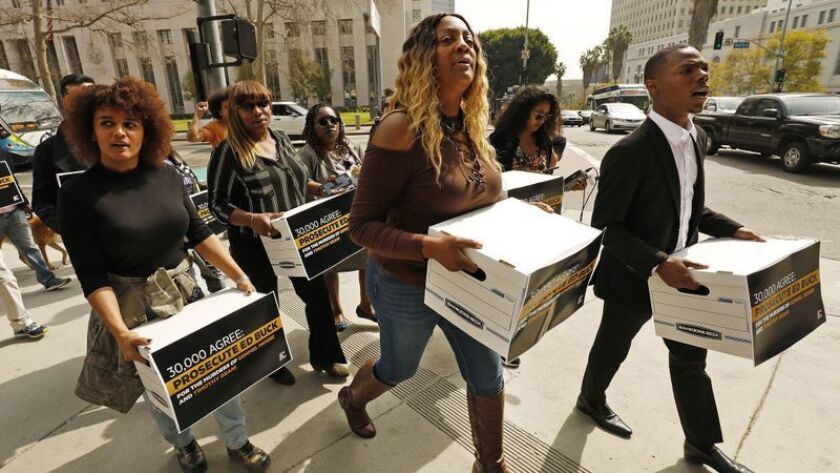 In DTLA: A mural that depicts a Grim Reaper wearing a cloak covered with Stars of David, holding what appears to be a dead baby and a missile, was blasted by Los Angeles Mayor Eric Garcetti's office as a "shameful act of anti-Semitism." Los Angeles Times
No new ideas: "Beverly Hills, 90210" is being revived by Fox, but with a twist. Los Angeles Times
IMMIGRATION AND THE BORDER
Construction update: Trump's border wall prototypes will be demolished to make way for newly begun construction of a secondary barrier, according to a Customs and Border Protection spokesman. San Diego Union-Tribune
POLITICS AND GOVERNMENT
The best-laid plans: California is aiming for 100% renewable energy. But San Bernardino County may adopt new regulations strictly limiting big solar farms. Los Angeles Times
Out of the gate: For Sen. Kamala Harris, "a strong start, but with some notable stumbles." New York Times
Plus: Harris "is trying to monopolize Democratic money in the donor-rich state, fueling her campaign and cutting off rivals." Politico
Madam Speaker: Nancy Pelosi, the Rolling Stone interview. Rolling Stone Magazine
In D.C.: In the latest round of a 25-year battle to save the California desert, House lawmakers approved a sweeping conservation bill that designates more terrain for wildlife and off-roaders alike and sets the stage for a final signature by President Trump. Los Angeles Times
CRIME AND COURTS
Shocking stuff: Hundreds of inmates at the Terminal Island federal prison on the harbor front spent much of the last month in frigid cells without a heating system. Los Angeles Times
Sentenced: A California ISIS supporter who spent two years plotting to kill 10,000 people with bombs, arson and poison was jailed for 15 years Tuesday. Daily Mail
Bear country: A conservative activist was punched in the face at UC Berkeley. The response enraged the right. Washington Post
THE ENVIRONMENT
Steve Lopez reports: There's a new tactic in Hollister Ranch's attempt to limit beach access: Dump the judge. Los Angeles Times
Spooky scary: "Seven active volcanoes in California could pose a threat to nearly 200,000 people who live, work or pass through California's volcanic hazard zones on a daily basis, a new report by the U.S. Geological Survey says." Weather Channel
On the prowl: Think you don't live near mountain lions in California? Think again. Sacramento Bee
CALIFORNIA CULTURE
Big court decision: In a ruling that could have widespread repercussions in the TV industry, Fox has been hit with a $178.7-million judgment in its profit participation dispute with the team behind the hit series "Bones." Los Angeles Times
Looking back: A year after Frances McDormand's Oscars speech, are inclusion riders making progress? Los Angeles Times
On the tube: What can "True Detective" tell us about race? The Ringer
Down on the farm: Ventura County helps keep farming alive in Southern California. KCET
CALIFORNIA ALMANAC
Los Angeles area: cloudy, 65, Thursday; cloudy, 65, Friday. San Diego: partly cloudy, 67, Thursday; cloudy, 65, Friday. San Francisco area: cloudy, 55, Thursday; cloudy, 57, Friday. San Jose: cloudy, 58, Thursday; cloudy, 62, Friday. Sacramento: cloudy, 58, Thursday; cloudy, 60, Friday. More weather is here.
AND FINALLY
Today's California memory comes from Donna Lynn Gingeresky:
"I moved to Atascadero in 2008 from upstate Cropseyville, N.Y. For years, I vacationed in Cape Cod, and so that was my happy place. I planned to have my cremated ashes spread in the Provincetown Harbor. Well, now living here on this amazingly scenic Central Coast, specifically Green Valley Road with all green rolling hills, and wildflowers and Morro Bay Rock in the distance, it is such a sight to behold. It is magical and almost feels like what I imagine Heaven to be. And so my final resting place will now be in these gorgeous California hills."
If you have a memory or story about the Golden State, share it with us. Send us an email to let us know what you love or fondly remember about our state. (Please keep your story to 100 words.)
Please let us know what we can do to make this newsletter more useful to you. Send comments, complaints and ideas to Benjamin Oreskes and Shelby Grad. Also follow them on Twitter @boreskes and @shelbygrad.
---