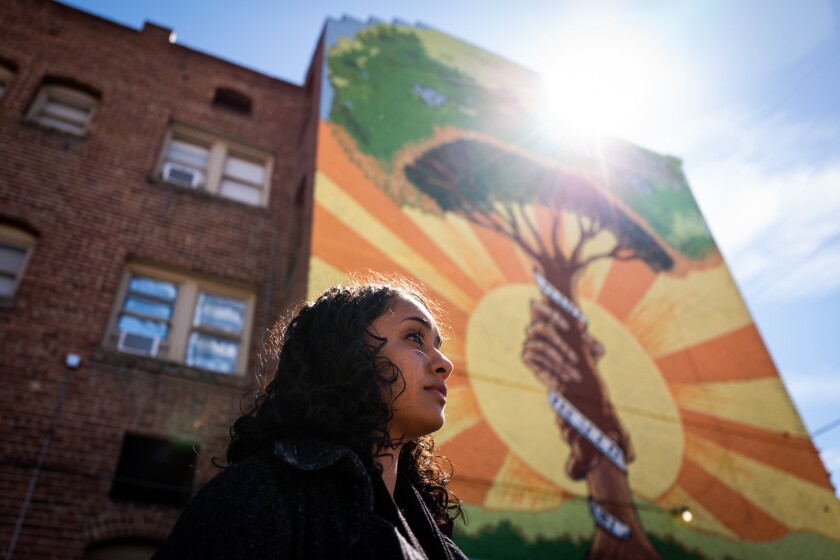 Good morning, and welcome to the Essential California newsletter. It's Monday, April 15, and here's what's happening across California:
TOP STORIES
The city of Stockton has begun participating in a test of a universal basic income, giving $500 a month to 130 residents. Whatever happens, it is likely to inform the national political conversation. Basic income and reparations have become hot topics among top presidential candidates.The pilot program also could create a road map for implementing basic income policies in other cities or on a national scale. Los Angeles Times
Winter is here
The first episode of the last season of "Game of Thrones" appeared last night, and ending a major hit show is not easy for any network. But the departure of the show comes at a critical crossroads for HBO. The network has a new owner, and its longtime status as the most distinctive brand name in television can no longer be taken for granted. It has been not only a cultural touchstone, but also a ratings behemoth for HBO. Los Angeles Times
Review: The show has returned with urgency, reunions and dragon joyrides. Los Angeles Times
Plus: They did what? Some 1.2 million "Game of Thrones" fans have signed up to learn High Valyrian, which was created by a UC Berkeley grad. SF Gate
Hollywood's leading candidate
Sen. Kamala Harris of California drew some of the most powerful players in Hollywood to her recent reception at the Pacific Palisades home of filmmaker J.J. Abrams of the "Star Wars" franchise. Television producer Shonda Rhimes, actress Elizabeth Banks and music giant Quincy Jones were among the guests. Harris, who lives in Los Angeles, has emerged as the entertainment industry's early favorite in the swelling field of Democrats running for president, according to some of the party's top Hollywood fundraisers. Los Angeles Times
Plus: Harris has released 15 years of tax returns, offering a glimpse into how the California public servant ascended the financial ranks to become a multimillionaire. Los Angeles Times
Get the Essential California newsletter »
L.A. STORIES
A column from South L.A.: The loss of Nipsey Hussle, and the neighborhood's alternative histories. Los Angeles Times
A longtime reality: UCLA knew of a cash-for-admissions deal, years before the scandal. Los Angeles Times
Quite the tale: Yasiel Puig left behind a complicated Dodgers legacy. Los Angeles Times
IMMIGRATION AND THE BORDER
The sanctuary plan: President Trump still "likes" the idea of transferring immigrants in the U.S. illegally to so-called sanctuary cities like San Francisco, White House Press Secretary Sarah Huckabee Sanders said Sunday. Los Angeles Times
The reality outside Washington: Uncertainty plagues families who worry immigrant detainees in Southern California will be sent out of state. Orange County Register
POLITICS AND GOVERNMENT
Important story: After a second recall, the Toyota Prius electrical system is still overheating. Los Angeles Times
LOL: Is that Katie Porter or Katie Hill? Two new California congresswomen keep getting mixed up. Los Angeles Times
Billions missing: Democrats have a lot riding on California's tax day revenues. Los Angeles Times
Under pressure: "Stanford University is locked in a dispute with regional officials over whether it is providing enough affordable housing as part of a major planned expansion, drawing one of America's most prestigious institutions of higher education into Silicon Valley's housing crisis." Wall Street Journal
One of the richest cities: "Authorities at San Francisco International Airport are struggling to deal with rising numbers of homeless people arriving at the International Terminal, many of them seeking shelter in the middle of the night after riding BART trains south from the city." San Francisco Chronicle
Opportunity awaits: Amid poverty, gangs and deportation fears, students at a small school keep succeeding. Fresno Bee
CRIME AND COURTS
Full house: As Lori Loughlin's legal problems mount, she faces a fateful choice in the college admissions scandal. Los Angeles Times
Scooter death: A 26-year-old pickup truck driver was held in lieu of $2-million bail in connection with the hit-and-run death of a Lime scooter rider in Hollywood. Los Angeles Times
In La Jolla: "San Diego Unified said for years it had no records of complaints against La Jolla High School teacher Martin Teachworth. Now, it has provided documents showing school police believed he committed a crime against a student and that other students complained about inappropriate touching for years, yet officials took no action against him." Voice of San Diego
THE ENVIRONMENT
Go go go! Joshua Tree's shutdown scars are largely hidden, but its spring glory is not. Los Angeles Times
CALIFORNIA CULTURE
Fun weekend: Check out the highlights from the Los Angeles Times' Festival of Books. Los Angeles Times
Controversy! A decision to affix an American flag graphic to the side of freshly painted Laguna Beach police cars is dividing residents, who are alternately praising the image as patriotic or panning it as too aggressive. Los Angeles Times
History lesson: Something to celebrate? Indians' conflicted feelings about San Diego's 250th birthday. San Diego Union-Tribune
Perspective: The mental illness implications of cannabis use must not be ignored. Cal Matters
A changing festival: Going to Coachella just doesn't mean what it used to. Los Angeles Times
CALIFORNIA ALMANAC
Los Angeles area: Partly cloudy, 69, Monday. Partly cloudy, 66, Tuesday. San Diego: Partly cloudy, 66, Monday. Showers, 64, Tuesday. San Francisco area: Showers, 56, Monday. Partly cloudy, 61, Tuesday. San Jose: Showers, 63, Monday. Partly cloudy, 66, Tuesday. Sacramento: Showers, 60, Monday. Partly cloudy, 68, Tuesday. More weather is here.
AND FINALLY
This week's birthdays for those who made a mark in California: former Rep. David Valadao (April 14, 1977) and Lakers legend Kareem Abdul-Jabbar (April 16, 1947).
If you have a memory or story about the Golden State, share it with us. Send us an email to let us know what you love or fondly remember about our state. (Please keep your story to 100 words.)
Please let us know what we can do to make this newsletter more useful to you. Send comments, complaints and ideas to Benjamin Oreskes and Shelby Grad. Also follow them on Twitter @boreskes and @shelbygrad.
---