Newsletter: Essential California: The all-male, ultra-elite Bohemian Grove meets 2019
Good morning, and welcome to the Essential California newsletter. It's Wednesday, June 12, and I'm writing from Los Angeles.
If and when the revolution comes, the angry masses would be strained to find a better symbol of moneyed, mutually beneficial power than the all-male Bohemian Grove.
It is here, deep in the Sonoma redwoods, that the masters of the universe have gathered every summer for more than a century. Think Davos, but glamping.
San Francisco's all-male Bohemian Club remains one of the most exclusive social clubs in America, providing social cohesion for a power base that extends far beyond the confines of California. Set on 2,700 wooded acres — 75 miles and a world away from modern San Francisco — Bohemian Grove serves as a summer retreat for hundreds of club members and their equally storied guests.
Like the swallows to San Juan Capistrano, oil barons, industrialists and former presidents aplenty have returned to their secretive forest every July since 1878. Richard Nixon's presidential campaign and the Manhattan Project are both said to have emerged out of these woods. Rumored regulars have included Henry Kissinger, various Bushes, the brothers Koch, Supreme Court justices and too many corporate chieftains to count.
(See also: Philip Weiss's legendary 1989 Spy Magazine story "Masters of the Universe Go to Camp: Inside the Bohemian Grove")
Bohemian Grove is a place where men who grew up with their names on buildings can pee on trees and perform bacchanalian rites, unfettered by the pesky presence of women, unlanded gentry or any loser who doesn't know that "the game" obviously refers to Harvard-Yale.
The primeval, handshakes-behind-closed-doors understanding of power embodied by Bohemian Grove may still undergird American society, but it's become increasingly gauche to promote in polite company.
Last week, the legendary men's retreat met an unlikely obstacle in the Sonoma County Board of Supervisors, who questioned approval of a contract for the Sheriff's Department to provide extra security outside the encampment, as they have done since 2004. (The club reimburses the county for use of the four off-duty deputies.)
"I don't see how we can be providing law enforcement for a club that discriminates so blatantly," Supervisor Shirlee Zane said at last week's meeting, when the contract first appeared before the board for routine approval.
In recent years, glass ceilings have been shattered and women the world over have risen up against discriminatory but long normalized status quos. Perhaps it shouldn't be surprising that sleepy Sonoma County now has its first-ever majority-female Board of Supervisors. Or that the women of that board might start raising questions about a "cozy" arrangement with a club that would never have them as members.
"It's not just about men gathering. It's really about the purposeful exclusion of women," Supervisor Lynda Hopkins explained over the phone on Tuesday during a break in the board's daylong budget meeting. Hopkins is the first woman to represent Sonoma's 5th District, which includes Bohemian Grove. She said she reached out to a Grove staffer after last week's board meeting and shared her personal cellphone number, saying she'd be happy to discuss the issue with Grove leadership.
No one contacted her, despite Bohemian Grove being in her district, but she heard "that there were Grove members and Grove leadership calling my male fellow elected officials."
"I became a little bit disenchanted, honestly, with their unwillingness to talk to a female leader about this," she said. [A quick refresher for anyone in the cheap seats: The current year is 2019.]
Ultimately, the board decided Tuesday to approve the security contract with Bohemian Grove, but it made clear that it may be for the last time. Hopkins said that given the tight turnaround time, canceling the contract without advance notice didn't seem fair.
"I personally decided to essentially give notice," she said. "This is the last time that I will vote for this contract unless I am convinced that there is a public benefit, beyond essentially providing private security services for a wealthy, privileged group of men."
And now, here's what's happening across California:
TOP STORIES
San Francisco Mayor London Breed is all but assured to win her bid for a full term in office in a November election. Tuesday was the final day for challengers to qualify for the ballot. She will be joined by "six long-shot" candidates, all of whom "come from outside traditional political circles and will be hard pressed to overcome the advantages of incumbency." San Francisco Chronicle
Sacramento has agreed to pay $5.2 million in an excessive-force lawsuit claiming that cops beat and tased a man into a coma in a 2017 incident. Sacramento Bee
Get the Essential California newsletter »
L.A. STORIES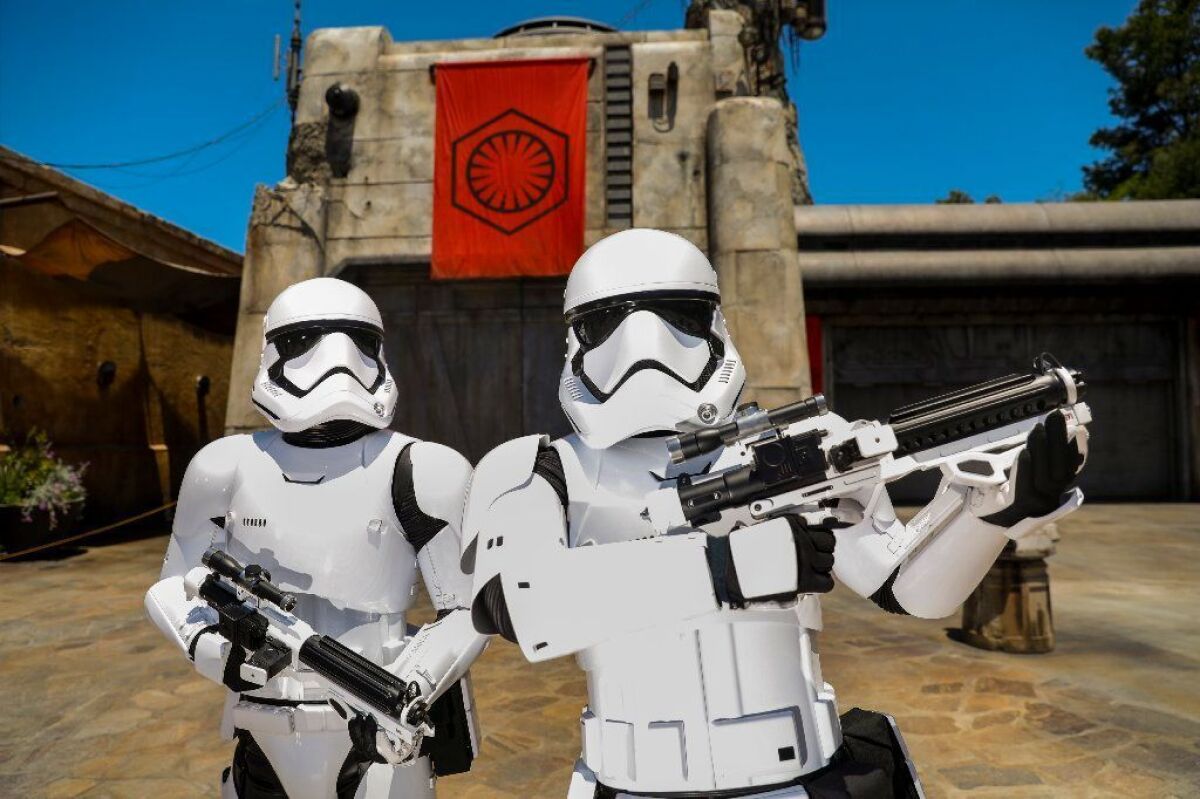 John Williams wrote a new score for Disneyland's Star Wars: Galaxy's Edge attraction, but that's just a fraction of the music that envelops you during a visit. Los Angeles Times
Big time Hollywood talent agency UTA has named art world figure Arthur Lewis as creative director of the UTA Fine Arts and Artist Space. UTA became the first Hollywood agency to launch a fine arts division in 2015. Joshua Roth, who founded the division, died last year. Los Angeles Times
The working witches of Los Angeles just want you to be your best self. Los Angeles Times
Words such as "closure" and "forgiveness" simply aren't in Kim Goldman's lexicon. A quarter of a century after the widely publicized O.J. Simpson murder case, Goldman is still trying to make Simpson pay for the death of her brother, Ron Goldman. Los Angeles Times
USC has named the dean of the University of Pennsylvania's renowned Wharton School as the next leader of the Marshall School of Business. Los Angeles Times
Your support helps us deliver the news that matters most. Subscribe to the Los Angeles Times.
IMMIGRATION AND THE BORDER
Border Patrol agents are dropping off immigrants, mostly Central American, in remote, small California towns to be cared for by nonprofits and local officials. Los Angeles Times
POLITICS AND GOVERNMENT
Civil rights icon Dolores Huerta is focused on a new fight at the state Capitol: clean drinking water. Sacramento Bee
CRIME AND COURTS
A Utah man arrested in the shooting of an L.A. County sheriff's deputy may be linked to a homicide that occurred less than an hour earlier.
At the Ghost Ship trial, a weary dad sits in court every day, missing his daughter. Los Angeles Times
The ACLU is suing Fresno County. The lawsuit alleges that a church was removed as a polling place for the November election after refusing to cover up Black Lives Matter banners on the premises. Fresno Bee
THE ENVIRONMENT
The Bay Area is selling out of air conditioners and fans amid a scorching heat wave. San Francisco Chronicle
See also: More than 17,000 Pacific Gas & Electric Co. customers in the Bay Area were without power Tuesday afternoon. It was unclear what caused the outages, but officials said PG&E crews reported an "increase in heat-related outages." A statewide voluntary flex alert was also issued Tuesday, urging Californians to conserve power during the heat wave. San Francisco Chronicle
The snowmelt this month in Lake Tahoe Basin will probably be massive and dangerous. Sierra Sun
One way to keep plastic out of the ocean: This Manhattan Beach lifeguard tower was built with bricks made from discarded plastic. The Beach Reporter
CALIFORNIA CULTURE
In the lower Russian River town of Guerneville, residents mourn the death of a beloved bartender and unofficial mayor. Santa Rosa Press Democrat
Attention, UC Davis students: Please stop feeding "Cheeto," the ginger cat who hangs out around the physics building. He is very overweight and squirrels are eating the extra food. Sacramento Bee
Here are some of the "extreme methods" Los Angeles real-estate brokers are using to get the city's glut of mega-mansions off the market, including $100K parties, energy cleansings and yoga classes for influencers. Business Insider
Can a new high-end hotel help shape the revitalization of Santa Rosa's downtown district? North Bay Business Journal
A Bay Area couple has planted the largest truffle orchard in California. San Francisco Chronicle
Leave it to the New York tabloids to make Kevin Durant's Achilles injury all about them. SFGATE
Global game phenomenon Fortnite has emerged as the preferred social media platform for tweens, eclipsing Facebook (duh, all the kids left Facebook a long time ago) and Instagram (a little more noteworthy!), according to a new study. (Caveat that, like all studies, this is just a study, and who knows the true ways of the tweens.) The Hollywood Reporter
CALIFORNIA ALMANAC
Los Angeles: sunny, 82. San Diego: partly sunny, 75. San Francisco: partly sunny, 70. San Jose: partly sunny, 88. Sacramento: partly sunny, 101. More weather is here.
AND FINALLY
East is East, and West is San Francisco.
— O. Henry
If you have a memory or story about the Golden State, share it with us. (Please keep your story to 100 words.)
Please let us know what we can do to make this newsletter more useful to you. Send comments, complaints, ideas and unrelated book recommendations to Julia Wick. Follow her on Twitter @Sherlyholmes.
---