Good morning, and welcome to the Essential California newsletter. It's Tuesday, June 25, and I'm writing from Los Angeles.
When the San Francisco Bay Area Rapid Transit system launched in September 1972, BART was hailed as a high-tech system of the Space Age.
The new train cars were downright futuristic when Richard Nixon was in the Oval Office and "MASH" was still a week away from beginning its 11-season run on CBS. But the problem, as any rider of the oft-beleaguered Bay Area transit system knows all too well, is that many of those same cars are still in service today.
And they are decidedly less modern 40-some years later. Which is why there was quite a bit of excitement around BART's shiny new "Fleet of the Future" train cars, an updated replacement that began to (slowly) roll out last year.
In contrast to the legacy fleet, the new train cars offer much more technologically advanced software systems, better AC and a quieter and smoother ride, according to BART spokeswoman Anna Duckworth. "It's like comparing a 1972 Oldsmobile to a Tesla," she said.
Vaishaal Shankar isn't a big Twitter user. But he was excited enough about catching a "Fleet of the Future" train on Monday morning that he tweeted: "Finally get to try the new bart trains! I've been literally waiting months for this. Will live tweet the experience."
The Berkeley graduate student, who was also using his commute to read an academic paper about robotics, tweeted a few stray observations on the new seats and comparative quiet before things took a turn somewhere between the Lake Merritt and 12th Street/Oakland City Center stations.
Suddenly, Shankar was live-tweeting a train breakdown (not that uncommon), followed by an underground train evacuation (extremely rare), which saw more than 400 passengers walking several hundred feet through a dark Oakland tunnel.
If you read a news story on the tunnel evacuation, you probably saw one of Shankar's tweets embedded. The whole thing was "a comedy of errors," according to the 25-year-old, who never expected his commentary to be seen by that many people. (He has just shy of 150 followers on the platform and, before Monday, had only tweeted 78 times.)
[See also: "After 'literally waiting months' for new BART train, passenger live tweets evacuation" in SF Gate]
According to Duckworth, BART won't know exactly what went wrong with the train until it's inspected in one of its yards.
Technicians had initially boarded the train and tried to troubleshoot the problem. "But once it got to be like 30 to 45 minutes, we had to flip how we're thinking and think how are we going to get these riders to where they need to go, because we couldn't get the train started," she explained.
In total, 421 riders were evacuated to a nearby station via an elevated walkway next to the tracks. Luckily, the 12th Street/Oakland City Center station was only a few hundred feet away from where the train had stopped.
Transitioning to the future is rarely seamless. "We understand that people were inconvenienced, and we're really sorry about that," Duckworth said.
And what of BART's wider woes? There are still controversial fare hikes on the horizon, amid declining ridership and a plunging approval rating. But the system did recently pick up $300 million from the U.S. Department of Transportation for vital work on the Transbay Tube, money that will be "crucial to stay ahead of rush-hour crowds through the tube that connects Oakland to San Francisco," according to the San Francisco Chronicle.
And now, here's what's happening across California:
TOP STORIES
After the deaths of 30 horses at Santa Anita, the state Legislature has unanimously approved a bill that would give the California Horse Racing Board the power to suspend or move racing days without a 10-day public notice period. If this bill (SB 469) had passed a few weeks ago, the CHRB would have had the ability to shut down the last two weeks of racing at Santa Anita. The bill still has to be signed by Gov. Gavin Newsom, but he has said that he supports it. Los Angeles Times
Warner Bros. is getting its first female CEO, BBC's Ann Sarnoff. Los Angeles Times
Get the Essential California newsletter »
L.A. STORIES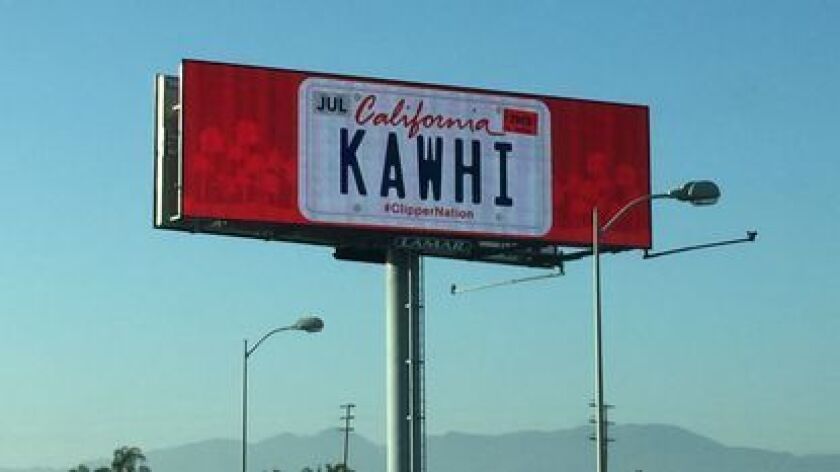 Billboards urging two-time NBA champion Kawhi Leonard to sign with the Clippers have popped up around Los Angeles. Leonard is a Southern California native and will be a free agent if he declines a player option with Toronto for next season. Los Angeles Times
Neuehouse will be opening in the Bradbury Building downtown. The upscale "private club meets co-working space" will take over the second floor of the building. Curbed LA
"The Hills" helped invent the social media influencer. Now what? Many original "Hills" cast members from the early aughts will return for "The Hills: New Beginnings" reboot. But in a meta-twist, they'll also be joined by Mischa Barton. Barton starred in Fox's teen soap "The O.C.," which inspired the reality show "Laguna Beach," which later led to a spinoff called — you guessed it — "The Hills." [Insert ouroboros GIF here.] Los Angeles Times
Your support helps us deliver the news that matters most. Subscribe to the Los Angeles Times.
POLITICS AND GOVERNMENT
The chief executive of Los Angeles County's massive pension fund has been ousted amid tensions and questions. Los Angeles Times
After heated debate, the Fresno City Council advanced an unconventional gun violence prevention program. Valley Public Radio
Caltrans has been paying for its director to commute to Sacramento from her home in San Diego since she was appointed early last year. Sacramento Bee
CRIME AND COURTS
A Sacramento Kings exec accused of siphoning off $13.4 million from team sponsors to purchase lavish beachfront homes in Southern California received a seven-year prison sentence. Sacramento Bee
THE ENVIRONMENT
Air quality has dipped in downtown Sacramento, leading officials to discourage strenuous outdoor activity. Sacramento Bee
CALIFORNIA CULTURE
Stanford is offering a $4.7-billion package in a bid to get Santa Clara County back to the negotiating table. The money would pay for more housing, transportation improvements and school impact fees as part of a campus expansion. Mercury News
A body found in a Northern California river is believed to be that of a veteran automotive journalist who went missing while test-driving a motorcycle for a story several weeks ago. Mercury News
In Idyllwild, a small, mile-high mountain community an hour west of Palm Desert, a beloved local paper is for sale — but only to the right kind of owner, willing to guide its future and "run it like a real newspaper." Desert Sun
How Liam O'Donoghue, producer of the East Bay Yesterday podcast, acts as a tour guide and records stories for posterity. Mercury News
Fresno State is taking applications for the next dog handler to care for the school's mascot, Victor E. Bulldog. Health benefits and a 401(k) plan are provided. ABC 30
Who is "Big Sur Kate?" How an Esalen-going former public defender launched a blog that became the "voice" of Big Sur. San Luis Obispo Tribune
This is what it's like to be a child actor on "Big Little Lies." Huff Post
CALIFORNIA ALMANAC
Los Angeles: partly sunny, 72. San Diego: partly sunny, 68. San Francisco: windy, 70. San Jose: sunny, 81. Sacramento: sunny, 91. More weather is here.
AND FINALLY
Today's California memory comes from Carol Bartlett:
"As a young child in the 1950s, I went with my parents and some other 'grown-ups' to the Brown Derby on Wilshire Boulevard. My grilled cheese sandwich came plated under a miniature felted cardboard brown derby. It was too small for my head and too big for my doll's, but I kept it as a souvenir for ages."
If you have a memory or story about the Golden State, share it with us. (Please keep your story to 100 words.)
Please let us know what we can do to make this newsletter more useful to you. Send comments, complaints, ideas and unrelated book recommendations to Julia Wick. Follow her on Twitter @Sherlyholmes.
---