Newsletter: Essential California: How the famed Crystal Cathedral was reborn as a Catholic church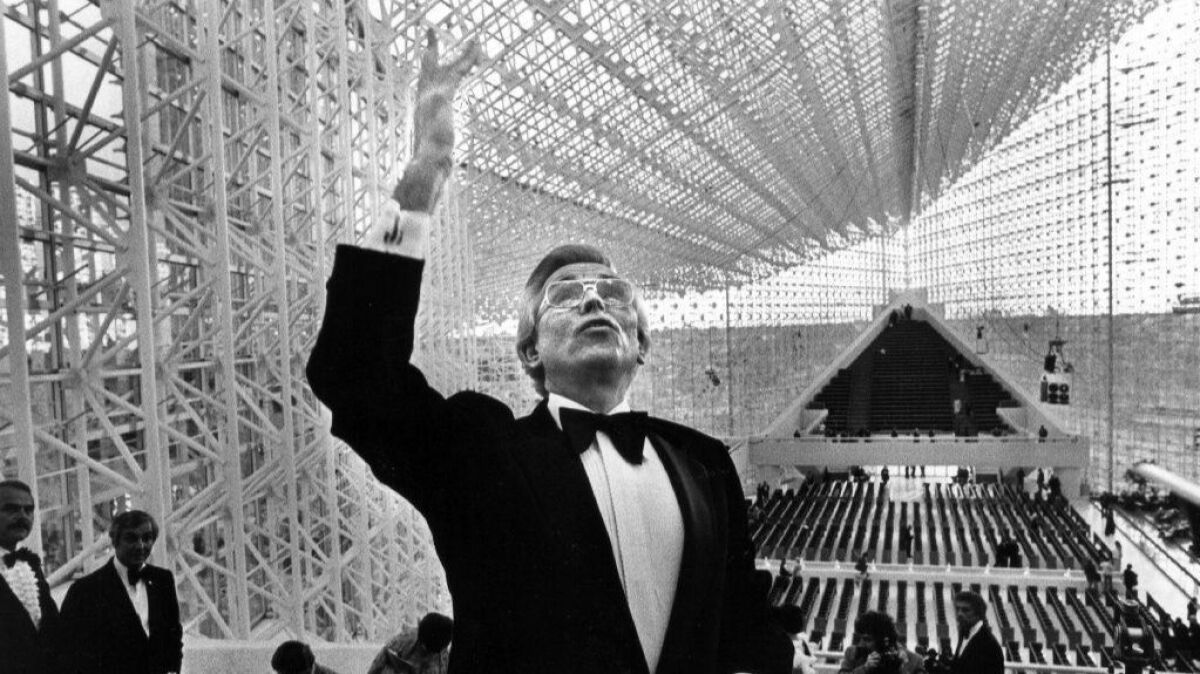 Good morning, and welcome to the Essential California newsletter. It's Thursday, July 11, and I'm writing from Los Angeles.
Next week, the Crystal Cathedral — a Southern California landmark that has long stood at the intersection of kitsch and postmodernism, just three miles from Disneyland — will be officially rededicated by the most unlikely of saviors: the Catholic Church.
When the soaring Philip Johnson-designed megachurch opened in 1980, the Crystal Cathedral was, strictly speaking, neither crystal (the structure is composed of more than 10,000 rectangular panels of glass) nor a cathedral (the Catholic term for a church that houses the seat of the bishop of a diocese).
The Crystal Cathedral's late pastor Robert Schuller called the compound a "22-acre shopping center for God."
Schuller may have been born on an Iowa farm, but he was a California clergyman through and through. And he had a pioneer's understanding of the importance of television and off-street parishioner parking for the purposes of ecclesiastical growth.
Dispatched west to the burgeoning suburbs of Orange County with orders to build a new congregation from scratch in 1955, Schuller met his parishioners where they were — in their parked Chevys, Fords and Pontiacs. He preached from atop the tar-papered roof of the snack bar at a rented drive-in movie theater. The then-fledgling church advertised with the slogan "Come as you are, pray in the family car."
Orange County still had orange groves in 1955, but the suburbs of postwar Southern California were fruitful and multiplied. And Schuller's success exploded with them.
Television was a natural fit for a pastor fluent in spectacle and the mythology of self, and in 1970, Schuller took his sermons wide with his "Hour of Power" show. By the 1980s, it was the most-watched weekly religious program in living rooms across America.
Forget fire and brimstone, this was a gospel of optimism — or "possibility thinking" — that could later be repackaged into bestselling books. At the peak of his reach, Schuller would preach weekly to as many as 20 million viewers in nearly 180 countries.
Schuller was undoubtedly a visionary and an empire builder, but his ascent was also perfectly timed to coincide with larger societal shifts for Californians in the latter half of the 20th century.
He began his car-culture-centric, drive-in sermons in the fledgling Southern California suburbs during the same year Disneyland opened its doors and Ray Kroc launched his first McDonald's restaurant. The Crystal Cathedral building was completed in 1980, the same year Rick Warren started Saddleback Church in southern Orange County. There are now more megachurches in California than in any other state, with the majority of those congregations lodged in the suburbs between Los Angeles and San Diego.
Schuller retired in 2006, and his ministry, like many things near and far from God, ended in all of the usual ways. There was the overly aggressive expansion, the aging congregation, a botched line of succession and all of the money owed to creditors. The Crystal Cathedral Ministries filed for bankruptcy in 2010. The Roman Catholic Diocese of Orange bought the property, which also includes structures designed by Richard Neutra and Richard Meier, two years later.
Schuller died in 2015 at age 88. But his grand creation, now renamed Christ Cathedral, seems to still have an uncanny ability to reflect the changing tides of Southern California. After a $72.3-million renovation, the cathedral will be officially dedicated as the new seat of the Diocese of Orange next week. The interior will look quite different from the backdrop Americans once saw on their television screens. But Orange County itself looks radically different from the image of affluent homogeneity that has long dominated public consciousness.
The county has been majority-minority for more than a decade, with large immigrant populations from heavily Catholic countries. That same demographic shift has helped fuel the growth of the Diocese of Orange, which broke off from the Archdiocese of Los Angeles in 1976. The Diocese is now home to 1.3 million Catholics, making it the 10th largest in the country.
Starting the weekend after the dedication, the Christ Cathedral Parish will celebrate Mass in four languages every Sunday.
And now, here's what's happening across California:
TOP STORIES
The U.S. is preparing to arrest thousands of members of undocumented families, according to reports from homeland security officials. The nationwide raids were previously announced by President Trump and then postponed. New York Times
Uber and Lyft drivers swarmed the state Capitol as a gig workers' rights bill advanced through a Senate committee hearing Wednesday. Assembly Bill 5 would redefine the changing nature of what it means to be an employee in California, forcing Uber, Lyft and other app-based on-demand services to treat their pools of contractors as employees. The bill, which has already passed the state Assembly, still has to pass through another committee before it reaches the Senate floor. Los Angeles Times
Also in Sacramento: Gov. Gavin Newsom's sweeping wildfire plan is on the brink of passage, after less than a week of public debate in the Legislature. San Francisco Chronicle
Get the Essential California newsletter »
L.A. STORIES
Billie Eilish, music's biggest anti-pop star, returns home to L.A. a hero. Los Angeles Times
Will Venice Beach lose a beloved piece of public art? The New Yorker
The "Once Upon a Time in Hollywood" costume designer talks Quentin Tarantino's vision for 1969 Los Angeles. The Hollywood Reporter
How millennials replaced religion with astrology and crystals. Los Angeles Times
Your support helps us deliver the news that matters most. Subscribe to the Los Angeles Times.
POLITICS AND GOVERNMENT
California Rep. Katie Porter has out-raised other vulnerable House Democrats with a $1-million haul in the second quarter of 2019. Porter (D-Irvine) is one of seven California House freshmen who must defend competitive congressional seats in 2020. Los Angeles Times
Plus, a quick "Katie Caucus" refresher for any readers still mixing up the two congresswomen named Katie from Southern California: Katie Porter is the former professor with a district in Orange County; Katie Hill is the longtime homeless advocate who represents a swath of northern L.A. county and a slice of eastern Ventura County. (And a reminder that there are 15 men named John in the House, and we seem to be able to tell them apart just fine.)
House Speaker Nancy Pelosi issued a stern warning about social media sniping to her fellow Democrats during a closed-door caucus meeting: "You got a complaint? You come and talk to me about it. But do not tweet about our members and expect us to think that that is just OK," the California congresswoman reportedly said. NBC News
Gov. Newsom signed a law changing the definition of beer to include varieties fermented with fruit, honey, spices or other foods. Sacramento Bee
Trustees of Marin County's Dixie School District have voted to rename it the Miller Creek Elementary School District. Critics had linked the 150-year-old school district's name to the Confederacy. Santa Rosa Press Democrat
CRIME AND COURTS
Extra officers have been dispatched to Fresno streets after the second gang-related shooting in a week. Fresno Bee
Officials at a Modesto high school are trying to figure out who broke into a Future Farmers of America barn and let out the animals. The pigs fought each other and now have scratches, and two rabbits remain on the lam. KCRA
HEALTH AND THE ENVIRONMENT
The Coastal Commission has ordered Newport homeowners to remove yards from the public beach. Some homeowners have extended their yards as much as 80 feet onto it. Orange County Register
CALIFORNIA CULTURE
The Oildale building that once housed Trout's — a famous Bakersfield honky-tonk — is on the market again for the third time in three years. Could it become a bar again? Bakersfield Californian
(See also: This 2015 essay on a night at Trout's, back when it was still the San Joaquin Valley's last historic honky-tonk.)
Residents in Humboldt County have been alarmed by military helicopters flying low over their homes. The choppers were National Guard units called in to assist in combating illicit cannabis activity. Eureka Times-Standard
The largest publisher of scholarly journals has cut off professors and students across the University of California from accessing those journals amid a dispute. San Francisco Chronicle
SFO eats: Here are the best places to dine at San Francisco International Airport. Eater SF
This store almost exclusively sells local products from the Sacramento region and the so-called North State. Sacramento Bee
CALIFORNIA ALMANAC
Los Angeles: sunny, 82. San Diego: partly sunny, 75. San Francisco: sunny, 69. San Jose: partly sunny, 80. Sacramento: sunny, 94. More weather is here.
AND FINALLY
Today's California memory comes from Brent Bear:
"I grew up on Balboa Island back in the '50s and early '60s. The actor Buddy Ebsen had a house a few doors down from us. Everyone knew all of the kids on the island. We pretty well had the run of it. Every so often Mr. Ebsen would gather up us kids and take us for a ride around the island on his yacht. We would tie up at one of the public piers and pile out for pancakes and waffles. Mr. Ebsen was like the Pied Piper of Balboa."
If you have a memory or story about the Golden State, share it with us. (Please keep your story to 100 words.)
Please let us know what we can do to make this newsletter more useful to you. Send comments, complaints, ideas and unrelated book recommendations to Julia Wick. Follow her on Twitter @Sherlyholmes.
The stories shaping California
Get up to speed with our Essential California newsletter, sent six days a week.
You may occasionally receive promotional content from the Los Angeles Times.