California Rep. Katie Porter outraises other vulnerable House Democrats with $1-million haul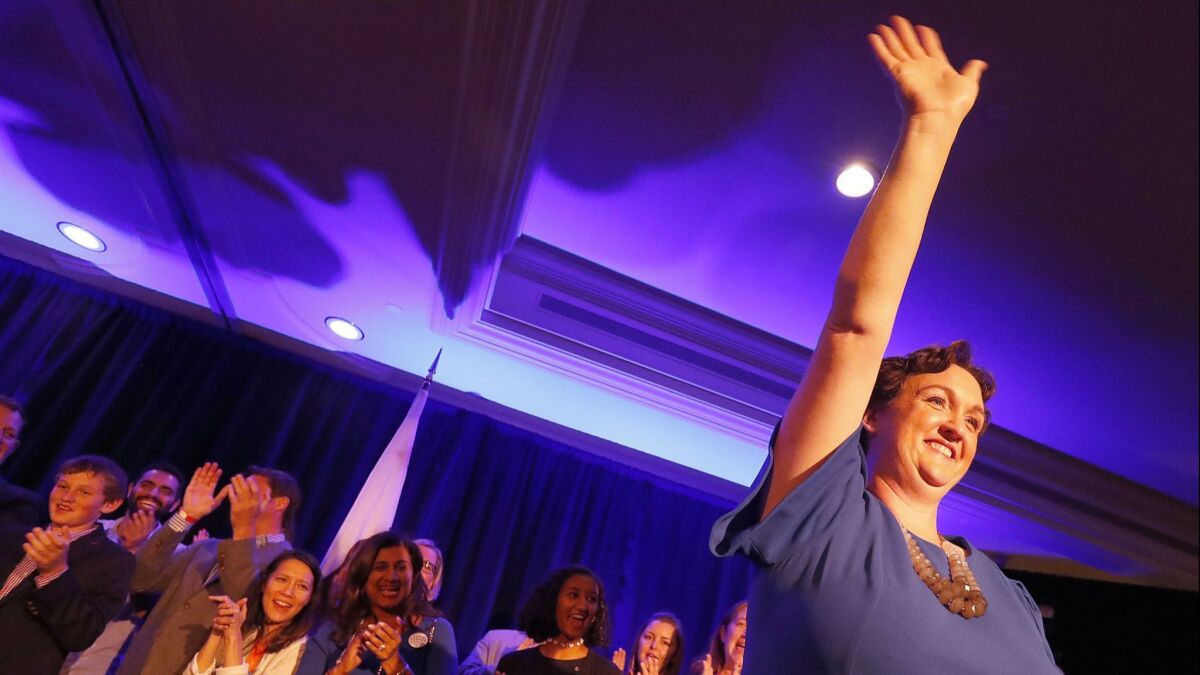 Coming out in favor of impeachment doesn't seem to have slowed the campaign of Rep. Katie Porter (D-Irvine), one of seven California House freshmen who must defend competitive congressional seats in 2020.
Porter's campaign reported Wednesday that it had raised more than $1 million in the second quarter of 2019 and received a big bump from small-dollar donors. Twice as many small donors gave $100 or less in the second quarter than the first, and more than 17,000 unique donors have contributed since January, according to representatives for the congresswoman.
A source close to House Democrats says the sum makes Porter the top fundraiser for the quarter among more than three dozen freshmen members considered vulnerable by House leadership.
Three other California freshmen, Reps. Josh Harder (D-Turlock), Katie Hill (D-Agua Dulce) and Mike Levin (D-San Juan Capistrano) reported six-figure hauls for the three-month period ending June 30.
Harder reported raising more than $750,000 between April 1 and June 30 of this year, and his campaign said more than 80% of the contributions during that time were from donors contributing less than $100. In the first three months of the year, Harder raised $873,000, more than any House freshman, including Democratic Rep. Alexandria Ocasio-Cortez of New York, a favorite of progressives.
Hill raised more than $720,000 in the second quarter, according to her campaign. More than 85% of the money from individual donors came from those contributing less than $100 apiece. Hill's campaign said about 80% of her individual contributions came from donors in California.
Levin's campaign said he raised more than $500,000 between April and June, with more than 90% of his donors this year giving $100 or less.
Freshman House class brings less wealth and different economic perspective to Congress »
All seven California freshmen — including Reps. Harley Rouda (D-Laguna Beach), TJ Cox (D-Fresno) and Gil Cisneros (D-Yorba Linda) — have refused campaign donations from corporate political action committees though the pledge still allows some corporate money to flow to their coffers, including through trade organizations that get their funds from corporations.
That promise didn't stop the new members of Congress from cashing in on a wave of Democratic enthusiasm last year. In the last full quarter before the November midterm election, the seven Democrats who went on to flip California's House seats raised $21.6 million.
Now they're considered top targets for House Republicans trying to recapture a majority in the lower chamber.
The fundraising hauls could be a sign that small-dollar donors who helped fuel the campaigns of successful House candidates last year could continue to play a pivotal role in helping Democrats hold on to their delicate majority.
Is that Katie Porter or Katie Hill? New California congresswomen keep getting mixed up »
Porter, who last month announced her support for an inquiry into impeaching President Trump, has garnered attention for her incisive questioning during committee hearings, grilling JPMorgan Chase Chief Executive Jamie Dimon, Consumer Financial Protection Bureau Director Kathy Kraninger and Housing and Urban Development Secretary Ben Carson.
Those viral moments may have helped Porter again tap in to a nationwide network of donors. California Democrats previously benefited from an unprecedented deluge of cash in last year's election.
It won't be clear until next week whether Porter and her colleagues have outraised other well-known freshmen members of Congress in safe Democratic seats, such as Ocasio-Cortez, or how their fundraising measures in comparison to that of their challengers. Campaign finance filings are due to the Federal Election Commission on Monday.
For more on California politics, follow @cmaiduc.
Get our Essential Politics newsletter
The latest news, analysis and insights from our politics team.
You may occasionally receive promotional content from the Los Angeles Times.