Newsletter: Today: Trump to Congress — More Guns, Less Butter. Envelopegate and the Bigger Oscars Picture.
I'm Davan Maharaj, editor-in-chief of the Los Angeles Times. Here are some story lines I don't want you to miss today.
TOP STORIES
Trump to Congress: More Guns, Less Butter
President Trump will make his first address to a joint session of Congress tonight, and though it's always hard to predict what he'll say, he has vowed to unveil some of the dollar details of his plans to reset the nation's priorities: a $54-billion increase in military spending, coupled with a large cut to domestic programs. But what spending will be eliminated? That's a tricky question, and one that could seriously affect those Trump has called "the forgotten men and the forgotten women" of America.
Trump's Plan to Reshape the Face of America
Trump is also expected to talk tonight about the need for stringent national security, one that we've seen manifest in his efforts to ramp up deportations and block travelers from seven mostly Muslim countries. Beyond that, there's a bigger goal: to reshape American demographics and keep out people who Trump and senior aides believe will not assimilate. They've pointed to Europe's taking in of Muslims as an example of what to avoid.
More Politics
-- The political time bomb at the heart of Republican Obamacare alternatives: higher costs for more Americans.
-- George W. Bush on Trump and Russia: "We all need answers."
-- Why Rep. Darrell Issa is breaking with his fellow Republicans on the Russian hacking probe.
Envelopegate and the Bigger Oscars Picture
It was the year we went from #OscarsSoWhite to #OscarsSoWhat?! After the best picture flub, two big story lines emerged: how the heck such a mistake happened, and how it took the focus off a historic night for diversity. To see what happened before and after the fateful moment, read our backstage tick-tock involving Pricewaterhouse Bloopers. (And no, Trump doesn't come up as a factor, despite his claim.) For the longer view of a show in which "Moonlight," the story of a gay African American boy growing up in poverty in Miami, took the biggest prize — and a record number of African American filmmakers were honored — read this assessment of how far the industry still has to go.
More Oscars
-- Video: Watch Hollywood luminaries reflect on why film still matters.
-- Times architecture critic Christopher Hawthorne asks, "If Hollywood could jump in a time machine and spin the dial back to, say, 1925, would it?"
-- "What is happening???" Times photographer Al Seib explains how he captured a photo that went viral.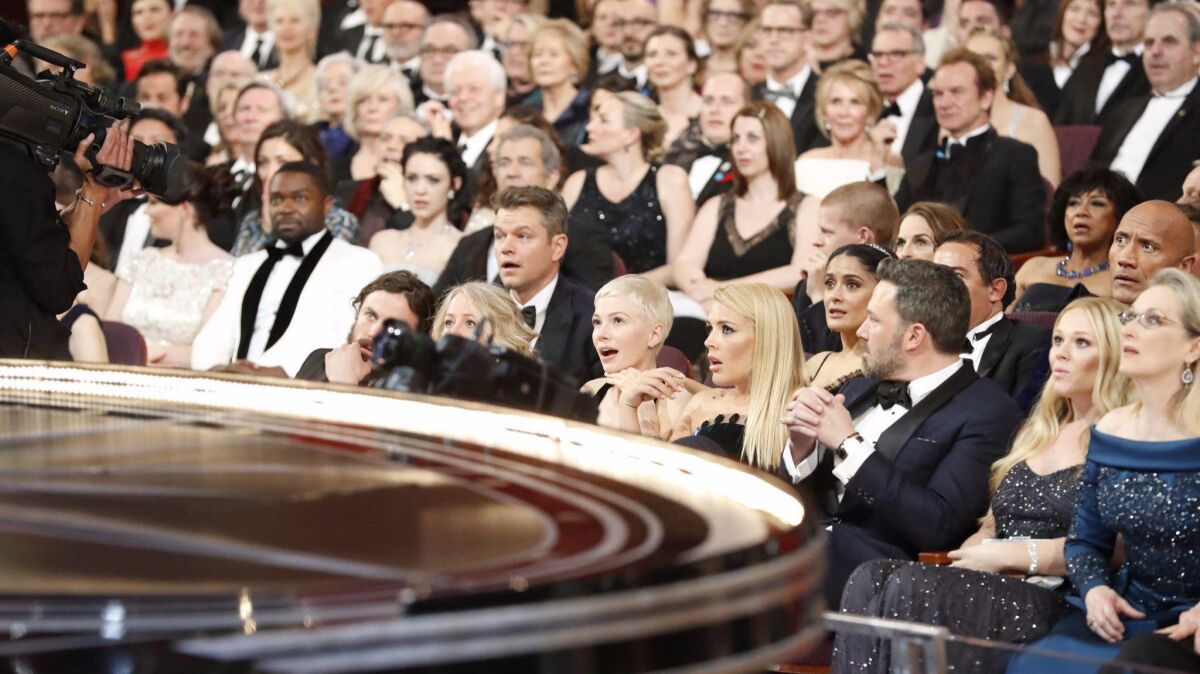 Fly Me to the Moon
More than four decades have passed since humans last ventured into deep space. Next year, SpaceX plans to head there and take two private citizens for a trip around the moon — a potentially giant leap in the relatively brief history of space tourism. Not much is known about the two, other than they know each other and are "nobody from Hollywood." That, and they've made a big down payment.
How the North Hollywood Shootout Changed Policing
Twenty years ago today, a nightmare played out on live TV: Two armor-clad bank robbers firing machine guns at LAPD officers on the streets of North Hollywood. Those 44 minutes would have an effect on law enforcement that has lasted to this day, including higher-powered weapons for police and cities adopting their own gun control laws.
CALIFORNIA
-- A small plane crashed into two homes in Riverside, killing three people and causing a fire in the residential neighborhood.
-- Engineers are racing to finish repairs on the Oroville Dam's main spillway before more rain comes. They've shut off the flow of water to do so.
-- The LAPD released the name of the off-duty officer who fired his gun in Anaheim and said he is back on the job but not working in the field.
-- L.A. officials broke ground on a $1.6-billion midfield passenger terminal at Los Angeles International Airport that will have a dozen gates for aircraft.
HOLLYWOOD AND THE ARTS
-- The ambitious LGBT miniseries "When We Rise" arrives in a new era of upheaval.
-- The Los Angeles Philharmonic is expected to announce its 2017-18 lineup today, and Gustavo Dudamel said that if there is a theme, it is diversity.
-- Neil Fingleton, an actor who was best known for playing the giant Mag the Mighty on HBO's "Game of Thrones," has died at age 36.
CLASSIC HOLLYWOOD
Go ahead, blame the L.A. Times. The Academy Awards weren't always such a closely held secret. But in 1940, after being given the information in advance, the paper revealed the winners before the big ceremony. The next year, the academy instituted its system of sealed envelopes. The rest, as they say, is history.
NATION-WORLD
-- Jewish schools and community centers in the U.S. received a new wave of bomb threats, and another Jewish cemetery has been vandalized.
-- The suspect in a Kansas bar attack that killed an Indian man apparently thought he shot "Iranian people."
-- Despite warming ties with Washington, Benjamin Netanyahu faces growing challenges in Israel.
-- In the Philippines, poverty and corruption are fueling the drug trade.
-- Lester Tenney, an Army tank commander who survived the Bataan Death March, has died at age 96.
BUSINESS
-- How to score a piece of California's $365 million in unclaimed life insurance benefits.
-- With the tear of an envelope, the accounting firm of PwC went from being a venerable partner of the film academy to a punchline.
SPORTS
-- LaVar Ball's royal vision: He sees his son Lonzo in Lakers purple and gold.
-- Former five-star football recruit Mique Juarez is slowly winding his way back into the fold at UCLA.
OPINION
-- The World Series, the election, the Oscars. What is going on?
-- It's not just Trump supporters who spread fake news. Liberals do it too.
WHAT OUR EDITORS ARE READING
-- The father of the Navy SEAL killed in the Yemen raid wants answers. (Miami Herald)
-- A reporter tries out the Ruth Bader Ginsburg workout. (Politico)
-- Why the Internet has changed the nature of dictionaries. (Public Books)
ONLY IN L.A.
Rubbing elbows with freshly minted Oscar winners. In-N-Out burgers with Elton John. A $7-million charity auction. The parties around the Academy Awards are simultaneously so L.A. and yet so not a part of most Angelenos' experience. We take you there, if you dare.
Please send comments and ideas to Davan Maharaj.
If you like this newsletter, please share it with friends.