Was President Trump's threat against North Korea calculated or reckless? I'm Davan Maharaj, editor-in-chief of the Los Angeles Times. Here are some story lines I don't want you to miss today.
TOP STORIES
Nuclear Good Cop, Bad Cop?
It was a threat of "fire and fury" signifying … well, it depends on whom you ask. The White House says President Trump's words were ad-libbed but strategic. Secretary of State Rex Tillerson, who called for calm and suggested "Americans should sleep well at night," added that they constituted "language that Kim Jong Un would understand." Hours later, Defense Secretary James N. Mattis warned Pyongyang to "cease any consideration of actions that would lead to the end of its regime and the destruction of its people." The mix of messages has done little to ease tensions.
How Nervous Should We Be?
So how worried should we be by Pyongyang's threats to "turn the U.S. mainland into the theater of a nuclear war"? U.S. weapons experts say North Korea is making progress but has not yet proved it is capable of launching a punishing nuclear strike on the U.S., as this closer look at the technical challenges shows. At least the residents of Seoul appear to be taking things in stride.
That Knock on Paul Manafort's Door
Last week, there was news of a new grand jury. This week came the revelation that FBI agents conducted a predawn raid July 26 at one of the homes of Trump's former campaign chairman, Paul Manafort. Special prosecutor Robert S. Mueller III is mum, but it's clear his investigation into Russian election meddling is picking up steam. The search sought records related to foreign bank accounts and registrations, according to a source.
More From Washington
-- Trump hit back at Senate Majority Leader Mitch McConnell over who is to blame for the Republican Party's failure to repeal Obamacare. Meanwhile, the administration opened the door for a bipartisan plan to "fix" the law.
-- The State Department confirmed it had expelled two Cuban diplomats from Washington because of an "incident" in Havana that harmed U.S. personnel there.
-- Two advocacy groups sued Trump in federal court over his declaration on Twitter last month that the U.S. military would a reinstate a ban on transgender people.
Philippine Police Called It a Raid; Relatives Suggest It Was a Massacre
President Rodrigo Duterte's war on drugs in the Philippines has left thousands dead, but the killing of a prominent mayor, his wife, family members and bodyguards as police served a warrant has rattled the nation. The police say they returned fire when Mayor Reynaldo Parojinog's guards attacked them. His relatives described a different scene to The Times and asked, "Why did law enforcement kill them all and not investigate them? We're asking why. It's a big question mark."
Inside the Room Where It Happened
Ticket-buying frenzies. Fans dressed in frock coats and breeches. Intense discussions of song lyrics. The sensation known as "Hamilton" is coming to L.A., but it's been quite a journey from its origins as a four-minute song. Oskar Eustis, artistic director of the Public Theater, shares his memories of how Lin-Manuel Miranda's creation took shape "by reimagining the birth of our nation through a Founding Father who was a bastard immigrant orphan from the West Indies." We also have a look at all things "Hamilton," including how to score those elusive tickets.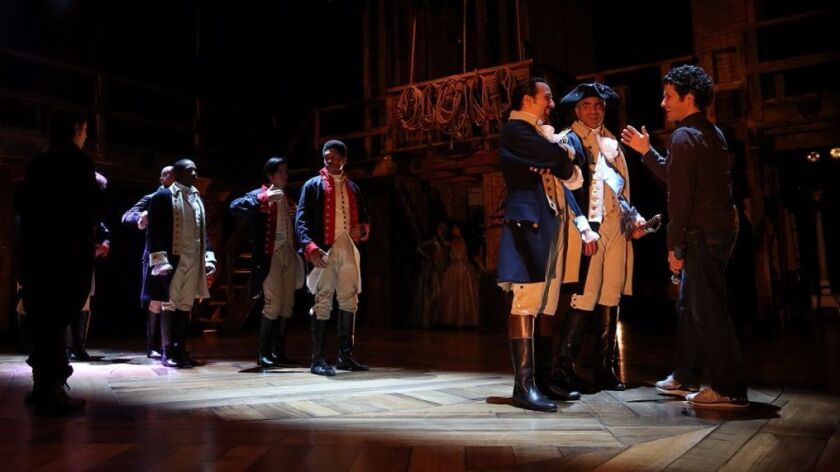 MUST-WATCH VIDEO
-- A gambling problem in Ghana, spurred on by Chinese slot machines.
-- This Cuban immigrant family has been keeping Los Angeles caffeinated for half a century.
-- Rapper-actor Common answers a few questions for us.
CALIFORNIA
-- FBI agents searched the office of Rep. Duncan Hunter's campaign treasurer in February as part of an investigation into whether the Alpine Republican congressman misused campaign funds.
-- Authorities have arrested and charged a man accused of killing the brother of L.A. County Supervisor Mark Ridley-Thomas 36 years ago in South L.A.
-- The L.A. City Council has given the green light for eminent domain to clear out the remaining homes in the largely empty Manchester Square neighborhood near LAX.
-- A convicted child predator, whose proposed home was destroyed in a suspicious fire, has been released and is living in motels in Fresno County after officials looked at 1,749 homes as possible residences for him.
-- Another great white shark sighting, this time near the San Clemente pier, triggered the closure of a two-mile stretch of water.
HOLLYWOOD AND THE ARTS
-- Awards columnist Glenn Whipp explains why new film academy President John Bailey is not as boring as you might think (and why Laura Dern didn't want the gig).
-- Independent filmmakers (and brothers) Josh and Benny Safdie bring a New York state of mind to their breakout thriller film, "Good Time."
-- James Corden will let the late Chester Bennington's family decide whether to broadcast a "Carpool Karaoke" episode featuring his band, Linkin Park, and recorded days before his suicide.
-- Bruce Springsteen will soon show Broadway who's the Boss with a series of solo shows.
CLASSIC HOLLYWOOD
Norma Shearer portrayed some of the world's most heroic and tragic women: Elizabeth Barrett Browning, Marie Antoinette and Shakespeare's Juliet. The Montreal native, who was born on this date in 1902, was one of the few actresses to move successfully from silent to sound pictures, winning an Oscar for 1930's "The Divorcee."
NATION-WORLD
-- Guam finds itself in the crosshairs as North Korea talks of possibly launching missiles toward it.
-- The American Civil Liberties Union filed a free-speech lawsuit on behalf of provocateur Milo Yiannopoulos after Washington, D.C., transit officials removed ads for his new book.
-- The U.S. Treasury Department says Mexican soccer star Rafael Marquez Alvarez is among 22 people sanctioned for alleged ties to a drug trafficking organization.
-- Kenya's opposition presidential candidate, Raila Odinga, has rejected the tally from this week's election, saying hackers had manipulated data.
-- Will the Great American Eclipse on Aug. 21 make animals act strangely? Science says yes.
BUSINESS
-- Diversity training was supposed to reduce bias at Google. In the case of a fired engineer, it backfired.
-- Will the ESPN streaming service be a game changer?
SPORTS
-- A report by key L.A. staffers recommends the City Council approve a 2028 Olympic bid despite incomplete information and the "greater uncertainty."
-- Baseball players will get to wear nicknames on their jerseys for one weekend. So which Dodger is "Dizzy"? Or "Sam"?
OPINION
-- The right way and the wrong way on law enforcement drones.
-- Six reasons to worry about the 2028 Olympics in L.A.
WHAT OUR EDITORS ARE READING
-- A history of hate directed against Sikhs in America. (ProPublica)
-- The author of the book "Fantasyland: How America Went Haywire" gives his take on the events leading to a post-truth society. (The Atlantic)
-- Woo-hoo! Everything you ever wanted to know about the "DuckTales" theme song. (Vanity Fair)
ONLY IN L.A.
In a season of incredible moments, this was one of the more improbable: At Dodger Stadium, an 85-year-old woman sees herself dancing on the video board, pulls up her blue shirt and briefly flashes her white brassiere to the crowd. How Betty True became the Rally Granny has a surprisingly sweet back story. One wonders what Vin Scully would say.
Please send comments and ideas to Davan Maharaj.
If you like this newsletter, please share it with friends.
---