Column: She flashed a Dodger Stadium crowd and became a viral sensation. Now Rally Granny is making national headlines
Dodger fan Betty True shares the origin story of her Rally Granny persona.
For nearly half a century, Mark and Betty True would celebrate the day's first cocktail with a kiss and a toast. They would clink glasses, profess their love, and vow to squeeze every ounce out of their lives.
It was a promise kept. They took this toast to balconies in Brazil, cafes in Nigeria, beaches in the Canary Islands, and to the roiling hot tub outside their mobile home in the Arizona desert. They partied around the world, this traveling engineer and his best friend, until seven years ago when Mark died of lung cancer at age 83. Betty was suddenly alone after 47 years of one of the greatest marriages on Earth.
Except she decided she would never be alone. She would carry Mark's legacy with her. She would continue laughing and partying and living an outrageously full life in his memory.
So it was that, on the second Saturday in July, standing in front of her seat in the loge section of Dodger Stadium, 85-year-old Betty True saw herself dancing on the video board, heard the crowd roaring, put her hands on the bottom of her blue T-shirt and decided, what the hell.
Amid thousands of gasps, a toast was honored.
In a flash of a white brassiere, the Rally Granny was born.
"I tell everybody that I supplement my Social Security with pole dancing," she said.
You've surely seen what has become a viral video. It lasts only 16 seconds, but captures the unpredictable craziness of this Dodgers season.
It was in the seventh inning of the Dodgers' July 8 game against the Kansas City Royals. It features an older woman, with a shock of white hair curling out from a Dodgers visor. She is standing and boogieing.
"At first when I saw I myself on the big screen, I was waving my arms and I thought, oh no, that's going to show my underarm dangle," Betty recalled. "So then I went into my cruising moves, and they kept the cameras on me, and I thought, well, they're asking for it now."
So, she gave it to them. She pulled up her blue shirt, briefly flashed her white bra, pulled the shirt back down, then calmly turned to find her seat.
"I don't know why it was such a big deal," she said. "I was just showing off my Dodger colors."
Oh, it was a big deal. The announced crowd of 45,225 reacted initially with stunned shock, then huge cheers. The video was immediately tweeted into making national news. She was swarmed in the concourse afterward by fans snapping selfies and asking for more flashes.
Her sons Bill and Jim Conville, who brought her to the game with friends and business associates, knowingly shook their heads.
"Having known my mother 66 years, very few things she does would surprise me," Bill said. "But, yeah, it was a bit of a surprise."
On the field, the Dodgers came back from a 4-3 deficit to beat the Royals 5-4 in 10 innings on a bases-loaded walk to Cody Bellinger.
In the clubhouse, Bellinger referenced the video and immediately dubbed her "The Rally Granny."
The Dodgers have gone 20-3 since she pulled up her shirt.
Rally Granny shirts, adorned with a drawing depicting her pulling up her shirt, are being sold, giving her only one concern.
"Can they put an image of me on there without my permission?" she asked, pausing. "Oh well. It's a neat little shirt."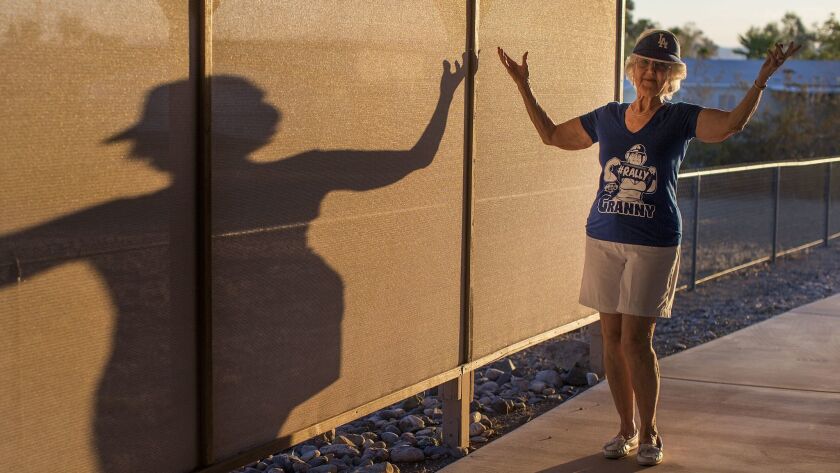 And hers is a neat little story, one that mirrors her favorite team.
Like some of the Dodgers, she seemingly showed up out of nowhere. Although she was a lifelong Dodgers fan who spent some of her youth in the San Fernando Valley, she traveled around so much that July 8 was the first time she had actually seen the Dodgers play at Dodger Stadium. The Dodgers visor she wore was more than 30 years old. She was around town only because she is the process of moving from Fort Mohave, Ariz., to live close to her two sons near Fresno.
Also like some of the more daring Dodgers, she plays on the edge. During that July 8 game, she fueled her flash with a beer, a Dodger Dog, and then a "margarita for dessert."
Finally, like this entire team, the Rally Granny is on a mission. Before she drank that first beer that Saturday night, she looked to the sky and offered the usual toast in the memory of her husband.
He didn't want his death to slow her down. He wanted her to keep pushing as if he was pushing alongside her. He didn't want the party to end. She is determined it will not.
"He was a party boy, he encouraged me to party, we just had a ball, an absolute ball, I miss him so much," she said. "I'm just trying to live up to our reputation."
The fun might not be over. The Dodgers love the Rally Granny, and have asked her to let them know when she is in the stadium so the cameras can capture her. She was driving through town last Saturday, stopped by for a game against the San Francisco Giants, and danced and flashed again, only this time she pulled up a Rally Granny T-shirt to reveal a Dodgers shirt.
"The only other thing I could have done is moon, but mooning is a different story," she said. "I don't moon anymore."
Anymore?
"Well, I once did a Christmas Eve moon over town square from a balcony in Brazil," she said. "No big deal."
For the record, the Rally Granny actually is a granny, with four grandchildren. She also has three great-grandchildren, but Rally Great Granny just doesn't have the same ring.
"We're glad people reacted to her positively," said Lon Rosen, Dodgers' chief marketing officer. "We enjoyed having her and her spirit in the stadium, and we're certainly going to stay in touch with her."
Could that mean more frequent appearances in the season's final months? It has to include at least one playoff appearance, right? Her son Bill said he would be happy to drive with her down to an October game if the timing is right and they can find a way to buy tickets. Dodgers fans would love to see her there, but not nearly as much as she would love seeing them.
"This is so much fun, I'm just getting such a kick out of making people laugh, making them happy," she said. "I'm carrying on."
Get more of Bill Plaschke's work and follow him on Twitter @BillPlaschke
ALSO
Dodgers' Clayton Kershaw claims to be recovered from back issue
Dodgers' Tony Watson surrenders grand slam in loss to Diamondbacks
Former Oriole Parker Bridwell goes seven strong innings in Angels' win
---
Get our high school sports newsletter
Prep Rally is devoted to the SoCal high school sports experience, bringing you scores, stories and a behind-the-scenes look at what makes prep sports so popular.
You may occasionally receive promotional content from the Los Angeles Times.