Newsletter: Today: Houston Under Water and Under Curfew
The death toll has risen in Houston and its surroundings, as Tropical Storm Harvey moves northeast. Here are the stories you shouldn't miss today:
TOP STORIES
Houston Under Water and Under Curfew
Houston spent the early-morning hours under a midnight-to-5 a.m. curfew in an effort to ward off opportunistic criminals, as southeast Texas deals with the onslaught of Tropical Storm Harvey. Since the storm made landfall, some areas of Houston have seen more than 50 inches of rain, a record for the U.S. mainland, while infrastructure struggled to contain the water. The official death toll rose to at least 18, including a Houston police officer who drowned in his car on the way to work. Weather forecasters say the threat of flooding is gradually shifting east, as Harvey made landfall in Louisiana — on the 12th anniversary of Hurricane Katrina's arrival there.
A 'Crazy Difficult' Scene
They came by the dozens: soaked and scraped, and some with harrowing tales. At the George R. Brown Convention Center, a cross-section of Houston took shelter. "There were women in head scarves, families chatting in Spanish, veterans toting military duffel bags and neatly coiffed elderly women wheeling carefully packed suitcases," as Molly Hennessy-Fiske reports from the scene. With 10,000 people packed into a space built for 5,000, emotions have run high.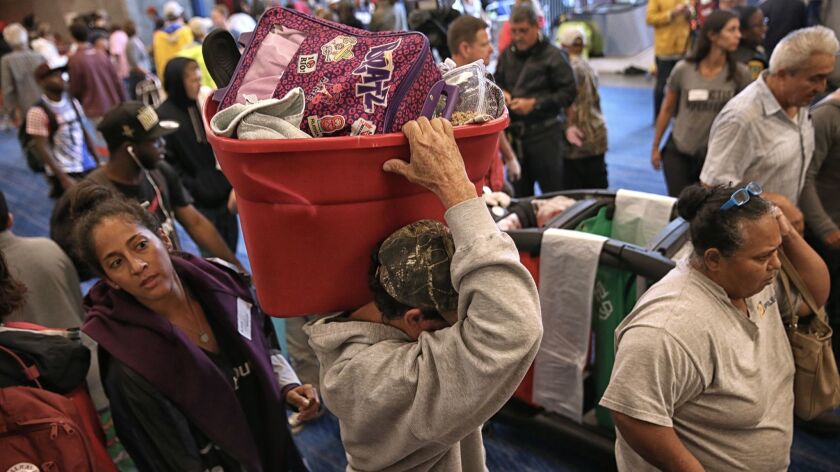 More From Texas
-- President Trump promised a relief effort that would be "better than ever before" during his visit to Texas, where he was greeted with cheers and jeers. (Online, some people focused on First Lady Melania Trump's shoes.)
-- "It's hard to explain the stupefying vastness of the flooding in Texas," reporter Matt Pearce writes, "until you actually try to drive somewhere in it."
-- Like New Orleans after Katrina, Houston faces heartbreak, resilience and recovery following Harvey.
Why Terminating NAFTA Is Easier Tweeted Than Done
Just a few days ago, President Trump repeated his mantra for the North American Free Trade Agreement ("worst trade deal ever made") and tweeted "may have to terminate?" But as the U.S., Canada and Mexico head for a second round of talks this weekend to renegotiate NAFTA, many trade experts see Trump's threat as a largely empty one. For starters, he can't pull the United States out of the deal all by himself. What else could hold him back? Read on.
Mess With the Mountains? Take a Hike
If you can't stand the heat we're having in California, columnist Steve Lopez has a suggestion: Make an escape to the San Gabriel Mountains National Monument, as he did Tuesday, where a walk under the pines and a toe dip in the running water are just what the doctor ordered. The area also happens to be on President Trump's list of national monuments under review for downsizing.
The Adventures of a Disease Detective
In 1999, infectious syphilis in the U.S. was so rare, federal health officials thought they could wipe out the disease. But by 2015, the number of cases nationwide had quadrupled to nearly 24,000. How to reverse the trend? L.A. County sends out dozens of public health workers each day to track down those who've been infected and their sexual partners. As investigator Roberto Rocha can tell you, it involves a lot of shoe leather, climbing through fences and taking some verbal abuse.
MUST-WATCH VIDEO
-- Thousands of evacuees at Houston's convention center struggle to cope with Tropical Storm Harvey.
-- NASA's Cassini spacecraft will hurl itself into Saturn's atmosphere next month. This video recaps some of the mission's discoveries over more than a decade.
-- The Angels Flight funicular in downtown L.A. will reopen on Labor Day.
CALIFORNIA
-- UC Berkeley has vowed to allow speakers such as conservative provocateur Milo Yiannopoulos on campus, but some city officials are worried about more "antifa" violence.
-- Indigenous Peoples Day or Diversity Day? L.A. may rename Columbus Day, but two City Council members disagree on what it should be called.
-- Animal-rights activists have filed paperwork for a new initiative requiring egg-laying hens to be kept cage-free.
-- It's not just the weather: Southern California home prices are hot, hot, hot.
HOLLYWOOD AND THE ARTS
-- A generation after Anita Hill spoke out, Hollywood is finally starting to take sexual harassment seriously.
-- Why Netflix's manga-based film "Death Note" was a killer to make.
-- In the aftermath of the violence in Charlottesville, Va., the Virginia Film Festival will host filmmaker Spike Lee as a special guest.
-- Showtime is being sued over streaming problems during the boxing match between Floyd Mayweather Jr. and Conor McGregor.
CLASSIC HOLLYWOOD
Vaudeville, stage, movies and television: Joan Blondell, who was born on this date in 1906, could do it all. In the 1930s and '40s, she was a marquee name but later in life found only minor roles. "My family is the only reason I stay out here and do some these guest shots," she said in 1978, the year before her death. "Otherwise, I'd rather work in Macy's basement; there's more dignity to that."
NATION-WORLD
-- U.S. officials have condemned North Korea's missile launch over Japan.
-- Two people were killed in a shooting at a New Mexico public library.
-- "The clock is ticking": In Kashmir, parents try to find their militant sons before Indian forces get to them.
-- German Chancellor Angela Merkel admonished some European countries for what she called their failure to accept a fair share of migrants and refugees.
BUSINESS
-- Dole Food Co., the world's largest fresh fruit and vegetable company, is planning to sell its corporate headquarters and uproot its strawberry operations in Southern California.
-- Did you know Uber has been tracking some riders for five minutes after their trips end? The company says it is ending that practice.
SPORTS
-- The Texas Rangers were happy to help the flood-displaced Houston Astros ... but only to a point.
-- Nineteen-year-old tennis player Naomi Osaka scored a first-round victory at the U.S. Open, taking down defending champ Angelique Kerber.
OPINION
-- Harvey should be a warning to Trump that climate change is a global threat.
-- When the "Night Stalker" serial killer attacked, Orange County lost its innocence.
WHAT OUR EDITORS ARE READING
-- A look at the flooding in Houston in graphics. (Washington Post)
-- Can meditation make you more creative? Some companies think so. (Harvard Business Review)
-- This underpass in Berlin has an impressive list of film credits. (The Guardian)
ONLY IN CALIFORNIA
What is a hamburger all about? Irvine-based In-N-Out Burger is suing Denver-based Smashburger over the latter's new Triple Double, claiming it infringes on In-N-Out's trademark Double-Double and Triple-Triple. Smashburger denies it. So who will win this battle of the burgers? We asked an intellectual-property lawyer to get to the meat of the matter.
If you like this newsletter, please share it with friends.
---