Newsletter: Today: Economic Rocket Fuel — Handle With Care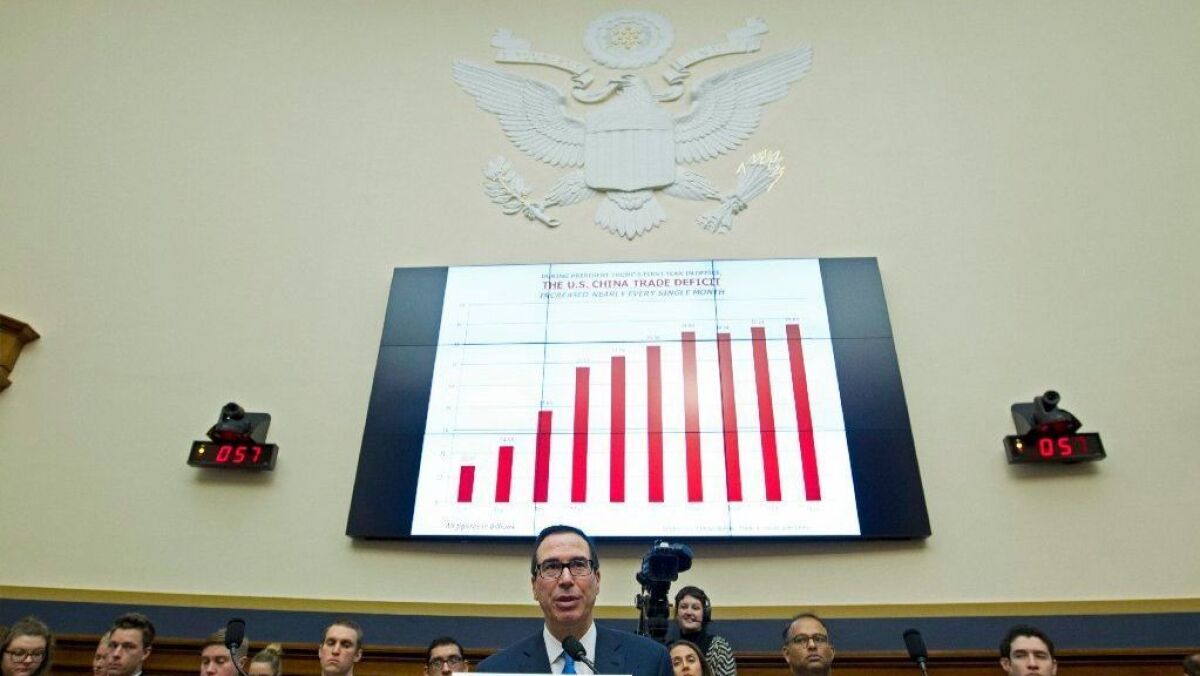 Stocks rebounded, but worries abound.
TOP STORIES
Economic Rocket Fuel — Handle With Care
President Trump has said that the Republican tax cuts would add rocket fuel to the economy, but rocket fuel can create a very wild ride. Some analysts say this week's stock market gyrations reflect the extra stimulus of the cuts; the prospect of higher wages, bigger federal deficits and more government borrowing might be a bit too much in an already strong economy, they contend. So while stocks bounced back Tuesday, some are concerned the economy may become overheated.
More Politics
-- "I'd love to see a shutdown if we can't get this stuff taken care of": Trump advocates a government shutdown as Congress faces yet another deadline on spending.
-- Tanks rolling down Pennsylvania Avenue? Officials say Trump has asked the Pentagon to plan a grand parade of the U.S. armed forces in Washington this year to celebrate military strength.
-- Rep. Devin Nunes is at the center of the Russia discussion in Washington, but in his hometown of Tulare, the locals care mostly about his work bringing water to the farms.
A Return to Mexico, but It Doesn't Feel Like Home
When Maria Barrancas and her family left Gardena for Mexico last August, she had not been in the country of her birth for 32 years. But amid Trump's crackdown on immigrants in the U.S. illegally, she felt there was no choice for her, her partner and her young daughter but to "self-deport." Now, Barrancas finds herself struggling to feel at home in her new life.
Do These Priuses Have a Problem?
Before its rivals jumped into the electric car market, Toyota made the Prius the best-selling car in California. Now, one of the state's largest dealers is refusing to resell used Priuses he got as trade-ins, alleging in a lawsuit that the hybrid system on model years 2010 to 2014 has an unresolved safety defect that could leave the cars without power. Toyota has rejected the allegations and says the problem was taken care of with a software change.
USC's Fundraising Fall
USC is known for its aggressive fundraising, but internal records reviewed by The Times show donations were down nearly $100 million, or 22%, between July and December — a period in which scandals roiled its Keck School of Medicine. At the med school, donations dropped by more than half, or roughly $45 million. USC administrators deny any correlation and say it's normal for fundraising to fluctuate, but two employees say some donors told them they were put off by the scandals.
Read All About … Us
L.A. biotech billionaire Patrick Soon-Shiong is nearing a deal to buy the Los Angeles Times and the San Diego Union-Tribune from their Chicago-based parent company, Tronc, according to two people familiar with the talks. The nearly $500-million cash deal, if consummated, would return The Times to local ownership after 18 years. The news comes after months of turmoil at the newspaper. So who is Soon-Shiong? Read on.
MUST-WATCH VIDEO
-- Not for the squeamish: Most bugs wouldn't survive being eaten by a toad, but these beetles get barfed to safety.
CALIFORNIA
-- Columnist Steve Lopez revisits the RecycLA trash program and other reasons to wonder who's in charge at L.A. City Hall.
-- A convicted child molester who was scheduled to be released from a state hospital today will remain confined for now, after an appeal by prosecutors arguing the man remains a threat.
-- L.A. County paid more than $145 million settling and fighting lawsuits in 2016-17, a 10% jump from the previous fiscal year, according to a report.
-- Want to Airbnb your home for the bulk of the year? L.A. might let you, on a case-by-case basis.
HOLLYWOOD AND THE ARTS
-- Film critic Kenneth Turan calls "Black Panther" a royally imaginative standout in the Marvel Cinematic Universe.
-- The horror satire "Get Out" has become the most unlikely Oscar darling of the year.
-- Miranda Lambert has channeled the heartbreak and disillusionment of her divorce from fellow country star Blake Shelton into the double album "The Weight of These Wings."
-- Will a reboot of "Queer Eye for the Straight Guy" work in the year 2018? TV critic Robert Lloyd weighs in.
CLASSIC HOLLYWOOD
Dale Evans wrote more than two dozen songs, including "Happy Trails," the theme song for her and her husband, Roy Rogers. Still, much of her life was turbulent. The first half, she once said, was a series of disasters — and the second half was a triumph over them, crediting her conversion to evangelical Christianity. She died on this date in 2001 at age 88.
NATION-WORLD
-- A judge in New York has ordered that the identities of jurors in the upcoming trial against drug kingpin Joaquin "El Chapo" Guzman be kept secret and that the jurors be partially sequestered for their safety.
-- A powerful earthquake struck the east coast of Taiwan, killing at least two people, leaving many missing or trapped and causing buildings to tilt at dangerous angles as aftershocks continued.
-- A beautiful place for a crisis: How the Maldives' tropical paradise is being spoiled by political turmoil.
-- Researchers say that if we want to keep the "good life" going, humanity will need to make some drastic changes.
BUSINESS
-- Despite Trump's vow to reduce the trade deficit, the United States' long-standing imbalance with the rest of the world grew to the highest level in almost a decade during his first year in office.
-- Casino mogul Steve Wynn has resigned as chairman and CEO at Wynn Resorts amid sexual misconduct allegations.
-- In a giant step for the private space industry, SpaceX launched the world's most powerful operational rocket from Kennedy Space Center in Florida ... with a Tesla aboard, of course.
SPORTS
-- John Force, the winningest driver in motorsports history and the most successful team owner in drag racing, has a confession to make. "I failed as a father, miserably."
-- The Pyeongchang Olympics present more security threats than usual, but athletes and fans have plenty of reason to hope all will go well.
OPINION
-- Make no mistake: This DACA crisis is Trump's creation and Trump's fault.
-- The California GOP is struggling. Columnist Gustavo Arellano has some unsolicited advice.
WHAT OUR EDITORS ARE READING
-- A professor argues that hiring only the "best" people produces the least creative results. (Aeon)
-- The obsession of a "typewriter addict." (Literary Hub)
ONLY IN L.A.
Life is like a box of chocolates, as Forrest Gump would say, in that you never know what you'll get. But on Valentine's Day, it's a pretty good bet that candy will be involved. Where to get that box of sweets? Here are 10 chocolate shops to check out, including the one that inspired the famous candy-making episode of "I Love Lucy."
If you like this newsletter, please share it with friends. Comments or ideas? Email us at headlines@latimes.com.
---