Newsletter: Today: The 'War' Over Immigration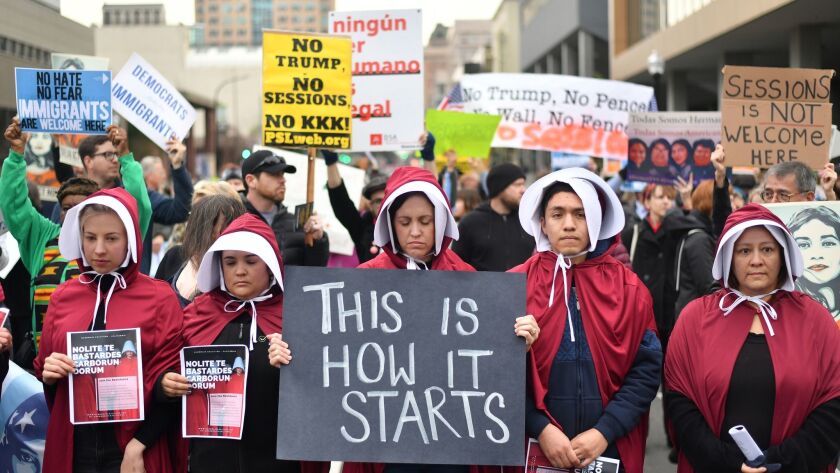 The war of words heats up after the federal government sues California over its "sanctuary state" laws.
TOP STORIES
The 'War' Over Immigration
Atty. Gen. Jeff Sessions says California Democrats are advancing the political agenda of "radical extremists." Gov. Jerry Brown says, "This is basically going to war against the state." That fiery rhetoric from both sides was on the first day of what will likely be a long battle in the courts, as the federal government sues to invalidate three "sanctuary state" laws. Legal experts say the three face different hurdles and have varying vulnerabilities. The lawsuit (read it here) is just the latest step in a deepening conflict between the Trump administration and California over immigration. Perhaps not surprisingly, the president will finally visit the state next week to inspect prototypes for his much-touted "big, beautiful wall" and to attend a Republican fundraiser in Beverly Hills at $35,000 to $250,000 a ticket.
Tariffs! (Some Exclusions May Apply)
A week after announcing plans to impose tariffs on steel and aluminum imports in a seemingly off-the-cuff way, Trump is expected to approve them as early as today, but with some notable exemptions. Canada, Mexico and other allies — in other words, where the U.S. gets most of its imported steel and aluminum — look to be getting a pass. Still, more than 100 House Republicans, including several from California, urged Trump "to reconsider the idea of broad tariffs to avoid unintended negative consequences to the U.S. economy and its workers."
More Politics
-- Jared Kushner traveled to Mexico to meet with officials, including President Enrique Peña Nieto, amid tensions over NAFTA and the proposed border wall.
-- Russian President Vladimir Putin lavished praise on Trump and said the U.S. political system "has been eating itself up."
-- Porn actress Stormy Daniels' attorney says Trump's personal lawyer obtained a secret restraining order last week to block her from speaking publicly about Trump's alleged extramarital affair with her.
-- Legal experts say the White House has expanded the use of executive privilege without invoking it, so that people can avoid answering questions in Congress' investigation into Russian election interference.
Could This Line in the Sand Be Breached?
For more than four decades, the California Coastal Act has proclaimed beach access as a fundamental right for everyone. Could it be swept away? That's the concern of beachgoers as Silicon Valley billionaire Vinod Khosla appeals to the U.S. Supreme Court over his right to shut out the public from Martins Beach in Northern California. His petition describes the Coastal Act as Orwellian and is tailored to the conservative justices, perhaps increasing the odds the court will take up the case. As columnist Steve Lopez writes, it's not the only threat to coastal protection today.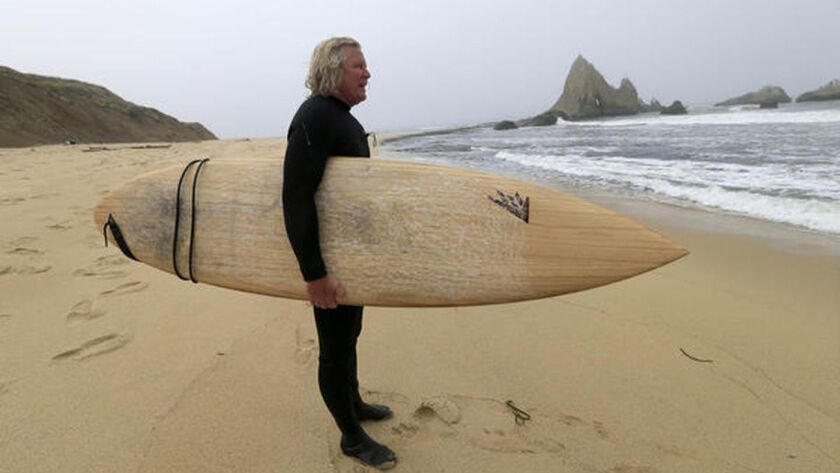 A Dodgers Pitch That Went High and Outside
Major league baseball's opening day is three weeks away, but some of the Dodgers are still thinking about the one that got away last year. No, not the World Series, but Shohei Ohtani, a star pitcher and hitter from Japan. The team had spent hundreds of hours pursuing and preparing for him. In December, its star players met with Ohtani face to face. Instead, he chose the Angels. "Just a gigantic waste of time," says pitcher Clayton Kershaw, who flew in on his wedding anniversary to be at the meeting.
MUST-WATCH VIDEO
-- Jeff Sessions speaks about immigration law at a meeting of law enforcement officers in Sacramento.
-- My Favorite Room: Daytime talk-show host Jeannie Mai's family space is nothing like Mama would have wanted.
CALIFORNIA
-- The LAPD's next chief will have to meet a long list of often-competing demands from city residents.
-- Federal regulators have approved Los Angeles billionaire Dr. Patrick Soon-Shiong's planned purchase of the Los Angeles Times, which would return one of the nation's largest newspapers to local control.
-- A conservative actress and a celebrity mayor are heating up a South Los Angeles congressional race.
-- Was the great Oscar caper of 2018 actually just a stunt from a publicity-seeking celebrity wannabe? That's what the lawyer of the accused says.
HOLLYWOOD AND THE ARTS
-- What to make of "A Wrinkle in Time"? Critic Justin Chang says director Ava DuVernay has put a fantastically trippy spin on the messy, moving film.
-- "Marvel's Jessica Jones" has been off the air for more than two years, but it may be more relevant than ever.
-- Billboards blasting "The Bachelor's" Arie Luyendyk Jr. have gone up in L.A. and other cities, but who's behind them?
-- The Pritzker Prize, one of architecture's highest honors, went this year to another surprise laureate: 90-year-old Indian architect Balkrishna Doshi.
CLASSIC HOLLYWOOD
Carole Bayer Sager is known for writing pop hits like "That's What Friends Are For" and the Oscar-winning "Arthur's Theme (Best That You Can Do)" in collaboration with her onetime husband, Burt Bacharach. Despite the fame and fortune, Sager released a memoir two years ago that described the fear and insecurity Sager says she's experienced throughout her life. She turns 71 today.
NATION-WORLD
-- Florida's Legislature has passed a landmark bill that would make it tougher to buy guns but would also make it easier for school employees to bring firearms on campus.
-- Pope Francis has cleared the way to sainthood for Archbishop Oscar Romero, an advocate for the poor and a fierce critic of El Salvador's civil war who was slain in 1980 by a right-wing death squad.
-- Secretary of State Rex Tillerson's five-nation itinerary reveals the Trump administration's approach to the continent: Counter-terrorism is in. Human rights and democracy, not so much.
-- Scotland Yard says a potentially deadly nerve agent was used to deliberately attack a former Russian spy and his daughter in England.
-- At Jupiter's northern and southern poles, NASA's Juno spacecraft has found a strange set of swirling cyclones.
BUSINESS
-- The case of a $21-million Medicaid patient shows how drug prices soar for rare diseases.
-- Columnist Michael Hiltzik looks into a loan to Kushner that has raised questions about a California water project.
SPORTS
-- The best seat at Los Angeles' newest football stadium will come with a licensing bill of $100,000 for Rams season-ticket holders and $75,000 for Chargers season-ticket holders.
-- Even with all the turmoil surrounding USC's men's basketball program, Chimezie Metu says he's glad he returned for his junior season.
OPINION
-- Thanks, Jeff Sessions, for suing California. You might be doing the state a favor.
-- Rabbi Sharon Brous: Why Jews should support reparations to African Americans for slavery.
WHAT OUR EDITORS ARE READING
-- Special counsel Robert S. Mueller III is said to be gathering evidence that a 2017 meeting in Seychelles was an effort to establish a back channel to the Kremlin. (Washington Post)
-- Today is International Women's Day, as women speak out for equality in demonstrations around the world. (The Guardian)
-- What happens when you shut out social media and just read print newspapers? Here are the lessons learned in one experiment. (New York Times)
ONLY IN CALIFORNIA
Call it the case of the leaping lizard. In San Diego County's Spring Valley, a 5-foot, 35-pound carnivorous monitor lizard became a four-legged fugitive by wriggling out of its cage at a pet store. Bubbles made the leap to freedom Sunday, and despite having a good disposition, apparently is better left untouched if found.
If you like this newsletter, please share it with friends. Comments or ideas? Email us at headlines@latimes.com.
---