Newsletter: Today: 'Maximum Pressure,' Iran Edition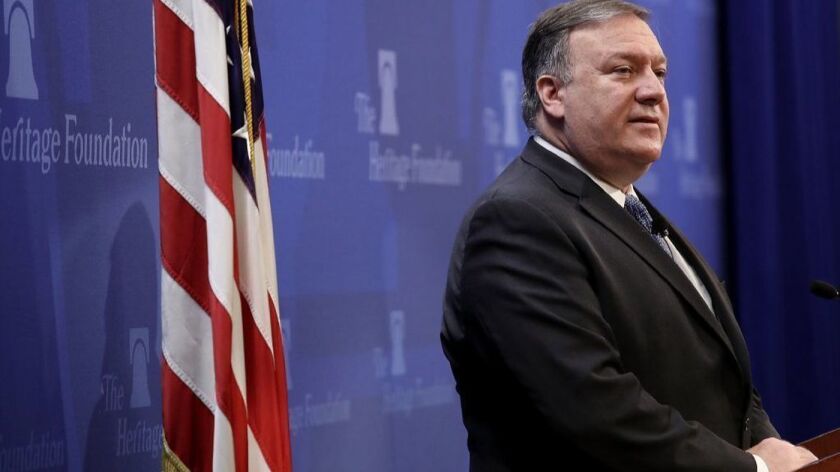 Two weeks after pulling the U.S. out of the Iran nuclear deal, the Trump administration looks to push Tehran to comply with a new set of demands.
TOP STORIES
'Maximum Pressure,' Iran Edition
For his first major policy address, America's chief diplomat has made an offer he hopes Iran can't refuse: Comply with a list of demands, such as a full stop to Tehran's enrichment of uranium, limits on its ballistic missile program and an end to supporting militants — or else face new sanctions that will leave the country "battling to keep its economy alive." Secretary of State Mike Pompeo called on a new global coalition to press suit, but many of those allies just got done unsuccessfully pleading with President Trump not to withdraw the U.S. from the existing nuclear deal. Iran denounced Pompeo's remarks as a call for "regime change."
Resist or Reach Out?
For Democrats looking to flip the House and possibly the Senate in the November midterm election, it's a question of strategy: Is it better to engage in an all-out resistance of Trump and anything associated with him, or reach out to independents and cross-over Republicans? Those competing philosophies will be put to the test today in Texas, where voters will choose between two Democratic finalists vying for a chance to make a run at a House seat in Houston that has long been occupied by a Republican.
More Politics
-- South Korean President Moon Jae-in is expected to be at the White House today with the goal of keeping the summit between Trump and North Korean leader Kim Jong Un alive.
-- Trump met with Justice Department leaders about a confidential FBI informant, and the latest clash over the Russia investigation eased up ... for now.
-- Trump led the swearing-in ceremony for Gina Haspel, the first female CIA director ever, and tried to make amends with an agency he's battled.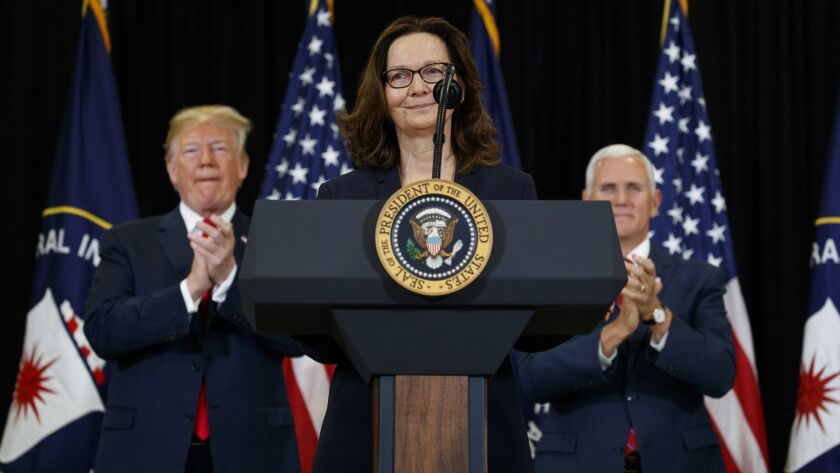 Score One More for Employers and the Fine Print
The Supreme Court has ruled that employees with arbitration clauses in their contracts must abide by them — in effect, sharply restricting workers from joining together in class-action lawsuits to challenge employers for allegedly violating federal laws on wages, overtime pay or civil rights. Labor law experts say the ruling will most affect tens of millions of low-wage workers who do not belong to unions.
Lawsuits and a Call to Action at USC
Six women have filed civil lawsuits alleging that a longtime gynecologist at the University of Southern California sexually victimized them under the pretext of medical care and that USC failed to address complaints from clinic staff about the doctor's behavior. In previous interviews with The Times, Dr. George Tyndall has defended his medical exams as thorough and appropriate. The litigation comes as USC continues to grapple with the scandal — and as calls grow louder for USC President C.L. Max Nikias to step down.
Securing God's Sanctuary
Praise the Lord and pass the ammunition? In some discussions about church security, that's not far off the mark. "If you do not have an armed presence in your church, you are simply not ready," said Jimmy Meeks, a pastor and retired police officer who conducted a seminar on the topic in Huntington Beach. With shootings at houses of worship in recent years, including the 26 people killed at a church in Sutherland Springs, Texas, in November, it's a growing area of concern.
Sign up to get Today's Headlines delivered to your inbox. »
MUST-WATCH VIDEO
-- Scientists say star formation in the very distant galaxy MACS1149-JD1 started at an unexpectedly early stage, only 250 million years after the Big Bang.
-- The show "The Americans" has proven unexpectedly timely, as showrunner Joel Fields explains.
CALIFORNIA
-- A judge's recent ruling overturning the state's physician-assisted suicide law is being appealed by state Atty. Gen. Xavier Becerra.
-- Charles Asubonten, whose background and experience came into question months after he was hired as the chief financial officer of CalPERS, is no longer with the giant pension fund.
-- L.A. Mayor Eric Garcetti said he will do a third round of interviews with the three finalists for chief of the Los Angeles Police Department before making a decision.
-- On this date 103 years ago, Lassen Peak erupted and left a lesson for Californians today.
HOLLYWOOD AND THE ARTS
-- Hollywood is hoping for a box-office rebound with a slew of summer blockbusters, including "Solo: A Star Wars Story," "Incredibles 2" and "Jurassic World: Fallen Kingdom."
-- Barack and Michelle Obama are partnering with Netflix to produce movies and TV shows, including the potential for scripted series, unscripted series, docu-series, documentaries and features.
-- Sara Gilbert, who co-starred in the original "Roseanne" series, was the key force behind masterminding the reunion that led to TV's biggest show of the season: the "Roseanne" reboot.
-- In case you missed it: This year, the Billboard Music Awards had something to say and, music critic Mikael Wood says, they actually said it.
CLASSIC HOLLYWOOD
Laurence Olivier was lauded as the greatest actor of his time and raised to the British peerage as Sir Laurence, Baron of Brighton. But when fellow thespian Michael Caine greeted him as "Sir Laurence" at their first meeting during the production of the 1972 movie "Sleuth," Olivier said, "That's fine, and now call me Larry, please." Olivier was born on this date in 1907 and died in 1989.
NATION-WORLD
-- In Santa Fe, Texas, the sheriff says a gun battle and negotiations between his officers and the school gunman lasted 15 minutes before he was apprehended.
-- The family that took in the suspect in the Parkland, Fla., high school shooting has been hit with lawsuits and criticism.
-- U.S. Customs and Border Protection officials are reviewing an encounter between a Border Patrol agent and two women who were speaking Spanish at a gas station in northern Montana.
-- Trump took steps to punish Venezuela for what his administration called a fraudulent presidential election reelecting socialist leader Nicolas Maduro.
BUSINESS
-- Whatever happened to the "affordable" $35,000 Tesla Model 3? These days, you can't touch one for less than $49,000, and a $78,000 version has been announced.
-- And if you thought electric cars were pricey … how about a hybrid electric plane? Irvine charter jet operator JetSuite will add them to its fleet starting in 2022.
SPORTS
-- Former USC assistant football coach Todd McNair lost his defamation suit against the NCAA in a case linked to the Reggie Bush extra benefits scandal.
-- Dodgers Manager Dave Roberts is staying optimistic, but these days it's quite a tough chore.
OPINION
-- Law professor Erwin Chemerinsky writes that the "reasonable" use of force by police has killed too many people. California can change that.
-- Columnist Jonah Goldberg argues that conspiracy theorists on both sides of the Russia probe probably have some facts on their side.
WHAT OUR EDITORS ARE READING
-- The 9.9%: A new "aristocracy" holds most of the wealth in America. (The Atlantic)
-- Mass indoctrination camps in China's heavily Muslim Xinjiang region have evoked memories of the Cultural Revolution. (Associated Press)
-- How classical music is being used to drive away the homeless and vandals. (Los Angeles Review of Books)
ONLY IN L.A.
It began as a traffic stop in West Covina. It ended with, authorities say, a drug bust netting 60 pounds of methamphetamine. So who sniffed out the stash under the seats of a Nissan Rogue? The catcher's name is Rye — the newest canine cop in the West Covina Police Department. Call it "Barking Bad."
If you like this newsletter, please share it with friends. Comments or ideas? Email us at headlines@latimes.com.
---