Newsletter: Today: Distrust and Verify
A look at the long road ahead on North Korea's nukes.
TOP STORIES
For the record:
3:45 p.m. June 4, 2018A previous version of this newsletter stated that Greer Garson's Oscar acceptance speech for "Mrs. Miniver" lasted nearly an hour. Garson's speech is estimated to have been more than five minutes — the longest on record.
Distrust and Verify
After President Trump received North Korean leader Kim Jong Un's "very nice" letter (the contents of which Trump may or may not have read last week), the June 12 Singapore summit is back on. "I think it'll be a process," Trump said Friday. "I never said it goes in one meeting." Though denuclearization of the Korean peninsula is the stated goal, analysts say Trump and Kim fundamentally disagree about what that looks like. And assuming North Korea eventually agrees to disarm in stages over the next decade or longer, the task of verifying would be massive and perhaps impossible. "Say they declare 30 nukes. Can you verify 30? Yes," says Robert Gallucci, who led 1994 talks with North Korea for the Clinton administration. "Can we ever, ever be certain they don't have five other nukes somewhere? Absolutely not."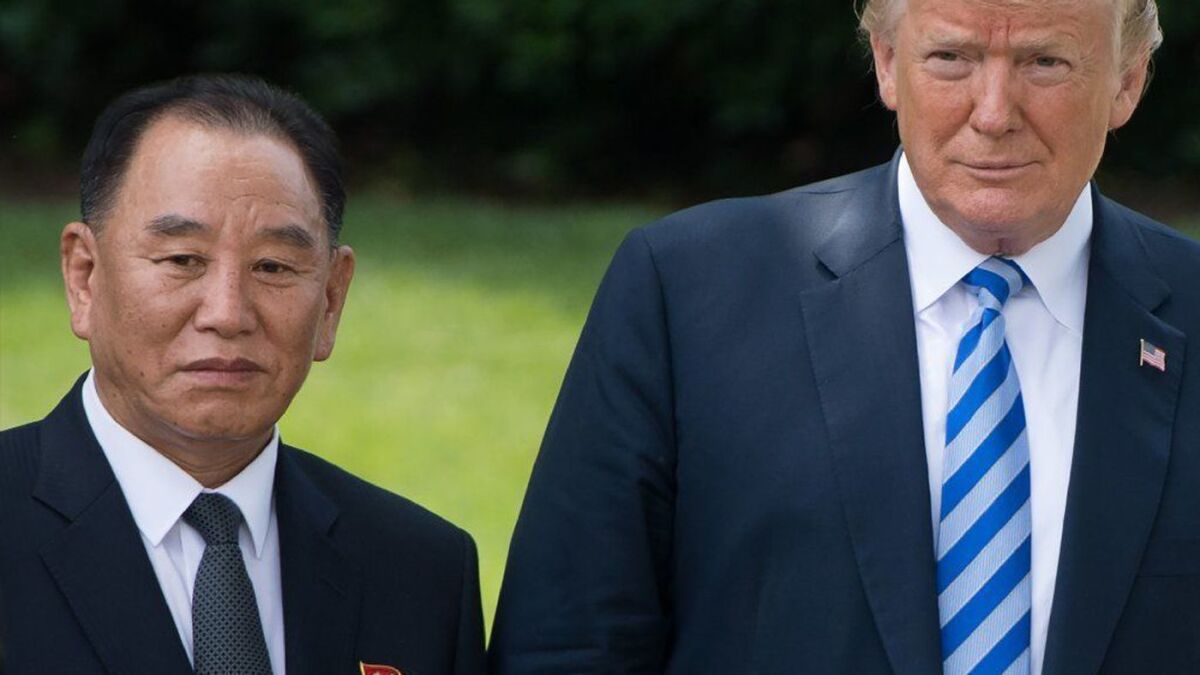 Executive Power Struggle
Speaking of letters … a 20-page letter that Trump's former legal team sent to special counsel Robert S. Mueller III in January emerged over the weekend, claiming that the president has unchecked authority over federal investigations and could act to end them or "even exercise his power to pardon." Current lawyer Rudy Giuliani followed up with an assertion on TV that Trump could probably pardon himself but wouldn't. Critics say the argument sounds a lot like Richard Nixon's infamous line: "When the president does it, that means it is not illegal."
More Politics
-- Canadian Prime Minister Justin Trudeau has criticized the White House rationale for imposing trade tariffs as "insulting and unacceptable." He'll have a chance to make his case directly with Trump next weekend at the Group of 7 summit.
-- The story of how Michael Avenatti, the Stormy Daniels attorney and thorn in Trump's side, ran his firm as it maneuvered into bankruptcy tells a lot about how he has tested legal and ethical boundaries.
Primary-Palooza
With Tuesday's election, California's primary season is coming to a fast and furious end. In the governor's race, candidates have been crisscrossing the state in last-minute bids to win over voters. Even the Inland Empire, which politicians running for statewide offices once considered an afterthought, has become one of the most contested electoral prizes. Catch up on the best-known gubernatorial candidates, review these five voting rules, and ponder these six crazy things that could happen in races around the state.
Togo Is Burning
Even in Africa, where many countries have struggled with corruption and abuses of power, the nation of Togo has stood out for its human rights violations and slow economic development. Since anti-government protests started last year targeting the president, hundreds have been detained. Prisoners describe being whipped, beaten and waterboarded. "In Togo, even if you don't do politics, politics do you," says one protester. "I prefer that I do it before it does me."
Sign up to get Today's Headlines delivered to your inbox. »
OUR MUST-READS FROM THE WEEKEND
-- A creepy feeling, a sideways glance: Patients of a former USC gynecologist share their stories.
-- The Big One in California could leave 250,000 to 400,000 quake refugees. Where will they go?
-- Fifty years after Bobby Kennedy's assassination, the busboy who tried to help him is still waiting for someone to follow in RFK's footsteps.
-- "Sex and the City" turns 20: How the HBO series revolutionized TV and dating.
-- Your airport summer survival guide: What to know before you go.
MUST-WATCH VIDEO
-- A bizarre, slow-speed chase through the San Fernando Valley last week featured multiple PIT maneuvers and angry spectators.
-- Niecy Nash, who portrays a nail salon owner caught up in a life of crime on the TNT show "Claws," learned a lot about acrylics to play the part.
CALIFORNIA
-- Court documents show the four-decade hunt for the Golden State Killer reached a turning point in April when detectives lifted the DNA of their suspect from his car door as he shopped inside a Hobby Lobby.
-- The heated campaign to recall the judge in the Brock Turner sexual assault case has led to vandalism, threats and broken friendships.
-- Officials say two veteran rock climbers died when they fell from the sheer granite face of El Capitan in Yosemite National Park.
-- Seventy-five years ago, the Zoot Suit Riots took place — an ugly chapter in Los Angeles history.
HOLLYWOOD AND THE ARTS
-- Kanye West debuted his "Ye" album on a ranch in Wyoming, and the scene was surreal.
-- With a lack of any big-ticket competition, Disney's "Solo: A Star Wars Story" maintained its box-office dominance for the second weekend in a row despite a big drop-off.
-- Get the packing tape out. Amy Sedaris has some serious crafting to do in her latest parody show.
CLASSIC HOLLYWOOD
On this date in 1942, the film "Mrs. Miniver" premiered in New York City. It would change actress Greer Garson's life in more ways than one. She'd win an Oscar (one of the film's six; her acceptance speech was estimated to have been more than five minutes, the longest ever) and marry Richard Ney, the actor who played her son. She also felt she could never get beyond her role as a steadfast wife of an Englishman fighting a threatened Nazi invasion of Britain: "I would so like to play a real bitch just once."
NATION-WORLD
-- A new study says most women with the most common form of early-stage breast cancer can safely skip chemotherapy.
-- "I didn't want this baby": Rohingya rape survivors are facing a harrowing choice.
-- In Sao Paulo, Brazil, nearly 200 people are still living in tents a month after the government building in which they were squatting burned down.
BUSINESS
-- So you want a letter saying you need a support dog (or peacock) on your flight? Therapists say the increase in these requests has put them in a bind.
-- Consider this retirement dilemma: Paying for a younger spouse's health insurance until Medicare kicks in.
SPORTS
-- With three-point shots galore, Stephen Curry led the Golden State Warriors in a Game 2 victory over the Cleveland Cavaliers.
-- Call him the Unknown Horseman: Pascual Rivera stays out of the spotlight, even as the horses he takes care of, such as Justify, go on to glory.
OPINION
-- The Times Editorial Board's recommendations for the California primary on Tuesday.
-- A new report affirms what we already know: Easier access to guns means more violent deaths.
-- Hate on Jordan Peterson all you want, but he's tapping into frustration that feminists shouldn't ignore.
WHAT OUR EDITORS ARE READING
-- A look back at the Tiananmen Square massacre in Beijing 29 years ago today, through the eyes of different generations. (Australian Broadcasting Co.)
-- Betrayed: Chicago Public Schools officials failed to protect students from sexual abuse by school workers, an investigation shows. (Chicago Tribune)
-- Missing Melania Trump? Her spokeswoman says she'll attend a White House event today to honor Gold Star families, though it will be closed to media. (CNN)
ONLY IN L.A.
Generations of immigrants have tended the soil in a community garden on a hill near the 110 Freeway in San Pedro, growing avocados, tomatoes, bananas, sugar cane, guava — anything and everything that would give them a taste of home, even if they didn't have their own yard. That's when the water flowed freely. But after the city drastically cut back the supply, water wars have disrupted an oasis of tranquillity.
If you like this newsletter, please share it with friends. Comments or ideas? Email us at headlines@latimes.com.
Must-read stories from the L.A. Times
Get the day's top news with our Today's Headlines newsletter, sent every weekday morning.
You may occasionally receive promotional content from the Los Angeles Times.