Newsletter: Today: California Bails on Money Bail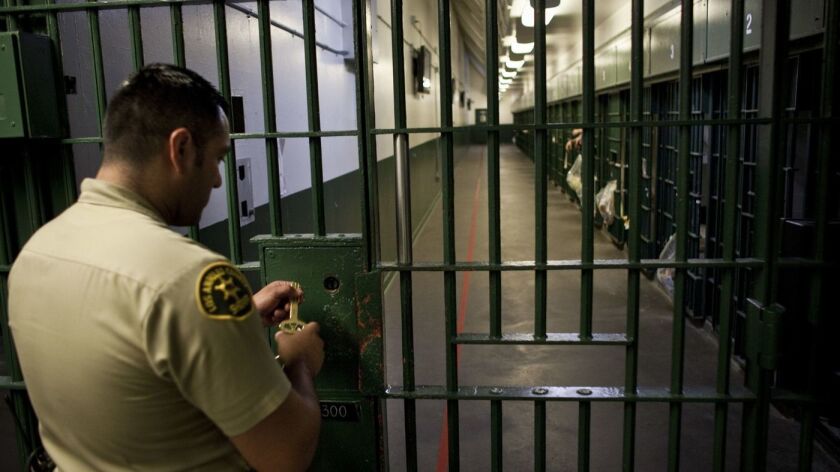 Next year will see the end of the money bail system as we know it in California.
TOP STORIES
California Bails on Money Bail
Jerry Brown urged the California Legislature to take on bail reform in his first go-around as governor four decades ago. This week, he finally signed into law a bill to do away with the state's current money bail system. In its place will be one that gives judges greater power to decide who should remain incarcerated ahead of trial. The changes take effect in October 2019, but already they have upset some advocates of bail reform, not to mention the bail bonds industry.
A Burning Issue
Lawmakers in Sacramento are busy on a number of other fronts this week, as the two-year legislative session ends Friday. Chief among them: an effort to require the state to get 100% of its electric power from clean energy sources by 2045. Hawaii already has a similar plan in place, and former Gov. Arnold Schwarzenegger and former Vice President Al Gore praised the California bill, called SB 100. Its opponents argue that phasing out fossil fuels so quickly is not achievable and will only increase the cost of energy.
The Great NAFTA Bluff?
With pressure growing to wrap up renegotiations of the North American Free Trade Agreement, President Trump has threatened to leave Canada out in the cold on a new agreement. The likelihood of that, however, appears slim. Lawyers and congressional leaders have questioned whether the president has the legal authority to do so, nor is it clear that Mexico would agree with such a deal.
More Politics
-- Defense Secretary James N. Mattis says the U.S. is open to resuming the large-scale military exercises with South Korea that were halted by Trump. It's the latest sign that prospects are dimming for an agreement with North Korea on eliminating its nuclear weapons.
-- After Tuesday's elections, two Arizona congresswomen will vie for a Senate seat, while the Florida governor's race will feature a Bernie vs. Trump fight.
-- The Trump administration says it is "taking a look" at whether Google and its search engine should be regulated by the government.
Should ICE Have Its Way in Court?
Is a state courthouse a "safe zone" from immigration authorities, so that witnesses and victims can come forward without fear, or a safe place for ICE agents to make arrests of those living the country illegally? That's the debate playing out in California as the Trump administration has ramped up immigration enforcement. The arrest of a man in a Sacramento courthouse last week has only added fuel to the fire.
Sign up to get Today's Headlines delivered to your inbox. »
MUST-WATCH VIDEO
-- In Detroit, fans paid their respects to the late Aretha Franklin at a public viewing at the Charles H. Wright Museum of African American History.
CALIFORNIA
-- Columnist Steve Lopez looks at another round of Catholic Church abuse scandals, and the death of an ex-priest who warned of a corrupt culture.
-- The Anaheim City Council voted to end agreements that offer the Disneyland Resort certain tax breaks, as requested by theme park owner Walt Disney Co.
-- Meach Sovannara, a former teacher and journalist turned political activist based in Long Beach, has been released from a Cambodian prison.
-- Did you feel it? A 4.4 magnitude earthquake Tuesday evening was centered near La Verne but felt over a wide area.
HOLLYWOOD AND THE ARTS
-- Nearly 10 years after his death, the Michael Jackson brand is stronger than ever, but rehabbing his image hasn't been the easiest.
-- HBO has quietly removed erotic adult movies and TV shows from its channels and streaming services.
-- The best thing about the movie "Operation Finale," which retells Israel's capture of fugitive Nazi Adolf Eichmann? It's Ben Kingsley's acting.
-- Louis C.K. is back, but is it too soon for him and other #MeToo offenders?
CLASSIC HOLLYWOOD
Preston Sturges, who was born on this date in 1898, gained fame as a playwright on Broadway before taking the screwball comedy to new heights in Hollywood. His film "The Great McGinty," which charted how a bum rose through the political ranks to become governor, not only won Sturges an Oscar for best screenplay but also launched his directing career.
NATION-WORLD
-- In Puerto Rico, an estimated 2,975 people died in the six months after Hurricane Maria as a result of the storm, with the elderly and impoverished most affected, according to an independent study.
-- A Dallas County jury has convicted former police officer Roy Oliver of murder in the shooting death of 15-year-old Jordan Edwards. The last time an on-duty police officer in the county was convicted of murder was in 1973.
-- The fate of millions of people is in doubt as Syria prepares for a final showdown with rebels in Idlib province.
-- There's talk of a new cold war between China and the United States. A look at how bad it could get.
-- In Singapore, the odds of getting shot are 1 in a million. In the U.S., it's 1,000 times higher.
BUSINESS
-- Longtime United Farm Workers President Arturo Rodriguez will step down from leadership of the union founded by his late father-in-law, Cesar Chavez. His replacement, Teresa Romero, will be the first woman and first immigrant to lead the labor organization.
-- Tesla's Elon Musk is infamous for bold forecasts that pan out late or not at all. In dismissing a shareholder lawsuit, a federal judge ruled they don't constitute fraud.
SPORTS
-- At the U.S. Open, heat has been wreaking havoc on the players and tennis fans.
-- Sports talk host Jim Rome can be seen and heard just about everywhere, but on L.A. radio he's tough to find.
OPINION
-- Marco Rubio's parental leave plan would rob Peter to pay for Peter Jr.
-- Columnist Gustavo Arellano says we need a state cuisine. And it should be Cal-Mex.
WHAT OUR EDITORS ARE READING
-- Former United Nations Secretary-General Kofi Annan, who died at age 80 this month, was the epitome of international diplomacy. (Foreign Policy)
-- In some ways, Google is the perfect target for Trump. (Wired)
-- How the Olsen twins' "Gimme Pizza" video was made and went viral. (The Ringer)
ONLY IN L.A.
Langer's Deli has been at the southeast corner of Alvarado and 7th streets since 1947, but the property belongs to another family. Now the building is up for sale, listed as a "development opportunity." Does that mean the No. 19 pastrami sandwich and matzo ball soup are headed for a new location? "I'm not planning on going anywhere whether it's sold or not," says Norm Langer, chief executive of the old-school deli. "That's as hard in cement as I can put it."
If you like this newsletter, please share it with friends. Comments or ideas? Email us at headlines@latimes.com.
---