Newsletter: Today: Will 'Space Force' Mean 'Jobs, Jobs, Jobs'?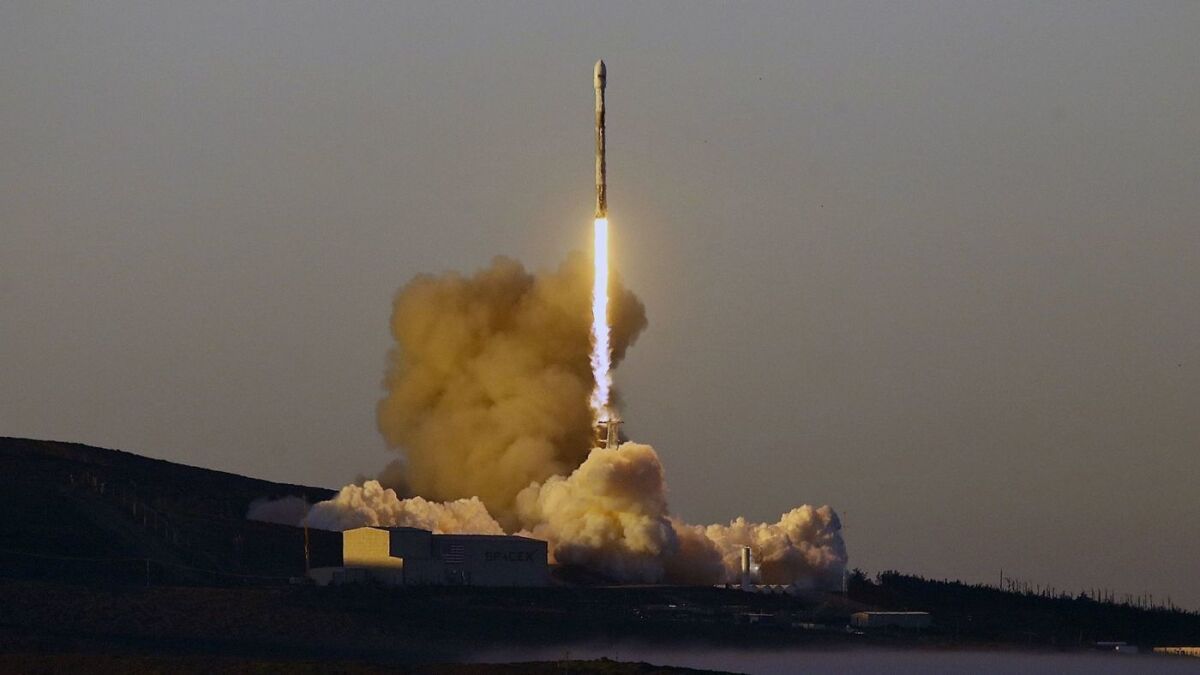 President Trump's proposed "space force" could improve Southern California's employment picture — if politics don't come into play.
TOP STORIES
Will 'Space Force' Mean 'Jobs, Jobs, Jobs'?
President Trump's plan to create a "space force" is still a long ways from launch, but already some experts and former military officials think it could benefit Southern California in a big way. Depending on whether Congress approves the new branch of the military and how much money it's willing to spend, the region is well positioned to take advantage of billions in funding for satellites and technology. The biggest question mark: whether Trump or Congress would try to direct the rewards to other states that have been more sympathetic to (or at least not "at war" with) the president.
'No Need to Be Made Great Again'
By inviting speakers including onetime rivals Barack Obama and George W. Bush, Sen. John McCain tried to send a bipartisan message at his funeral that he practiced in life. But what was all the more remarkable was how the ceremony delivered an implicit rebuke to a president he didn't invite: Trump. (If you missed it, watch here.) McCain was buried on Sunday.
A Desperate Search in Guatemala
When the Trump administration instituted its "zero-tolerance" immigration policy, one of the results was that about 400 children, from toddlers to teens, remained in the U.S. while parents were sent back to Central America. Though a federal judge ruled it is the U.S. government's responsibility to reunite families, much of the work in Guatemala has fallen on locals who travel to remote villages with sometimes only a name as a clue.
Crazy Rich With Contradiction
In the film "Crazy Rich Asians" as in real life, Singapore has become a playground for the 1%. But the tales of excess are hard to square with the authoritarian ethos (no chewing gum allowed!) that helped propel the city-state to prosperity over the last half-century — and with a growing inequality that sees elderly Singaporeans clearing tables or collecting cardboard boxes for money.
An Uneven Start to Housing the Homeless
Months after Los Angeles City Council members vowed to back at least 222 units of supportive housing for the homeless in each of their districts by July 1, 2020, some have neared or breezed past the pledged number, while others remain far from the goal. What's going on? Read on.
Sign up to get Today's Headlines delivered to your inbox. »
MUST-WATCH VIDEO
-- Columnist Steve Lopez goes out on the street to find out: Do you think Los Angeles has gotten better or worse over the years?
FROM THE ARCHIVES
These days, we're more likely to mark Labor Day with a barbecue or shopping spree. But for years, downtown L.A. hosted big parades featuring workers, bands and floats. Take a look back at how they celebrated in these photos from 1936 to 1948. The one below shows the L.A. Times' longtime headquarters (before our move to El Segundo this year).
CALIFORNIA
-- State lawmakers have moved to undo some of the nation's strictest rules keeping law enforcement records confidential, particularly involving officer killings of civilians.
-- Legislators also ratified new efforts at preventing wildfires and assessing who's responsible when utilities are held liable for starting fires. They await Gov. Jerry Brown's signature.
-- A night on the Colorado River north of Lake Havasu turned tragic when two boats crashed and sank. Four people were still missing as of Sunday night, officials said.
-- After the fatal police shooting of "ER" actress Vanessa Marquez at her home, South Pasadena officials are asking the public to let the investigation play out.
HOLLYWOOD AND THE ARTS
-- With the Neil Armstrong movie "First Man," director Damien Chazelle is back in the Oscars race. But first, hear him explain why the astronaut's flag-planting moment isn't in the film.
-- Speaking of the Oscars: Netflix is making a major push into this year's fall film festivals in hopes of securing a statuette.
-- Twenty years after her debut, Tamia has remained a steadfast voice in R&B.
NATION-WORLD
-- "Action! We need it now!" Lori Alhadeff, the mother of a Parkland, Fla. shooting victim, has turned her grief into a fight for change, including winning a seat on the school board.
-- The Kansas Supreme Court has ruled that a grand jury must be convened to investigate whether GOP candidate for governor Kris Kobach intentionally failed to register voters in 2016.
-- Argentina, scrambling to avoid yet another financial crisis, is desperately trying to prop up the national currency after the peso lost 20% of its value in just one week.
-- Philippine President Rodrigo Duterte, having stirred controversy in the past with comments about the Holocaust, received a warm welcome in Israel for a four-day visit.
BUSINESS
-- There's a costly Medicare mistake that too many people make. Here's how to avoid it.
-- These two college friends rejected corporate careers to launch a start-up that makes anti-radiation cases.
SPORTS
-- Matt Kemp was the hero again in the Dodgers' 3-2 walk-off win over the Arizona Diamondbacks. The team moved back into sole possession of first place for the first time in nearly a month.
-- Among the UCLA faithful, Chip Kelly's debut as football coach had to hurt.
OPINION
-- The paradox of rising globalism fueling rising nationalism.
-- Manhattan Institute scholar Heather Mac Donald argues that UCLA's infatuation with diversity is a costly diversion from its true mission.
WHAT OUR EDITORS ARE READING
-- "At long last, show some decency": Mollie Tibbetts' father writes an op-ed calling on people to stop politicizing his daughter's death. (Des Moines Register)
-- The details on when Al Gore's campaign got a cache of pilfered George W. Bush debate material and turned it over to the FBI. (Daily Beast)
-- A look back at "Renaissance Man of the West" Jo Mora's incredibly detailed maps of California. (Atlas Obscura)
ONLY IN L.A.
John and Molly Chester dreamed for years about moving from the city to start their own farm. But life was busy — John directed television docuseries, and Molly was a traditional foods private chef. Then they got a dog named Todd who didn't like being cooped up, found a friend to be an investor and bought 130 acres in Moorpark. So how did this real-life "Green Acres" turn out? This being L.A., the results are seen in a new documentary.
If you like this newsletter, please share it with friends. Comments or ideas? Email us at headlines@latimes.com.
---