Newsletter: Today: A Supreme Showdown, or Just a Show?
Judge Brett Kavanaugh will face tough questions from Democrats this week, but they're unlikely to stop his advance to the Supreme Court.
TOP STORIES
A Supreme Showdown, or Just a Show?
Four days of Senate confirmation hearings for Brett Kavanaugh, President Trump's Supreme Court nominee, begin today with opening statements. On Wednesday, the real fireworks begin. But is the battle over before it's begun? Though Democrats plan to press Kavanaugh to explain his views on presidential power, abortion, Obamacare and a range of other issues, the fact of the matter is that Republicans outnumber them 11 to 10 on the Senate Judiciary Committee. Given the partisan divide — and that most Supreme Court nominees try to say as little as possible at this stage — it would take something truly shocking for Kavanaugh not to win approval out of the committee.
More Politics
-- Trump intensified his criticism of Atty. Gen. Jeff Sessions, suggesting that the Justice Department should not have brought indictments against two Republican members of Congress, one of them from California, before the midterm election in November.
-- Trump also lashed out at AFL-CIO President Richard Trumka, who had criticized the president's handling of the North American Free Trade Agreement renegotiations.
-- A poll indicates that Trump's attacks on the news media are taking a toll on his own credibility, as well as the media's.
Beijing's Billions: Better Spent at Home?
China has spent untold billions helping African nations build infrastructure, and its ambitious Belt and Road Initiative is taking a similar tack in countries along the ancient Silk Road. While some outside China have voiced concerns about those countries being subject to debt and colonialism, critics inside China are wondering why Beijing isn't using the money to solve more problems at home. In some cases, those critics have been dealt with harshly.
Self-Defense on the Night Shift
For female janitors working the night shift, sexual harassment or violence is all too common. For those in the United States illegally or otherwise worried about their immigration status being questioned today, the threat comes with the growing fear of deportation. That's why one group is offering self-defense training to female janitors.
Say Aloha to My Little Friend
China, Japan and Australia all have strict gun laws. So it's probably not too surprising there's a curiosity factor when tourists from those three countries encounter a place advertising "Experience Live Firearms! Feel the Power!" That place happens to be a gun range in Waikiki, Hawaii, where customers can fire off an AK-47 or a 9-millimeter Uzi.
Sign up to get Today's Headlines delivered to your inbox. »
OUR MUST-READS FROM THE WEEKEND
-- CashCall stopped making loans, but its founder, targeted by regulators, is still in the business.
-- Photo essay: The presence of homeless people at almost every L.A. landmark illustrates the depth of the problem.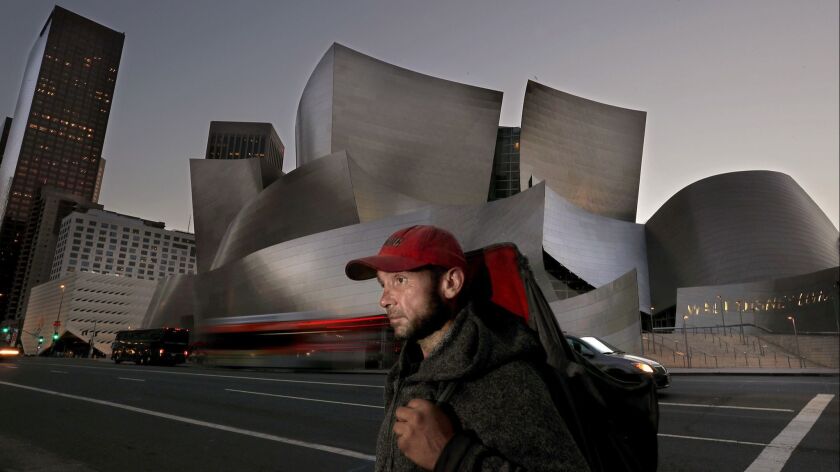 -- A village in Guatemala ravaged by war brings home its dead after more than three decades.
-- Paul McCartney and Paul Simon are redefining the idea of what it means to be a pop star at 76.
-- Padraig Carney played for a Gaelic football team that was said to be cursed by a priest, but he says he's no jinx to his former team.
MUST-WATCH VIDEO
-- At home, Vivica A. Fox is all for unstuffy comfort but has a thing for bling.
CALIFORNIA
-- Eight people were shot in what police described as a "gun battle" at a San Bernardino apartment complex. But with few witnesses willing to cooperate, authorities are seeking the public's help.
-- The body of one of four people missing since Saturday when two boats crashed head-on and sank in the Colorado River was pulled from the water. The search for the others continues.
-- Invasive mosquitoes are spreading across Los Angeles County. Have you been bitten by one?
-- That boycott of In-N-Out Burger? Eric Bauman, the chairman of the California Democratic Party who last week called for one, now says, "There is no boycott."
HOLLYWOOD AND THE ARTS
-- What has Gumby hairdos, sequined genie pants and lots of tragedy? "The Bobby Brown Story," which was co-produced by the singer and premieres tonight on BET.
-- Does the film franchise "The Purge" translate as TV? Critic Robert Lloyd was less than impressed by the start.
-- From "First Man" to "Roma," Oscar season came a bit more into focus at the Telluride Film Festival.
-- Roseanne Barr says she's leaving California for a while and will be far from Hollywood when "The Connors" premieres without her.
CLASSIC HOLLYWOOD
A long-lost 1911 film short from pioneering filmmaker Lois Weber will finally have its world premiere in Hollywood on Thursday. The screening is part of a joint presentation from the Academy of Motion Picture Arts and Sciences and the Library of Congress that features rare footage of Clara Bow and the Marx Brothers and a teaser of the library's restoration of Thomas Edison's 1910 "Frankenstein."
NATION-WORLD
-- In eastern Afghanistan, a U.S. service member has been killed and another wounded in an apparent insider attack.
-- Tropical Storm Gordon lashed South Florida, and forecasters say the storm could strengthen to near-hurricane force by the time it hits the central U.S. Gulf Coast.
-- Two Reuters journalists in Myanmar were convicted under a colonial-era state secrets law and sentenced to seven years in prison for investigating the army's attacks against Rohingya Muslims.
-- At Brazil's National Museum, the finger-pointing has begun over who's responsible for a fire that destroyed at least part of Latin America's largest archive of historical artifacts and documents.
BUSINESS
-- Facebook, Twitter and Google have become political footballs for the left and right. This week, Congress will get its kicks in.
-- If your credit score goes up, that doesn't mean you can rest easy. Columnist David Lazarus explains why.
-- Despite concussion concerns and the anthem controversy, the NFL is still the biggest TV game in town for advertisers.
SPORTS
-- Speaking of the NFL: So far, so good for the revamped Rams, but a winning culture is not tested until the real games begin.
-- Roger Federer, the world's No. 2 tennis player, lost to No. 55-ranked John Millman of Australia at the U.S. Open.
OPINION
-- What to ask Judge Kavanaugh during his confirmation hearing? The Times Editorial Board has some suggestions.
-- In their own ways, the funerals of John McCain and Aretha Franklin told us something about ourselves, columnist Robin Abcarian writes.
WHAT OUR EDITORS ARE READING
-- Facing a widespread backlash, the New Yorker dropped plans to interview Stephen K. Bannon during its festival next month. Why didn't the magazine see this coming? (Slate)
-- Chuck Todd offers his thoughts on how to counter the attacks on the media: "Journalists need to speak up for their work." (The Atlantic)
-- How a story attempting to shame "Cosby Show" actor Geoffrey Owens for working at a Trader Joe's created a discussion about the value of labor. (The New Yorker)
ONLY IN L.A.
Andrew D. Bernstein has been in the middle of the action at NBA games for 37 seasons. While he's thinking of retirement sometime, he's not there yet. This week, he's headed to the Hall of Fame. Never heard of him? He's the L.A.-based official team photographer of the Lakers, Clippers, Sparks and more, and he's captured images that have come to define the game.
If you like this newsletter, please share it with friends. Comments or ideas? Email us at headlines@latimes.com.
---