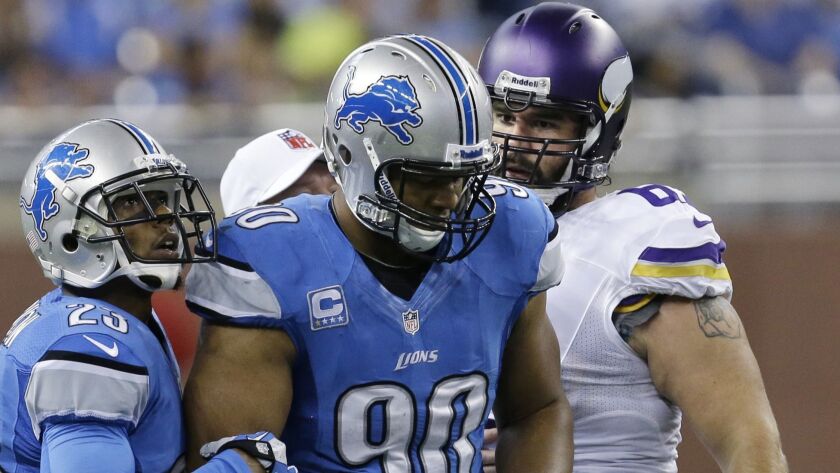 After his team intercepted a pass in 2013, Detroit Lions defensive lineman Ndamukong Suh drew a penalty and fine for a low block on Minnesota Vikings center John Sullivan.
The $100,000 fine was the largest for an on-field play in NFL history.
"I'm just happy I wasn't hurt — seriously injured," Sullivan said at the time. "There's a reason that play is illegal. It's incredibly dangerous."
Five years later, Sullivan and Suh are Rams teammates. Their lockers at the team's Thousand Oaks facility are directly across the room from each other.
No hard feelings, Sullivan said.
"Any player that can come in here and help us win, and embraces the culture that this team's trying to build is welcome with open arms," Sullivan said.
The "We not Me" culture that coach Sean McVay introduced and hammered home last season was considered a key component in the Rams' turnaround from NFL laughingstock to playoff team for the first time since 2004. The locker room was unified and upbeat, with players such as leaders Alec Ogletree, Robert Quinn, Connor Barwin, Andrew Whitworth and Robert Woods making sure the vibe was a good one.
During the offseason, Ogletree and Quinn were traded and Barwin left as a free agent as general manager Les Snead engineered a flurry of high-profile trades and free-agent signings that have made the Rams one of the Super Bowl favorites.
Suh and cornerbacks Marcus Peters and Aqib Talib all have been voted to the Pro Bowl multiple times. But they also arrived with histories of suspensions, fines and controversy that could threaten — or add to — the delicate balance that is culture.
"We're going to have some personalities now," defensive coordinator Wade Phillips said.
That's a good thing, according to Phillips and Rams players.
"That's what you need," receiver Robert Woods said. "It makes your team fun. It makes your team a family."
Snead and McVay have said that players are vetted before they are acquired.
"You would never bring in what we would consider an apple that may spoil the batch," Snead said.
Peters, acquired first in a trade with the Kansas City Chiefs, intercepted 19 passes in the last three seasons, the most by any NFL player in that span.
He was kicked off the team at the University of Washington, and was suspended last season after he threw a penalty flag into the stands. He also reportedly yelled at a coach and had a profane interaction with fans.
After his introductory news conference in March, Peters said the incidents that have trailed him spring from his competitiveness. He said that he has learned from his mistakes.
During training camp, he dismissed the notion of fitting in.
"I don't fit in because I'm the same person everywhere I go," he said. "So I don't get the fitting in.
"It's a puzzle that you start off with. All the pieces are scrambled, and then you put them back together. So as we get going on this journey, we just going to start putting out pieces together, and everything will just start jelling and jelling more as we get to be around each other."
Talib, an 11th-year pro, won a Super Bowl with the Denver Broncos and has 34 career interceptions. He returned 10 for touchdowns, third-most in NFL history.
He was suspended twice early in his career with the Tampa Bay Buccaneers, once for violating the NFL's personal conduct policy and once for violating the league's substance abuse policy. In 2016, he accidentally shot himself in the leg. He was suspended last season for fighting with then-Oakland Raiders receiver Michael Crabtree.
Talib is regarded as a potential team leader. His style, he said, is just to be himself.
"I'm not trying to be Martin Luther King or anybody," he said. "I just come out here to play football.
"My mom blessed me to be social. I just talk. I just be myself. If that's a leader, then I'm a leader."
Suh is a five-time Pro Bowl player. He amassed 51½ career sacks in five seasons with the Detroit Lions and three with the Miami Dolphins.
Suh was not fined by the NFL during his three seasons with the Dolphins, but accrued nearly $300,000 in fines for overly aggressive play as a member of the Lions, including the hit on Sullivan.
Suh said his reputation was skewed.
"I don't think you can know any particular person unless you've been in their shoes and been around them 24/7/365 to know exactly who that person is," he said during his introductory news conference.
McVay said he was not anticipating issues that could harm the Rams' culture, but acknowledged the 2017 Rams did not have to deal with an injury to a star player or come out the other side of a losing streak.
"It's easy right now," he said. "We're hopeful that we're doing the right things from a foundational standpoint that if and when that does occur, we'll be able to handle it the right way."
The way that Peters, Talib and Suh — and other additions such as receiver Brandin Cooks and cornerback Sam Shields — have melded with teammates has been "extremely encouraging," McVay said.
"We want to keep the same core principles and values, but you understand that the different personalities, and those guys collaborating together, are what make each team unique in and of itself," he said.
During organized team activities and minicamp, players said the newcomers fit in well.
"The locker room is still pretty knit, it's still sewed up," cornerback Nickell Robey-Coleman said.
It continued that way into training camp.
"They're great locker-room guys," linebacker Mark Barron said. "They're all passionate about the game, they love the game, and that's what you want so they've all been fitting in great."
Players expect the smooth transition to continue once the season begins. Safety Lamarcus Joyner said Peters has carried himself humbly, and Talib and Suh have gone about things as if they were rookies learning from other players.
"If the culture is a winning culture," Joyner said, "then people are going to fall in line no matter how much success they had previously."
But, Joyner added: "You gotta go through the fire to really know what's going to happen, and the fire's when the regular season starts."
Veteran offensive linemen Rodger Saffold and Andrew Whitworth, who have a combined 20 seasons between them, echoed Joyner. The new players have fit in and the culture to this point is the same or better than last season, when the Rams finished 11-5 and never lost consecutive games.
"But that can change based on adversity," said Saffold, a ninth-year pro and the longest-tenured Rams player. "So we're really going to be challenged when that adversity hits to see what type of team we really have."
Said Whitworth, beginning his 13th NFL season: "That's when your culture gets tested."
Sullivan is among the veterans McVay is relying on to lead the way. Neither he nor Suh have discussed their history.
"Water under the bridge," Sullivan said. "I mean, that was a long time ago.
"I'm really happy he's here on our team. All I care about is winning. That's all I want to do."
Follow Gary Klein on Twitter @latimesklein
---