Newsletter: Today: 'Deatherism'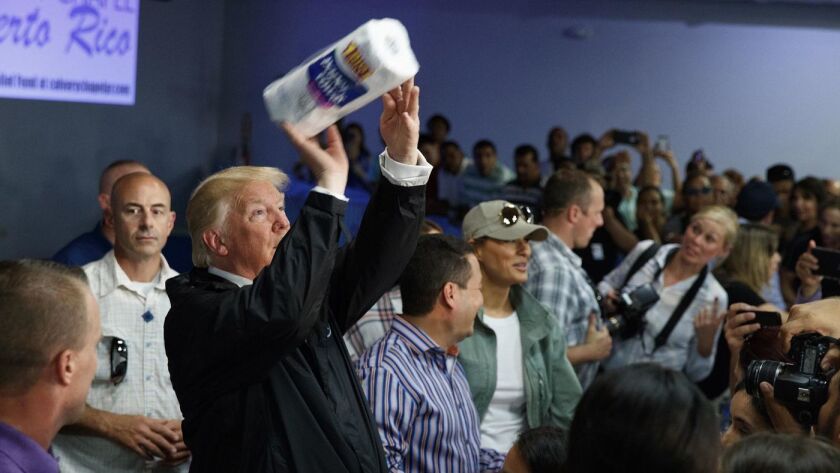 President Trump smells another conspiracy … in the official death toll from last year's devastating hurricanes in Puerto Rico.
TOP STORIES
'Deatherism'
With Hurricane Florence hitting the Carolinas, President Trump has provoked widespread outrage by falsely accusing Democrats of inflating Puerto Rico's death toll from hurricanes Maria and Irma last year. Without citing evidence, the president took issue with the U.S. island's official death toll and claimed that "3000 people did not die in the two hurricanes." It was the latest example of Trump's instincts to deny accepted reality when he perceives it as criticism and to counter with conspiracy theories. Some observers called it "deatherism," alluding to Trump's birtherism campaign against President Obama. "How can you disrespect the dead?" said one woman whose grandfather died in Puerto Rico when his insulin could not be refrigerated. "It's beyond my comprehension."
More Politics
-- A letter reportedly alleging a decades-old incident involving Supreme Court nominee Brett Kavanaugh has been referred to the FBI for review.
-- Education Secretary Betsy DeVos has lost a student loan lawsuit brought by 19 states and the District of Columbia, saying her department's postponement of the so-called Borrower Defense rule was improper.
'He's Not the Same Boy'
Twelve-year-old Erik Castillo Lanuza is back with his parents in Guatemala. He was one of more than 2,500 children the Trump administration separated from their parents under its "zero tolerance" policy and one of about 400 left in the U.S. after their parents were deported. But his mother noticed something was off when he came back: Was it the trauma of being held separately from his father? Or the antipsychotic drug he was put on while in government custody?
The New Climate Activists Are … CEOs?
As Gov. Jerry Brown's global climate summit enters its third and final day, some of the world's biggest companies say they plan to reduce greenhouse gas emissions, even if the U.S. government won't. Businesses such as McDonald's, Walmart and Levi Strauss & Co. have pledged to do so, whether to help their bottom line, generate publicity or protect their image with consumers. Some skeptics contend that it's mostly for show.
Where #RiceBunny Means #MeToo
China is no stranger to the cycle of sexual harassment, shame and even suicide that has inspired a pushback via the #MeToo movement. But in a country where gender inequality is still deeply entrenched and virtually any form of social protest is swiftly stifled, activists face a daunting and often risky challenge. To get around censorship of the #MeToo hashtag, activists came up with a sound-alike in Mandarin: the characters for "rice bunny."
Who Killed Lorenzen Wright?
He was a first-round draft pick for the Clippers in 1996 and played 13 seasons in the NBA. Eight years ago, Lorenzen Wright was found dead in a Memphis field. Five gunshot wounds were visible in the withered remains. The killing remained unsolved, but by last December, a long-dormant police investigation had taken on new life.
Sign up to get Today's Headlines delivered to your inbox. »
FLASHBACK FRIDAY
From the 1950s to the 1980s, "smog sieges" and "smog attacks" were a part of September life in Southern California. During one such episode of eye-watering smog, motorcycle messengers for a blueprint company went on strike Sept. 13, 1955, because they said they could not see. The next day, the company issued gas masks to the riders.
MUST-WATCH VIDEO
-- In Episode 1 of the Pound for Pound series, reporter Lance Pugmire sets up this weekend's rematch between boxers Canelo Alvarez and Gennady Golovkin.
CALIFORNIA
-- A witness says a gunman's deadly rampage through Bakersfield may have been triggered by a love triangle.
-- In response to complaints, Bird has created "no-go zones" in L.A. where its scooters aren't welcome. But is that stopping anyone from going there?
-- Columnist Steve Lopez looks at how five current and former coastal commissioners won't pay a dime after being fined thousands of dollars. Taxpayers will foot the bill.
-- L.A. schools Supt. Austin Beutner signaled in a speech that he wants to limit current teacher job protections.
YOUR WEEKEND
-- A hike through Point Mugu State Park's Sycamore Canyon to stunning ocean views.
-- At the Big Bear Oktoberfest, you can get the best of the wurst.
-- Mousse, sorbet, cocktails and more great ideas using passion fruit, now in season.
-- British Israeli chef Yotam Ottolenghi goes "simple" in his latest cookbook.
HOLLYWOOD AND THE ARTS
-- Don Henley had history on his mind when he and the Eagles played the Forum 43 years after their first concert at the Inglewood arena.
-- With the film "If Beale Street Could Talk," based on James Baldwin's 1974 novel, director Barry Jenkins wanted to respect the author's legacy.
-- Hulu's drama series "The First" stars Sean Penn as an astronaut whose greatest challenges are right here on Earth.
NATION-WORLD
-- A series of gas explosions caused fires across three communities north of Boston, forcing entire neighborhoods to evacuate.
-- Myanmar leader Aung San Suu Kyi has defended the imprisonment of two Reuters journalists who were investigating military attacks against Rohingya Muslims.
-- Pope Francis held an emergency meeting with U.S. bishops as the Vatican announced a new investigation into a West Virginia bishop accused of molesting adults.
-- Russian news reports say that a member of Russian punk protest group Pussy Riot has been hospitalized in grave condition for possible poisoning.
BUSINESS
-- Is Disneyland exempt from Anaheim's "living wage" ballot measure? The debate rages on.
-- Dr. Prudence Hall, who touted a controversial menopause therapy on the Oprah Winfrey Network, has been disciplined by California's medical board for gross negligence.
SPORTS
-- Boxing regulations are still lacking when it comes to protecting fighters from head injuries.
-- The Angels' Mike Trout is making a push toward his first Gold Glove award.
OPINION
-- Did we learn enough from the Lehman Bros. bankruptcy to handle the next financial meltdown?
-- Making homelessness a crime is no way for Los Angeles to fix its crisis.
WHAT OUR EDITORS ARE READING
-- A warning from Europe on polarization in politics: "The worst is yet to come." (The Atlantic)
-- The cost of insulin — a 100-year-old drug whose inventors sold the patent for about $3 — has been rising for years. (CBS News)
-- How much would an iPhone made in America cost? (Vox)
ONLY IN L.A.
At the new restaurant Somni in the SLS Beverly Hills hotel, you buy tickets instead of making reservations, sit at a semicircular counter and get a menu that resembles a playbill. But this is not dinner theater in the usual sense. The show is the chefs and cooks, who were taught by an acting coach to take on different characters. "In the beginning, when he told us to say those things, I felt silly," says one. "But then we were all doing it together, you know?"
If you like this newsletter, please share it with friends. Comments or ideas? Email us at headlines@latimes.com.
---