Newsletter: Today: Supreme Disarray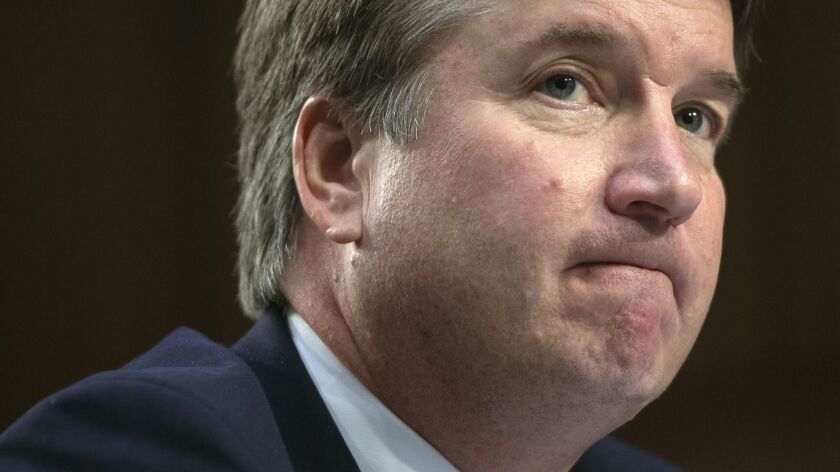 What will the Senate Judiciary Committee do now?
TOP STORIES
Supreme Disarray
The once highly orchestrated confirmation process for Supreme Court nominee Brett Kavanaugh has fallen into further partisan disarray. Christine Blasey Ford, the California professor who has accused him of sexual assault, signaled late Tuesday that she would not testify in front of senators until after the FBI had investigated the matter. Republican lawmakers have scoffed at that idea and indicated they would move forward even if Ford didn't testify. Democrats have called not only for the FBI investigation but also for the sworn testimony of Kavanaugh's high school friend Mark Judge, who Ford says witnessed the alleged assault. Meanwhile, Ford's lawyers say she has received death threats, and she's been subjected to smear campaigns. Ford's colleagues describe her as a rigorous statistician who doesn't fudge the data or stray from the facts.
Hype and Hope in North Korea
The leaders of South and North Korea have emerged from their third summit this year with more words of cooperation and a potentially historic first in North Korean leader Kim Jong Un's pledge to visit Seoul. A "new era of peace and prosperity" is how it was touted. But in terms of denuclearization, experts say there were few concrete promises, despite President Trump's optimistic tweets.
Florence's Rising Environmental Threat
With rivers continuing to rise after Florence dumped a historic amount of rain on the Carolinas, officials are still scrambling with rescue efforts and trying to get displaced residents home. They're also dealing with a potential toxic stew that can result from floodwaters hitting hog farms, coal ash basins and other contaminated sites. It could be days or weeks before the full extent of the damage is known. So far, more than 30 deaths have been linked to the storm; a Times analysis shows most of them occurred on the road.
A Seldom-Used Legal Weapon
Under California law, family members, roommates and police officers may ask a judge to block people from having firearms for up to a year, if they can be shown to pose a danger. Since it took effect in 2016, though, records show it's been used fewer than 200 times. Proponents say it can be a powerful tool against violence. Gun rights advocates call it a violation of the 2nd Amendment.
One Woman's Path Out of Homelessness
With more than 50,000 homeless people in L.A., it's easy to feel discouraged about the despair on the streets. Are you ready for a story with a happy ending? Columnist Steve Lopez wrote about Meg Shimatsu a little over a year ago when she was living in a 1990 Toyota Corolla. Recently, she wrote to him: "Hey Steve, just wanted to let you know that I'm no longer homeless." How did she do it? Read on.
Sign up to get Today's Headlines delivered to your inbox. »
MUST-WATCH VIDEO
-- Go behind the scenes at the Canelo Alvarez vs. Gennady Golovkin boxing match in Pound for Pound Episode 3.
CALIFORNIA
-- A student project by the UC Berkeley law school accuses business improvement districts of systematically abusing homeless people.
-- L.A. Police Commissioner Matt Johnson, a key architect of some of the LAPD's most significant recent reforms, will announce his departure today.
-- An Orange County surgeon who appeared on a reality TV dating show and his girlfriend are accused of sexual assault and preying on drugged women.
-- Detectives are investigating the death of a 20-year-old UC Riverside student who collapsed during a fraternity outing and whether hazing was a factor.
HOLLYWOOD AND THE ARTS
-- Monday night's Emmy Awards telecast drew its smallest audience yet, continuing a viewership slide that has coincided with the rise of streaming TV.
-- Across town from the Emmys, Roseanne Barr talked about apologies, forgiveness and her upcoming comedy tour during a Yom Kippur eve event.
-- Theater critic Charles McNulty calls the Huey Lewis and the News jukebox musical, "The Heart of Rock & Roll," more square than hip.
-- Are "Sesame Street's" Bert and Ernie more than just roommates?
CLASSIC HOLLYWOOD
Comedian Gilda Radner died in 1989 of ovarian cancer, but with the aid of rare audio recordings, she narrates the story of her life in the new documentary "Love, Gilda," which opens Friday in Los Angeles. Here's how the film came together.
NATION-WORLD
-- In Israel, a single paragraph in legal papers filed by special counsel Robert S. Mueller III in Paul Manafort's case has created a political whodunit.
-- Russia has blamed Israel for the downing of a Russian military aircraft near Syria's Mediterranean coast, even though Syrian air defenses shot it down.
-- A refrigerated semitruck carrying dozens of corpses in Jalisco, Mexico, apparently because there's no room at nearby morgues, has provoked outrage.
-- Meanwhile, the 7-year-old twin daughters of the world's most notorious drug lord, Joaquin "El Chapo" Guzman, had a Barbie-themed birthday party. Reactions to the images ranged from amused to incensed in Mexico.
BUSINESS
-- The Justice Department is investigating whether public statements made by Elon Musk and Tesla were misleading enough to constitute criminal fraud. The news could further hamper efforts to attract talent and cash.
-- California officials have accused pharmaceutical giant AbbVie of using illegal practices to increase sales of Humira, a top-selling anti-inflammatory medication.
SPORTS
-- A group of Pro Football Hall of Fame members threatened to boycott the enshrinement ceremonies if they don't get lifetime health insurance and an annual salary that includes a share of league revenue.
-- Cole Tracy, the kid who wasn't supposed to play Division I football, just made a dream come true as an LSU kicker.
OPINION
-- In the midterm election, weigh the candidates and what it means to have Congress in Trump's pocket.
-- "I broke the Anita Hill story. Here's what we need to learn from her treatment," writes Timothy M. Phelps, a former Washington legal reporter and editor for The Times.
WHAT OUR EDITORS ARE READING
-- Stormy Daniels' new book has some salacious details but apparently few bombshell revelations. (New York Times)
-- Beth Moore is a Bible teacher who's taking on the evangelical political machine. (The Atlantic)
-- Why is Sen. Marco Rubio angrily tweeting about Salt Bae, a chef with more than 15 million Instagram followers? (Vox)
ONLY IN L.A.
Is A-B-C as easy as 1-2-3? Though reminiscent of a Jackson 5 song, that's one of the questions that Metropolitan Transportation Authority officials are pondering as they consider replacing the rail and bus system's color names with either letters or numbers. It would bring L.A. into alignment with many other cities, and it's said to be particularly important as more routes are added. After all, could you find the Heliotrope Line on a map and then explain it to a tourist?
If you like this newsletter, please share it with friends. Comments or ideas? Email us at headlines@latimes.com.
---