Newsletter: Today: California to Trump: No Troops for You at the Border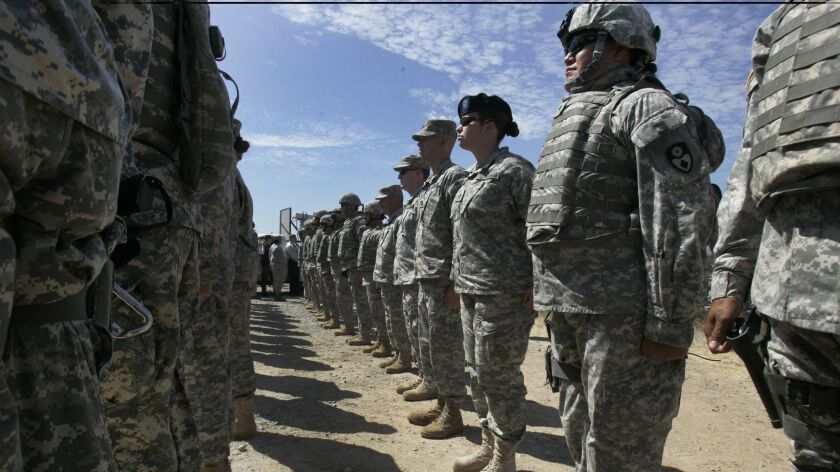 California's governor is pulling National Guard troops from the state's border with Mexico, saying the situation there is not the crisis President Trump has portrayed.
TOP STORIES
California to Trump: No Troops for You at the Border
In Washington, negotiations over border security hit a snag over the weekend, raising once again the possibility of a partial government shutdown by Friday. This time, though, another bit of political theater is playing out 3,000 miles away from President Trump. California Gov. Gavin Newsom today will order the removal of roughly 360 National Guard members from the state's border with Mexico and redirect them to fight drug trafficking and focus on wildfire prevention. The announcement comes one day before the governor delivers his first State of the State address. Though it will be another chapter of the California-versus-Trump story, Newsom isn't the first governor to pull troops from the border in protest. Just last week, New Mexico Gov. Michelle Lujan Grisham ordered the removal of most her state's troops before Trump's State of the Union address.
The Politics and Perils of Place
When White House hopefuls announce they're running, it comes down to three things: location, location, location. In 2015, it was Trump descending the gilded escalator at Trump Tower. On Saturday, Sen. Elizabeth Warren made her bid for the presidency official in the working-class city of Lawrence, Mass. On Sunday, Sen. Amy Klobuchar stood in a Minnesota snowstorm to enter the rapidly growing Democratic field of contenders for the 2020 election and to proclaim, "I have grit." Last month, Sen. Kamala Harris chose her birthplace, Oakland, as the launching pad for her campaign. Though it was a powerful display of political pageantry, not everyone in Oakland thought it was genuine, given her peripatetic history.
More Politics
-- South Korea and the United States have struck a new deal that increases Seoul's contribution for the cost of the American military presence on its soil. Meanwhile, Trump said he will hold his second summit with North Korea's Kim Jong Un in Hanoi and predicted that the authoritarian country would someday become "a great Economic Powerhouse" under Kim's leadership.
-- In a contentious hearing Friday, acting Atty. Gen. Matthew Whitaker told Congress he has not interfered with the special counsel's investigation into Russia's interference in the 2016 election and has not discussed the probe with Trump or other senior White House officials.
-- As Democratic candidates leap into the presidential fray, many have latched on to a catchy political rallying cry: "Medicare for all." But don't assume they're all talking about the same thing.
The Grammys Make Some History
At the Grammy Awards, Cardi B and Childish Gambino (the musical alter ego of Donald Glover) made rap history with major wins that upended decades of tradition. Michelle Obama made a surprise appearance to celebrate the power of music to show "that all of us matters." And, after last year's dearth of women winning awards and the Recording Academy president's much-criticized response, female artists took many of the biggest prizes, including album of the year (Kacey Musgraves for her psychedelic country disc "Golden Hour") and best new artist, which went to dance-pop singer Dua Lipa. Still, the ceremony this year was not without controversy, including several no-shows and a Jennifer Lopez tribute to Motown that did not play so well.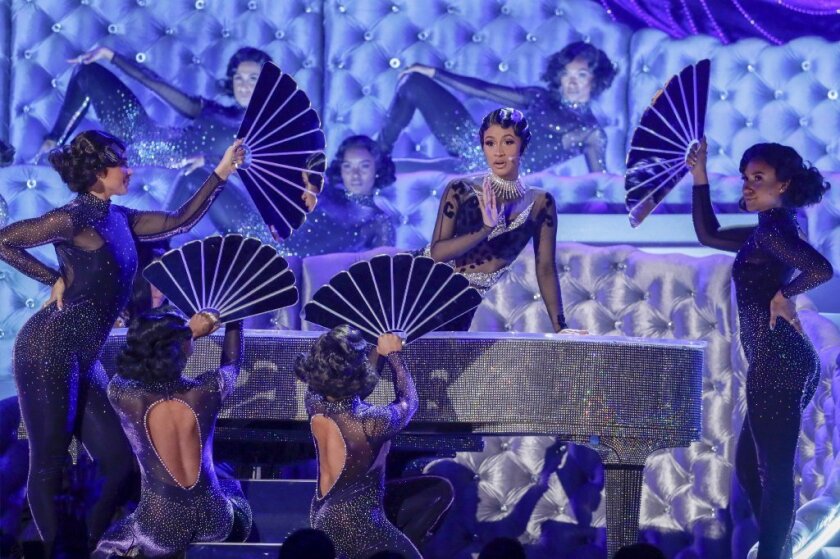 More Grammy Awards
-- Fashion report: Best and worst dressed.
-- The complete list of winners and nominees.
The Cracks in Maduro's Base
The La Vega district of Caracas and other impoverished areas have long been bastions of support for Venezuela's ruling socialist party, the late President Hugo Chavez and his chosen successor, President Nicolas Maduro. But as the quality of life has become ever more desperate during the political, economic and social crisis facing the country, some have done what was once unthinkable: protested against Maduro.
Sign up to get Today's Headlines delivered to your inbox. »
OUR MUST-READS FROM THE WEEKEND
-- Has the National Enquirer finally met its match? The tabloid may have underestimated the wrath of its latest target: the world's richest man, Jeff Bezos.
-- Columnist Doyle McManus says Congress is already considering impeachment but won't admit it.
-- Poor, elderly and too frail to escape: The fire that tore through Paradise killed the most vulnerable residents.
-- Who urinated in her boots? A mystery at the elite 144th Fighter Wing in Fresno leads to claims of a cover-up.
-- Hatzolah, an Orthodox Jewish ambulance service, is facing a fight from the L.A. Fire Department and its powerful firefighters' union as it tries to obtain permits.
CALIFORNIA
-- Gov. Newsom has requested $24.6 million and 41 new staff positions in the governor's office to bulk up his Cabinet and reopen the administration's field offices across the state.
-- An investigation into the use of pepper spray at L.A. County's juvenile detention centers has provided a rare glimpse into the nation's largest juvenile probation operation.
-- A new storm moved into Southern California on Sunday night, bringing modest rain, cold temperatures and snow, and shutting down Interstate 5 in the Tejon Pass, officials said.
-- In Orange County, Tet Festival brings a mix of Vietnamese tradition, county fair and beach party.
HOLLYWOOD AND THE ARTS
-- Years after giving up singing, Linda Ronstadt is back on the charts with the album "Live in Hollywood."
-- Fleetwood Mac rocker Lindsey Buckingham underwent emergency open heart surgery late last week, and though he's on the mend, the operation resulted in vocal cord damage.
-- On this week's episode of The Reel podcast, director Steven Soderbergh discusses his new film "High Flying Bird," which premiered at the Sundance Film Festival.
NATION-WORLD
-- A new projection of opioid overdose deaths in the U.S. suggests that even if there is steady progress in reducing abuse, the number of fatal overdoses — which reached 47,600 in 2017 — will rise sharply in the coming years.
-- A Christian woman acquitted of blasphemy after spending eight years on death row in Pakistan has been transferred but is still unable to leave the country to join her daughters in Canada, a friend said.
-- Taiwan is one of at least seven countries across eastern Asia that have recently enacted or are considering laws to limit or gain access to information about "fake news" — internet reports that officials claim are false, speculative, exaggerated, or truthful yet hurtful.
BUSINESS
-- Companies are racing to develop consumer-friendly cannabis drinks that can compete with alcohol, but there's one problem: Pot is nothing like booze.
-- Ron W. Miller, a former USC football star who married a daughter of Walt Disney and later became chief executive of the Burbank entertainment giant, has died at 85.
SPORTS
-- Lindsey Vonn won a bronze medal in the finale of her skiing career. Her unrelenting toughness makes her a champion for all female athletes, columnist Helene Elliott writes.
-- For the second time this season, UCLA senior Katelyn Ohashi earned a perfect 10 for her floor routine.
-- Magic Johnson says he has no regrets about the public nature of his conversations with the New Orleans Pelicans during the last two weeks as the Lakers tried to trade for Anthony Davis.
OPINION
-- Investigating Trump should be a bipartisanship affair on the House Intelligence Committee.
-- An Alzheimer's epidemic is coming, Maria Shriver warns. Here's how to prepare.
WHAT OUR EDITORS ARE READING
-- Sanctions, eh? North Korean leader Kim Jong Un has been filmed riding in another new super-high-end limousine, a Mercedes-Maybach S600. (The Drive)
-- Bob Costas describes his exit from NBC Sports as being a result of his criticism of the NFL over concussions. (ESPN)
-- Can Houston's success with homeless veterans be replicated for other homeless people across the U.S.? (CityLab)
ONLY IN CALIFORNIA
Two years ago, the small desert community of Borrego Springs experienced Flowergeddon — an onslaught of visitors drawn to the super bloom of wildflowers that led to traffic jams and the general chaos that comes with hundreds of thousands of people from out of town. With this year's rains, the latest forecasts say the flowers could start popping in as little as two weeks and last through March. That is, assuming Mother Nature doesn't have other plans. So will there be a Flowergeddon 2? Not if this committee can help it.
If you like this newsletter, please share it with friends. Comments or ideas? Email us at headlines@latimes.com.
---