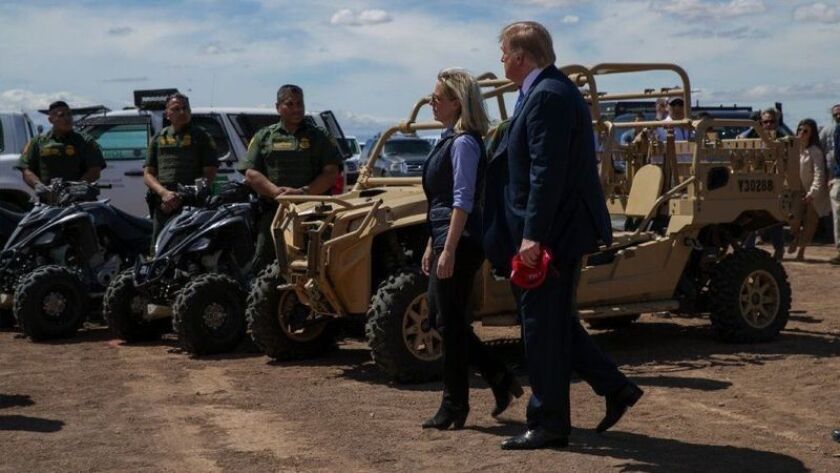 As Homeland Security Secretary Kirstjen Nielsen and others depart, White House advisor Stephen Miller gains power.
TOP STORIES
Shake-Up at Homeland Security
In just a few short days, President Trump has ousted Homeland Security Secretary Kirstjen Nielsen, pulled the nominee to lead Immigration and Customs Enforcement and announced the Secret Service director is being replaced. More firings could be on the way. And as Trump tweets, "Country is FULL!," the specter of family separations at the border has returned. All this comes as White House advisor Stephen Miller takes a more prominent role in implementing an immigration policy he has largely orchestrated behind the scenes since Trump took office. "Miller's going to clean house," said a former White House official. Meanwhile, the administration faced another loss in court: A federal judge in San Francisco issued a preliminary injunction blocking its policy forcing asylum seekers to wait in Mexico.
More Politics
-- Atty. Gen. William Barr is scheduled to testify to Congress today as Democrats are aggressively pushing for full access to the final report by special counsel Robert S. Mueller III into Russia's interference in the 2016 presidential election.
-- Israeli Prime Minister Benjamin Netanyahu, facing a hotly contested bid for a fourth term, tweeted on the eve of the election that the Trump administration designated Iran's Islamic Revolutionary Guard Corps as a foreign terrorist organization at his request.
-- Eric Swalwell, a four-term Bay Area congressman who's grown into a cable TV fixture as a Trump critic, has formally announced his long-shot bid for the 2020 Democratic nomination.
Guilty Pleas in Operation Varsity Blues
Prosecutors have moved the college admissions scandal into a new chapter, announcing that actress Felicity Huffman and more than a dozen other wealthy parents charged with participating in the scam have agreed to plead guilty. The plea agreements, which come less than a month after the government unveiled its investigation, added a significant victory to the handful of guilty pleas prosecutors have already secured. So far, a third of the 50 people charged in the case have admitted fault or agreed to do so.
The Trouble Before 'Motor Voter's' Rollout
Last year, California launched its "motor voter" system for registering millions of new voters at the Department of Motor Vehicles, but the implementation was far from smooth. A four-month review by The Times of nearly 1,300 pages of documents and interviews with state employees and others show the project was plagued by extensive problems. Programmers warned the automated voter registration system could be a debacle, but state officials rolled it out anyway. The launch occurred even after engineers detected signs of an international hacking attempt, which was never disclosed to the public.
Saving the Monarchs' Realm
The world is losing monarch butterflies at a startling rate, as logging, herbicides and other human activities destroy natural habitats. But the biggest threat yet has only recently come into focus: Climate change, with its extreme storms, prolonged droughts and warming temperatures, is poised to eradicate the forest that serves as the butterfly's winter refuge in the mountains of central Mexico. As today's Column One feature explores, a 75-year-old farmer and scientists are trying to move an entire forest 1,000 feet up a mountain.
Sign up to get Today's Headlines delivered to your inbox. »
FROM THE ARCHIVES
On this date in 1961, the last Red Car to Long Beach rolled out of the station at 6th and Main streets just before 4 a.m. One hundred thirty-nine Angelenos paid to take the journey that ended the Long Beach line's nearly 60-year career. One of them was Wally Shidler. "It was the last ride on the Long Beach, and we never thought it would come back again," he said in 1990 — when riding the rails did come back in the form of the new Blue line.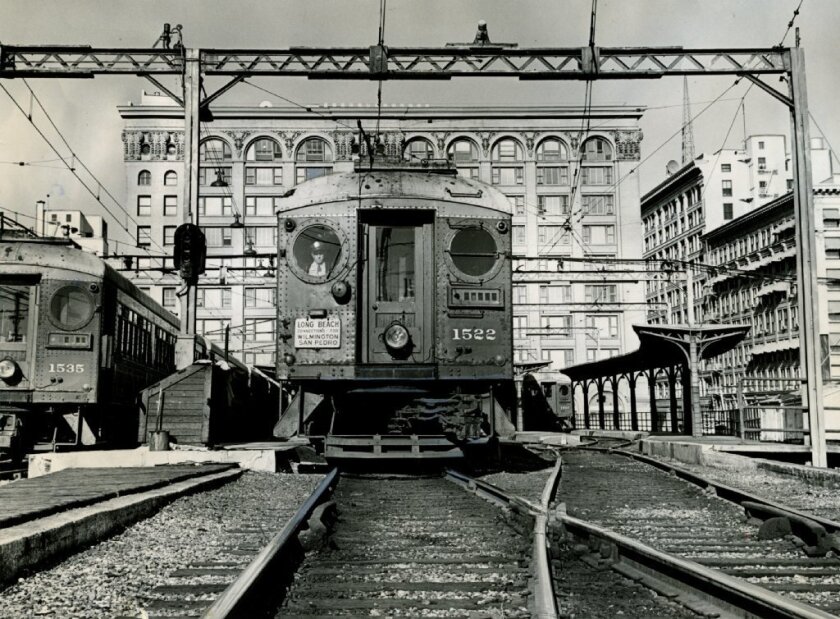 CALIFORNIA
-- A bill to ban cosmetic surgeries on children born with atypical genitalia was shelved for the year before lawmakers could vote on it amid opposition from doctors who said medical decisions should be left up to parents.
-- Four climbers descending Mt. Russell have been rescued after signaling for help on Sunday. Mt. Russell, with a summit height of 14,088 feet, is about a mile north of Mt. Whitney, the highest peak in the contiguous U.S.
-- RIP: The Super Bloom of Lake Elsinore has died. It was about 6 weeks old.
HOLLYWOOD AND THE ARTS
-- At 17, singer Billie Eilish has a No. 1 album and a prime performance slot at this weekend's Coachella festival in Indio.
-- Actress Allison Mack has pleaded guilty to charges she manipulated women into becoming sex slaves for a cult-like upstate New York group's spiritual leader.
-- Seymour Cassel, the prolific independent film actor who starred in "Faces" and several other John Cassavetes films, has died at 84.
-- Criterion Channel, a streaming home for classic cinema, has launched with more than 1,000 films.
NATION-WORLD
-- U.S. forces in Afghanistan say three U.S. service members and a contractor have been killed in a roadside bombing near the main American air base in the country. The Taliban claimed responsibility for the attack.
-- Earth's glaciers are melting much faster than scientists thought. A new study shows they are losing 369 billion tons of snow and ice each year, more than half of that in North America.
-- Fighting in Libya has displaced thousands of people, as a warplane attacked the Tripoli's only functioning airport.
-- Ethiopia is building a massive hydroelectric dam along the Blue Nile tributary, and the Egyptian government is worried. Negotiators are now debating how long the process of filling the dam should take.
BUSINESS
-- Although transgender workers face steep barriers, corporate America wants to hire them.
-- Consumer columnist David Lazarus says a partnership between Equifax and FICO is the latest example of Big Data getting bigger.
SPORTS
-- Yes, Virginia … UVA has won the first NCAA men's basketball championship in the school's history after an epic first-round fail last year.
-- Elizabeth and Herman Thacker have a world-famous neighbor: Augusta National. The golf club has spent a reported $40 million buying up their old neighborhood, but they decided to stay put in their home.
-- The Trump administration is moving to end a deal allowing Cuban baseball players to sign contracts directly with Major League Baseball organizations.
OPINION
-- Kirstjen Nielsen's departure from the Department of Homeland Security is just more chaos from the White House.
-- Dear L.A. County: Reject the LACMA redesign plan and go back to the drawing board. Sincerely, Christopher Knight, L.A. Times art critic.
WHAT OUR EDITORS ARE READING
-- First Twitter, now the Fresno Bee: Rep. Devin Nunes has filed a $150-million defamation lawsuit against McClatchy. (Fresno Bee)
-- Utah Jazz guard Kyle Korver writes on racism and white privilege: "I believe that what's happening to people of color in this country — right now, in 2019 — is wrong." (The Players' Tribune)
-- Picking strawberries takes speed, stamina and skill. Can a robot do it? (The New Yorker)
ONLY IN L.A.
Fred Segal has a new outpost in Malibu, amid a cluster of retail spaces originally developed by Fred Segal himself and across the street from its first Malibu location, where it sold denim, apparel and accessories for most of the 1970s. For some in attendance at the opening, it felt like a homecoming. For many, it just felt like home: They brought their dogs along, and one woman even brought her chicken.
If you like this newsletter, please share it with friends. Comments or ideas? Email us at headlines@latimes.com.
---