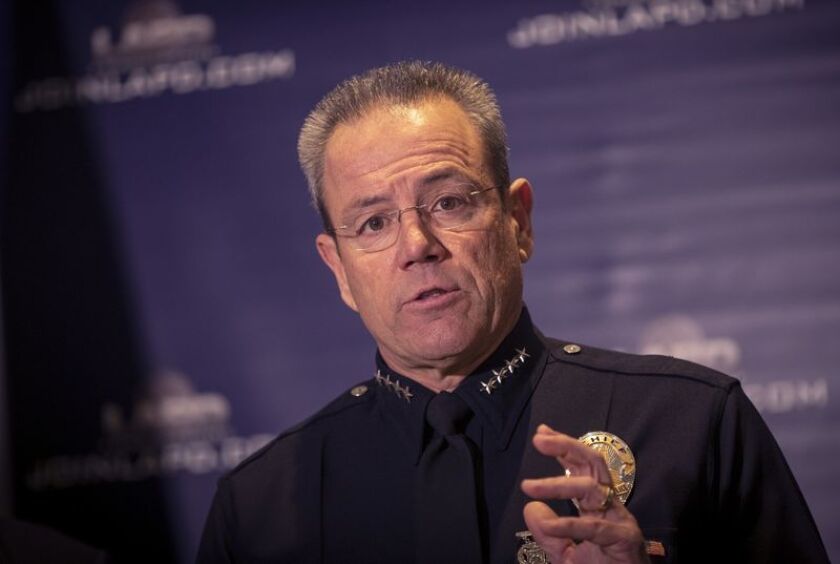 Predictive policing was seen as the future of the Los Angeles Police Department. Now it's under growing scrutiny.
TOP STORIES
Big Data Under Fire at the LAPD
The Los Angeles Police Department pioneered the use of data to pinpoint crime hot spots and track violent offenders. Complex algorithms and vast databases were supposed to revolutionize crime fighting. But critics have long complained about inherent bias in the data collected by officers. In response, LAPD Chief Michel Moore has announced he would end one highly touted program intended to identify and monitor violent criminals. Meanwhile, the department's civilian oversight panel raised questions about whether another program, aimed at reducing property crime, also disproportionately targets black and Latino communities.
'Bibi, King of Israel'?
Benjamin Netanyahu appears headed for another term as Israel's prime minister, but a powerful electoral challenge from former military Chief of Staff Benny Gantz, a political neophyte, has sharply dented his aura of invincibility as he battles expected corruption charges. Though Netanyahu's supporters shouted "Bibi, King of Israel!" at a post-election party, official results pointed to a dead heat with most of the vote counted. The likely deciding factor: a strong showing by rightist parties aligned with Netanyahu.
The Latest From Washington
-- Atty. Gen. William Barr told Congress that he plans in the next week to release a redacted version of special counsel Robert S. Mueller III's highly anticipated report on Russian interference in the presidential election.
-- Treasury Secretary Steven T. Mnuchin said his department intends to "follow the law" and is reviewing a request by a top House Democrat to provide President Trump's tax returns to lawmakers.
-- Big bank CEOs are set to face angry lawmakers in Congress today. Their plan: Let Jamie Dimon, the boss of JPMorgan Chase & Co., take over.
A Haven for Whom?
The town of Mecca in the eastern Coachella Valley has long struggled with housing migrant farmworkers. Last year, the Our Lady of Guadalupe Shelter started and has kept its doors open with hundreds of thousands of dollars in donations from a benefactor. Then, asylum seekers arrived — and the money was pulled amid concerns over unwanted attention. That's raised questions about the mission of helping immigrants under different circumstances.
Magic's Presto Change-O
"Today I'm going to step down as the president." Magic Johnson said it without any warning and almost as little planning. "Somebody's going to have to tell my boss because I know she's going to be sick," he would add in a long talk with reporters, ending with a "whew." His boss? Jeanie Buss, who hired Johnson in February 2017 to run the Lakers' basketball operations after firing her brother Jim and the Lakers' general manager Mitch Kupchak. But the big question: Why? Columnist Bill Plaschke tries to piece it all together: "From Johnson's scattered reasons and ramblings, one could only construct theories that, taken together, probably come close to painting a full picture. It is not a pretty portrait."
Sign up to get Today's Headlines delivered to your inbox. »
FROM THE ARCHIVES
On this date in 1982, the Los Angeles Kings trailed the powerhouse Edmonton Oilers, 5-0, with only one period left in their National Hockey League playoff game at the Forum in Inglewood. Given that the Oilers were led by "The Great One," Wayne Gretzky, all hope seemed lost. But the Kings came back, tying the game with five seconds left in regulation. Then, in sudden-death overtime, L.A.'s Daryl Evans scored, capping a game that would become known as the Miracle on Manchester. "It's something that I'll always be able to cherish. I think I've learned to appreciate it more in the years as it's passed," Evans would say 30 years later.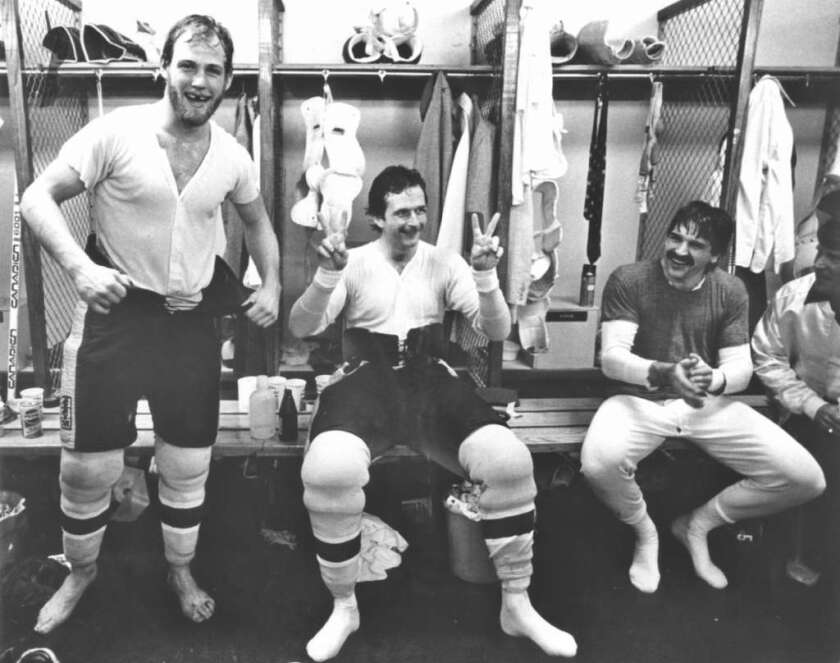 CALIFORNIA
-- Federal prosecutors say actress Lori Loughlin and 15 other parents implicated in the college admissions scandal have been indicted on charges of money laundering and fraud conspiracy. Meanwhile, Felicity Huffman, who has said she'll plead guilty, is likely to face some prison time.
-- Tensions over Trump's foreign policy have been evident on Gov. Gavin Newsom's trip to El Salvador, where he is seeking to counter the president's immigration narrative.
-- Three L.A. County women who say they were sexually assaulted by predators who posed as Uber drivers filed a lawsuit against Uber Technologies alleging the ride-hailing service didn't do enough to protect them.
-- The intersection of Crenshaw Boulevard and West Slauson Avenue will be named Ermias "Nipsey Hussle" Asghedom Square, in honor of the Grammy-nominated rapper who was killed at his nearby clothing store.
-- Thousands of Southern California residents were left without power amid strong winds. The weather has wreaked havoc on streets, rooftops and power lines.
HOLLYWOOD AND THE ARTS
-- The Los Angeles County Museum of Art's proposed $650-million new home has received final approval from the county Board of Supervisors. The next step: The city of L.A. has its own approval process.
-- The success of the one-act play "The Wolves" raises a question: Why are there so few movies or television shows about female sports teams? Columnist Mary McNamara explores.
-- Coachella at 20: A look back at how the festival unexpectedly nabbed Prince in 2008.
-- At the L.A. Times Festival of Books this weekend, here are five bestselling authors to see.
NATION-WORLD
-- New York City has declared a public health emergency over a measles outbreak centered in an ultra-Orthodox Jewish community and ordered mandatory vaccinations in the neighborhood.
-- Police in Uganda have arrested eight people in connection with the kidnapping of Costa Mesa tourist Kimberly Sue Endicott and her Ugandan tour guide, Jean Paul Mirenge.
-- In Algeria, protesters have already forced the president step down. Now, they're pressing for new government leadership.
-- With a Hong Kong court as his pulpit, a pastor and convicted Occupy leader preached democracy.
BUSINESS
-- Netflix, which has drawn the ire of the movie theater industry for years, is looking to preserve one of cinema's most famous historical institutions: the Egyptian Theatre on Hollywood Boulevard.
-- SpaceX's Falcon Heavy rocket is scheduled to launch today with a commercial payload on board for the first time.
SPORTS
-- UCLA has hired Mick Cronin to coach its men's basketball team. Columnist Bill Plaschke says that meshes with the UCLA basketball program's blue-collar identity.
-- Ten years ago, Angels pitcher Nick Adenhart seemed bound for baseball greatness when he and two other people were killed by a drunk driver. This is the story of what happened afterward.
OPINION
-- As Trump rages about asylum seekers, it's easy for Democrats to stand back and denounce his policies. But columnist Doyle McManus says it's time to tell voters what they'd do instead.
-- The law is clear on disclosing Trump's tax returns to the House Ways and Means Committee. A USC law professor explains why.
WHAT OUR EDITORS ARE READING
-- In the United States, measles has a surprising booster: Russian trolls and bots. (Foreign Policy)
-- Who is Alaa Salah, the young Sudanese woman seen passionately leading chants in a nationwide anti-government protest in a photo that has gone viral? (BuzzFeed News)
-- The humanities at universities in the U.S. are ailing. (New York Review of Books)
ONLY IN L.A.
When David J. Peterson was an undergraduate student at UC Berkeley, he saw a flier advertising an Esperanto class. It was the first time he'd heard of such a thing as an invented language, but it wouldn't be the last. Peterson has created languages for elves and orcs in the Netflix film "Bright" as well as a language called Shivaisith for "Thor: The Dark World" and Nelvayu for "Doctor Strange." But the languages that made him famous outside of linguist circles were the ones he created for "Game of Thrones," especially Dothraki and High Valyrian. Much of it while working from his Garden Grove home.
If you like this newsletter, please share it with friends. Comments or ideas? Email us at headlines@latimes.com.
---