Editorial: Confirm William Barr, even though it requires a leap of faith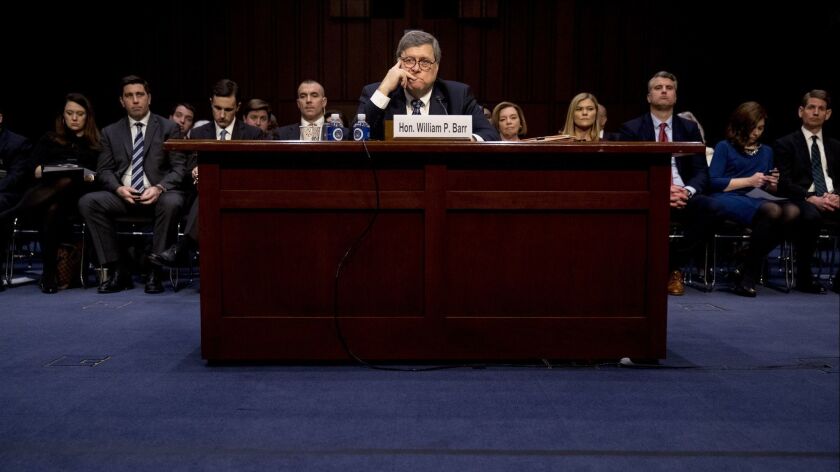 On Thursday the Senate Judiciary Committee is expected to vote on President Trump's nomination of William P. Barr to be attorney general, a position Barr held in the George H.W. Bush administration. Barr has sterling professional credentials, and while he is far more conservative in his approach to the law than we would prefer, he doesn't strike us as being as extreme or ideological as Jeff Sessions, whose nomination this page opposed.
Our chief concern about Barr has been whether he would safeguard the investigation being conducted by Special Counsel Robert S. Mueller III into possible collusion between Russia and the Trump campaign, and ensure that its conclusions are shared with Congress and the public. The issue was of particular concern because Barr sent an unsolicited memo to Deputy Atty. Gen. Rod Rosenstein last year suggesting that Trump couldn't have violated an obstruction of justice statute by firing former FBI Director James B. Comey.
But during his confirmation hearing, Barr's answers to senators' questions about the Mueller probe were sufficiently reassuring that we believe the committee and the full Senate should approve his nomination. Barr's confirmation would have the additional advantage of ending the tenure of Acting Atty. Gen. Matthew Whitaker, a loyalist with meager credentials whom Trump installed at the head of the Justice Department without Senate approval. Unlike Sessions, who recused himself from the Russia investigation because of his role in Trump's campaign, Whitaker oversees the probe.
Responding to senators' questions, Barr insisted that he respects Mueller and doesn't believe the special counsel would engage in a "witch hunt." He promised that he would resign rather than fire Mueller in the absence of good cause. That ironclad assurance is vital in light of Trump's incessant attacks on the investigation and his claim that he has the right to "get involved" in the Justice Department.
Enter the Fray: First takes on the news of the minute »
Disappointingly, Barr was less categorical when it came to whether he would make Mueller's findings public. He noted that Mueller's report to the attorney general will be a confidential document, but added that under Justice Department regulations the attorney general makes a follow-up report to Congress that could be made public. That falls short of committing to a complete disclosure of Mueller's conclusions.
Still, Barr promised senators to "provide as much transparency as I can consistent with the law" and to consult with Mueller and Rosenstein regarding "any disclosures or notifications that I make." In an exchange with Sen. Dianne Feinstein, Barr added that his commitment to transparency would extend to findings by Mueller regarding possible obstruction of justice — an important assurance in light of his memo to Rosenstein.
Senators must ask themselves whether Barr's commitment to protect Mueller and his promise of transparency, coupled with his professional reputation, justify a vote for his confirmation even if he hasn't been as forthcoming as they would have liked. Although a leap of faith is required, we think the answer is yes.
Follow the Opinion section on Twitter @latimesopinionand Facebook
---
A cure for the common opinion
Get thought-provoking perspectives with our weekly newsletter.
You may occasionally receive promotional content from the Los Angeles Times.