Editorial: A competitive primary won't hurt Democrats' chances to defeat Trump in 2020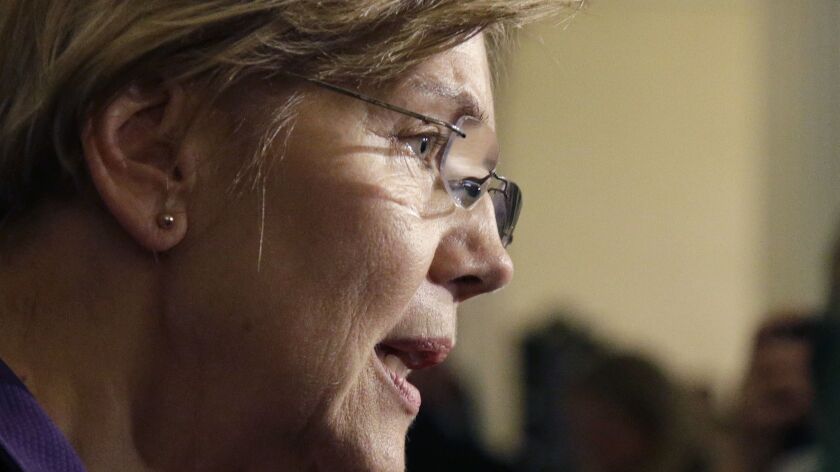 Sen. Elizabeth Warren of Massachusetts announced on Monday that she would form an exploratory committee, the likely prelude to a formal declaration that she will seek her party's 2020 presidential nomination. She is one of many potential Democratic candidates: young and old, male and female, white and black, political veterans and relative newcomers, centrists and progressives.
By now it seems quaint as well as futile to complain about the early onslaught of presidential campaigns. But the prospect of a large and dizzyingly diverse Democratic field raises another question: Would a competitive primary campaign undermine the effort to unseat President Trump, assuming that he will be the Republican nominee? It's widely believed, though hard to prove, that the nasty 2016 primary battle — and lingering resentment by supporters of Sen. Bernie Sanders — cost Hillary Clinton crucial support in the general election.
Ideological and generational fault lines are already evident among Democrats, with centrists and progressives drawing very different lessons from the "blue wave" in the midterm elections that restored Democratic control of the House of Representatives. Outgoing Rep. Beto O'Rourke, who lost a Texas Senate race, hasn't yet announced his candidacy but is already being criticized for not being progressive enough. The likely presence of several women in the race — including, potentially, California's Sen. Kamala Harris — almost guarantees disappointment if the party ends up nominating a male candidate.
Enter the Fray: First takes on the news of the minute from L.A. Times Opinion »
But this presidential election will be different from the last one in two important ways. First, as wasn't the case in 2016, Democratic candidates and voters now understand that Trump is a highly formidable candidate with a deeply committed core of supporters. Second, it will be harder for supporters of losing candidates to claim, as Sanders' backers did, that the nomination process was "rigged." The party has dramatically reduced the influence of "superdelegates" — party notables not chosen in primaries or caucuses.
Some might argue that Trump's manifest unfitness for the presidency is a reason for the Democrats to mute their differences with one another and settle quickly on a consensus nominee. But even if party rules allowed for such a top-down decision (and they don't), it would be a disservice to the party's voters and to the democratic process.
Of course the Democrats need to keep their eyes on the ultimate prize: the defeat of the current president. But it also seems likely that the all-too-real possibility of a Trump reelection will concentrate Democrats' minds on the importance of unity in the general election. That argues for, rather than against, a spirited nomination contest in which differences among the candidates — on economics, foreign policy and heathcare reform — and among Democratic party voters are fully ventilated. Then, when a nominee has been selected, the focus can shift to unseating Trump.
Follow the Opinion section on Twitter @latimesopinionand Facebook
---
A cure for the common opinion
Get thought-provoking perspectives with our weekly newsletter.
You may occasionally receive promotional content from the Los Angeles Times.