Editorial: Rights and wrongs under Eric Holder
President Obama, with Atty. Gen. Eric H. Holder Jr., speaks in the State Dining Room at the White House to announce Holder's resignation in September.
(Evan Vucci / Associated Press)
President Obama and Atty. Gen. Eric H. Holder Jr. embrace. Obama said Holder would remain in office until his successor was installed.
(Mark Wilson / Getty Images)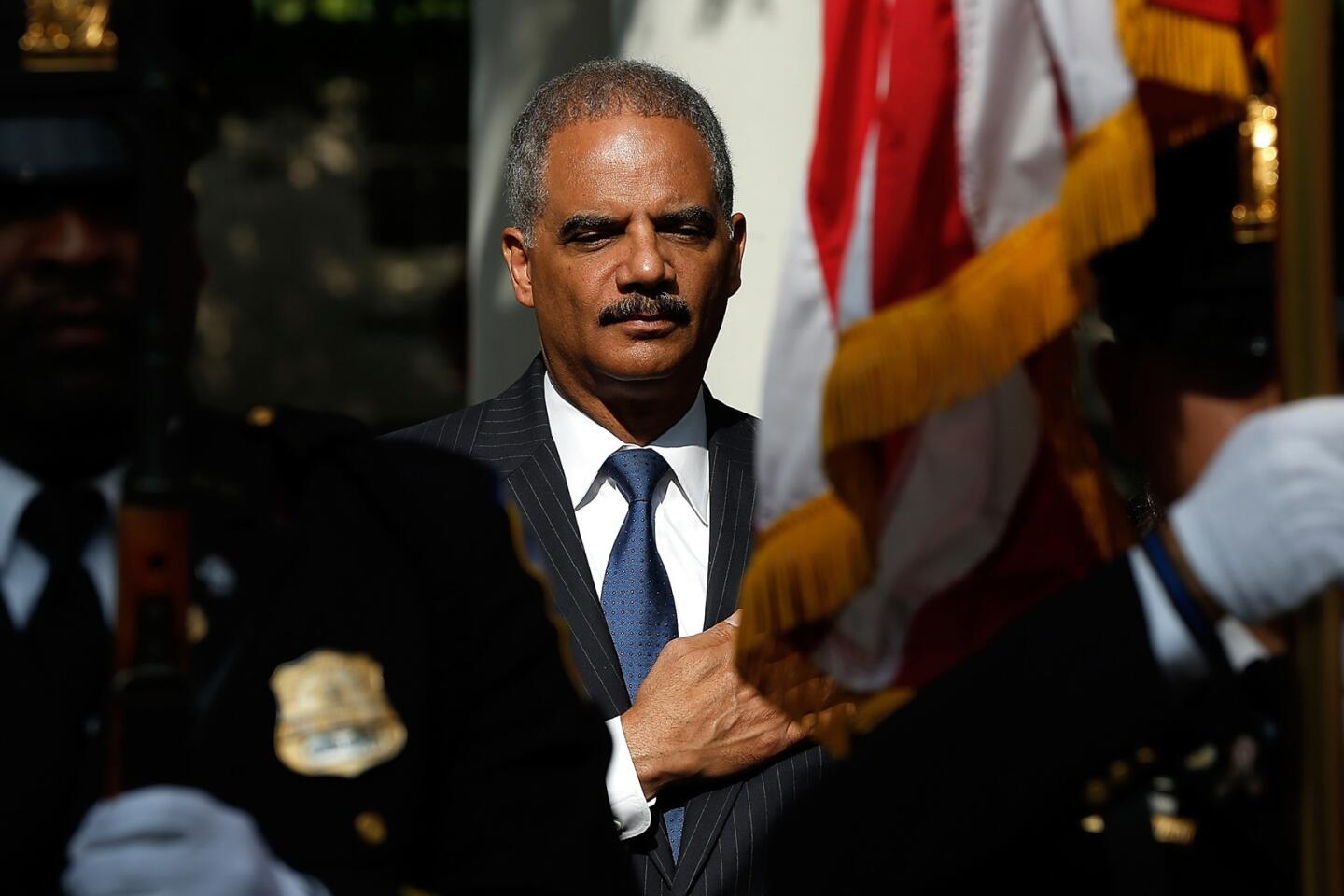 Atty. Gen. Eric H,. Holder Jr. attends a memorial service at the National Law Enforcement Memorial in Washington, D.C., on the 13th anniversary of the 9/11 attacks.
(Win McNamee / Getty Images)
Atty. Gen. Eric Holder is interviewed by the Associated Press at the Justice Department in Washington on Sept. 16.
(Susan Walsh / Associated Press)
President Obama meets with Atty. Gen. Eric Holder in the Oval Office on Aug. 18 regarding the fatal police shooting of Michael Brown in Ferguson, Mo.
(Charles Dharapak / Associated Press)
Atty. Gen. Eric Holder is sworn in on Capitol Hill in 2012 before testifying about Operation Fast and Furious.
(J. Scott Applewhite / Associated Press)
Atty. Gen. Eric Holder, right, looks at a phone with Assistant Atty. Gen. Ronald Weich in 2011 during a break in a hearing on Operation Fast and Furious.
(Susan Walsh / Associated Press)
Eric Holder is sworn in as U.S. attorney general by Vice President Joe Biden in February 2009 as Holder's wife, Sharon, holds the Bible used in the ceremony.
(Paul J. Richards / AFP/Getty Images)
After being nominated to be attorney general, Eric Holder, left, poses for a photo with Senate Judiciary Committee Chairman Patrick Leahy (D-Vt.) on Capitol Hill in December 2008.
(Chris Kleponis / AFP/Getty Images)
Flanked by President-elect Obama and then-New York Sen. Hillary Rodham Clinton, Eric Holder speaks at a news conference in Chicago in December 2008 after Obama nominated him to be attorney general.
(Scott Olson / Getty Images)
President Clinton with then-Deputy Atty. Gen. Eric Holder and Atty. Gen. Janet Reno at the White House in 1999. (For the record: An earlier version of this caption said the photo was from 2008.)
(Ron Edmonds / Associated Press)
With Atty. Gen. Eric H. Holder Jr.'s resignation, President Obama faces the loss of someone who is not just a legal advisor and Cabinet member. He is losing a close friend who has often dared to say what one suspects the president himself was thinking but was unwilling to speak aloud.
Holder is the first African American ever to serve as attorney general, and he got the job, of course, from the first African American president. Almost from the first moments of the administration, however, the president has skittered around fractious conversations of race while Holder has engaged them squarely, if not always skillfully.
It was Holder who, just a month into the new administration, challenged the notion that the U.S. was genuinely an ethnic melting pot; on matters of race, he offered, it was "essentially a nation of cowards." It was Holder who fumed at his treatment by a House committee and suggested that members were hard on him and the president because of their race. It was Holder, not Obama, who traveled to Ferguson, Mo., to help calm a community riven by riots after a white police officer shot a young, black man.
The trip to Ferguson may have been ill-advised — it placed Holder in the dual role of assuaging anger at the police department while supervising a presumably impartial investigation into whether that same department was violating civil rights laws. But his stalwart determination to confront injustice has been a strength as well. Among other things, he has defended embattled voting rights, pressed hard for marriage equality and initiated an important overhaul of federal drug sentencing laws.
There were plenty of disappointments during the Holder years. He tried to put Khalid Shaikh Mohammed on trial in New York, then pulled back in the face of congressional opposition. He tiptoed around the financial crisis, led overzealous attempts to punish officials who leaked to journalists and was held in contempt of Congress for refusing to cooperate with an investigation of gun trafficking at the border. Holder's close relationship with Obama — they often vacation together — fueled suspicion among their critics that the attorney general has failed to vigorously pursue allegations of governmental wrongdoing, from the gun trafficking case to the claim that the IRS targeted conservative groups.
Most of those allegations are nonsense, and serve as a reminder that Holder has spent much of his tenure in combat with shrill partisans. That's not his fault, and his irritation with those critics has been understandable. Like Obama, he's faced obdurate, unreasonable opponents; also like Obama, though, he's occasionally deserved their criticism.
Follow the Opinion section on Twitter @latimesopinion
A cure for the common opinion
Get thought-provoking perspectives with our weekly newsletter.
You may occasionally receive promotional content from the Los Angeles Times.