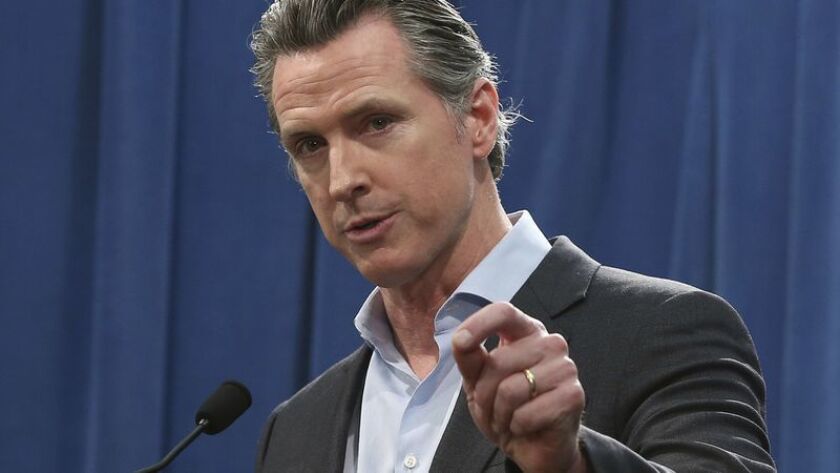 In his first six months as the most powerful figure in state government, Gov. Gavin Newsom has sometimes spoken first — and only later considered the policy implications of his comments. On more than one occasion, he's created ambiguity that he and his aides have had to clear up — witness, for example, his confusing initial comments about high-speed rail project.
We sincerely hope that Newsom's derisive comment over the weekend about "bureaucrats making decisions that should be personal" is another one soon to be clarified. The governor was responding to a question about a bill (Senate Bill 276) to close a loophole in the state's vaccination requirements. Surely the leader of a state that recently suffered a measles outbreak should be wary of lending credibility, intentionally or not, to the false narrative peddled by vaccination skeptics that politicians and evil pharmaceutical companies are in cahoots to sicken and kill children with unsafe vaccines.
But that's exactly what Newsom did when asked about the bill, which would guard against unscrupulous doctors handing out vaccination exemptions to kids who don't really need them. California requires children enrolling in public school to be inoculated against a number of dangerous and fully preventable diseases, but it allows doctors to exempt kids with compromised immune systems and certain other health conditions.
Enter the Fray: First takes on the news of the minute »
Unvaccinated individuals can stay safe only if everyone else is inoculated. But since the state ended exemptions on the basis of personal or religious beliefs, the number of medical exemptions has gone up more than is credibly justified. Hence the need for SB 276.
In questioning the bill's premise, Newsom is undermining the efforts of his own state public health officials, who are not merely "bureaucrats," but are health professionals crafting policies based on sound science. That's not just ill-considered. It's dangerous.
The misinformation about the safety of vaccination is about as contagious as measles itself, and it has scared parents into eschewing medicine that without question makes their children safer. The result has been an erosion of vaccination rates and the inevitable outbreak that comes when so-called herd immunity is compromised. Last week, the Centers for Disease Control and Prevention announced that this year the U.S. has suffered the most measles cases since 1992. There have been so many cases from New York to Los Angeles so far this year that the U.S. could lose the measles-eradication status it's had since 2000.
Newsom, a parent of young children, is allowed to have his own opinions. But sometimes, in the interest of the public he's supposed to serve, he needs to keep them to himself. This is one of those cases.
Follow the Opinion section on Twitter @latimesopinion and Facebook
---