Editorial: Can Harvard punish its students for their off-campus behavior?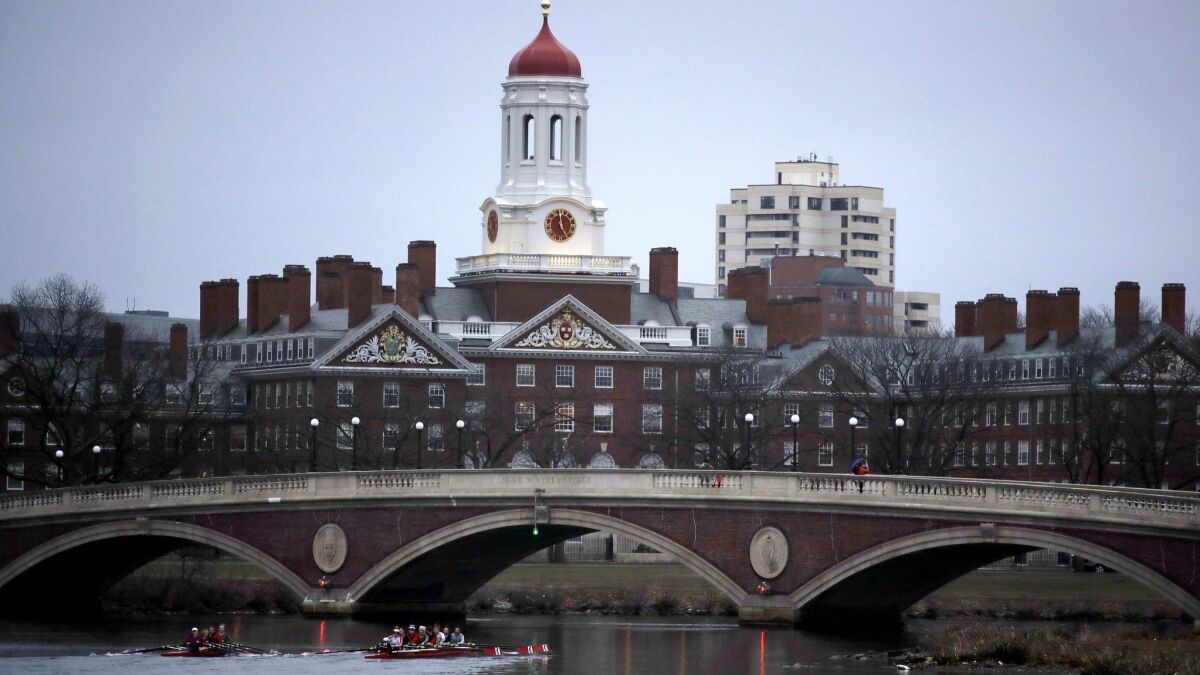 Obviously, it's good for colleges and universities to encourage inclusivity and equality, and it is extremely important that they change campus culture so that sexual assault is considered unacceptable by all students and staff.
But in the process, institutions of higher education need to remember what control they have over their students' lives — and what control they don't have.
These issues roiled the campus again last week when a group of fraternities and sororities, along with a few individual students, sued Harvard University over its heavy-handed sanctions on members of single-gender groups.
Harvard long ago severed ties with groups that have all-male or all-female membership, including the secretive and exclusive social groups known as "final clubs," some of which are centuries old. These groups, if they wanted to continue operating, were required to move off campus and operate without any support or connection with the university. That's a reasonable rule.
Harvard's responsibility is to set the tone on campus, make its rules clear and protective, and certainly to go after perpetrators of sexual harassment.
But starting with last year's freshman class, the university expanded its policy to impose sanctions on students who join same-sex groups that operate off campus, without Harvard's support. Under the new rules, students who join these groups cannot hold certain campus leadership positions or become captains of sports teams. The school also will not recommend those students for fellowships such as the Rhodes and Marshall scholarships.
The rules don't only apply to single-gender final clubs, but also to sororities and fraternities and even to same-sex musical groups.
But by what right does Harvard tell students what they can do off campus or with whom they may associate?
In response to the rules, some groups went co-ed, creating the beginnings of new, more diverse campus traditions. Good for them. In 2019, women will perform for the first time in the Hasty Pudding Theatricals, which touts itself as the third-oldest theatrical group in the world.
But not everyone went along or liked the results if they did. Two sororities had to sever themselves from their national organization in order to go co-ed. Students complained that they were being penalized for joining organizations like fraternities and sororities that most other schools tolerate or encourage. Others claimed that the university was coercively dictating their social interactions. In this case, they were right.
Enter the Fray: First takes on the news of the minute from L.A. Times Opinion »
When it comes to events, meetings and gatherings on the Harvard campus, involving groups that have recognized status or campus support, the school has every right to set the rules. But when students form their own organizations on their own time, with their own money and away from campus, and aren't breaking any laws, the only way to put it is bluntly: Their social lives are none of Harvard's business.
Harvard contends that some of these groups, such as the final clubs, promote misogynistic attitudes that contribute to a sexist culture on campus, and that the clubs have been the scene of sexual assaults.
Nonetheless, the university stepped over a line. Its responsibility is to set the tone on campus, make its rules clear and protective, and certainly to go after perpetrators of sexual harassment or sexual assault. But it should not try to micromanage students' social behavior off campus unless someone is being harmed. It should punish students who break rules, not those it thinks are more likely to break rules.
Follow the Opinion section on Twitter @latimesopinion and Facebook
Our six-week newsletter will help you make the right decision for you and your property.
You may occasionally receive promotional content from the Los Angeles Times.