Editorial: Trump's anti-immigration agenda could make L.A.'s homelessness crisis even worse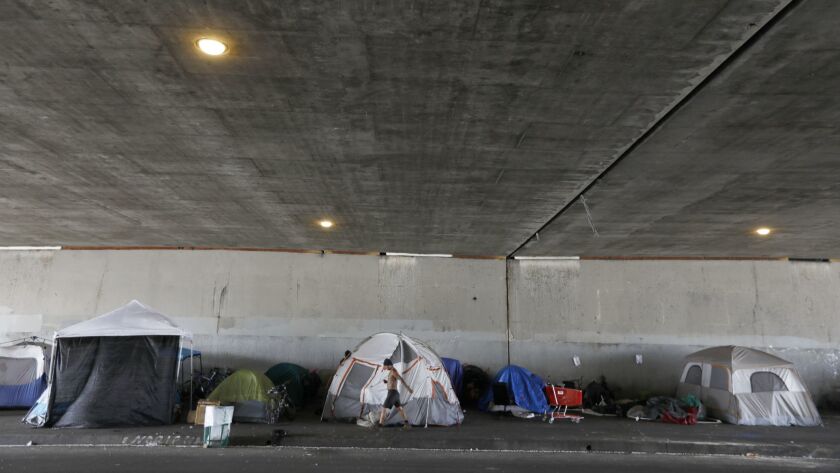 President Trump recently weighed in on the rise in homelessness in cities across the country, including Los Angeles and San Francisco, and warned that the federal government may "do something to get that whole thing cleaned up" — whatever that means.
But the federal government already plays a major role in keeping people off the streets by supplying publicly owned, subsidized housing units to some lower income people (albeit in dwindling numbers) and vouchers to others to rent privately owned units.
Now, a misguided proposal from the Trump administration could make homelessness even worse here and in other cities by kicking families out of these programs if even one person in the household is living in the country illegally. That is not only counterproductive, it's cruel.
Some 70% of the people in mixed-status households are citizens or legal residents who qualify for assistance.
Currently, "mixed-status households" — that is, families that include citizens or legal residents as well as one person or more living here without authorization — are allowed to live in public housing or receive federal housing assistance on a prorated basis, so the federal dollars cover just the family members who are in the country legally.
The Department of Housing and Urban Development wants to change that decades-old policy and deny housing assistance to the entire household unless every member is eligible. The result? Some 25,000 households across the country could be evicted or lose their Section 8 vouchers — including an estimated 55,000 children who are legal U.S. citizens or residents. More than 3,000 households in Los Angeles County could be affected.
HUD Secretary Ben Carson defended the proposal during a congressional hearing in May, saying that the denying housing assistance to mixed-status households would cut down a waiting list of more than 4 million people who have applied for federal subsidized housing.
"This is common sense," Carson told lawmakers. "You take care of your own first."
But HUD's analysis of the proposal found that the vast majority of people who would lose their housing are, in fact, "our own." Some 70% of the people in mixed-status households are citizens or legal residents who qualify for assistance. Most of those are children — kids born, raised and likely to remain in the U.S. — who are supposed to get the full benefit of government programs designed to help people escape poverty.
Booting families out of publicly funded housing would barely make a dent in the waiting list, and according to HUD's own analysis, the plan could actually result in fewer households being helped. That's because the prorated subsidy received by mixed-status households costs the government less than the full subsidies paid for households composed entirely of citizens and legal residents. Without additional money from Congress, HUD "would have to reduce the quantity and quality of assisted housing in response to higher costs," the agency concluded.
If Carson is so concerned about the lengthy wait for housing assistance, why isn't he pushing Congress to provide more money? HUD's Section 8 voucher program, which helps low-income renters afford market-rate apartments, is woefully underfunded relative to the need. And there are thousands of public housing units left vacant because they are uninhabitable without repairs.
Enter the Fray: First takes on the news of the minute »
HUD's analysis suggests that mixed-status households forced to find new apartments in a tight real estate market could end up homeless. This is a real possibility in Los Angeles, where homelessness was up 12% this year despite the more than $1 billion spent by city and county government on housing and services. Family homelessness increased this year, too, driven by rising rents and displacement.
Officials have estimated that some 11,000 people could lose their assistance and be evicted in Los Angeles if the HUD proposal goes through, with potentially a smaller number getting assistance in their places. That would be a setback in the region's efforts to end the homelessness crisis. It's certainly not going to help get the "whole thing cleaned up," as Trump said.
The HUD proposal is no doubt part of the larger Trump administration strategy of imposing ever more cruel and costly policies on immigrants living in the U.S. illegally to get them to "self-deport" and to dissuade others from coming at all. The administration's single-minded pursuit ignores the devastating impacts these policies inflict on families, many of whom have been in the U.S. for years and have American-born children. It also ignores the fact that cities and counties that are home to immigrant families suffer the consequences of ill-conceived federal housing policy. If Trump really wants to help, he will stop HUD from making a bad situation worse.
Follow the Opinion section on Twitter @latimesopinion and Facebook
---
A cure for the common opinion
Get thought-provoking perspectives with our weekly newsletter.
You may occasionally receive promotional content from the Los Angeles Times.