Editorial: Smart gadgets, dumb users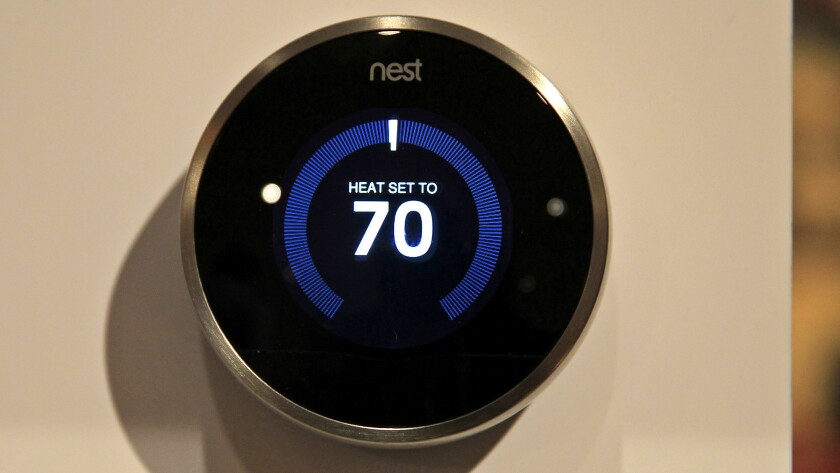 The idea of a connected home — one filled with smart devices that can communicate with one another and automate routine tasks — is no longer the stuff of "Jetsons" cartoons. With Internet-connected locks, lights, thermostats and related devices available, consumers can create homes of the future today. These advances have caused some federal regulators to worry that consumers will unwittingly expose themselves to new privacy and security risks just by hooking up a coffee maker and a smoke alarm to their Wi-Fi network. Although some of those fears are overblown, the underlying point is a valid one: Consumers need to pay more attention to what digital doors they're opening and what data they're sharing.
Connected-home technology can be used to sense a person's arrival, then light, heat or cool a room to match that person's preferences. It can develop recipes based on what's in a person's refrigerator, while compiling a grocery list as foods are consumed. And more as-yet unimagined apps will emerge as all the sensor-laden devices in someone's life learn to exchange information about where, when and how they're used.
One challenge, as Federal Trade Commission Chairwoman Edith Ramirez laid out last week at the Consumer Electronics Show in Las Vegas, is that the more people surround themselves with connected devices, the more data about their lives may be collected, transmitted, stored and used in ways they may not have anticipated or approved. Another is that the simple act of connecting a device to the outside world creates a potential route into that device and everything else it's connected to. A hacker might use a Wi-Fi camera monitoring your living room as the jumping-off point to plant malware that steals passwords from your computer.
Consumers have less to fear from devices that talk directly to other gadgets nearby with no connection to the Internet. And for the gadgets and appliances that do have those connections, some of the industry groups focused on the "Internet of things" are building important security and privacy features into the standards and protocols they're developing. The best guarantee that manufacturers and app developers will include such features, though, is consumers demanding and using them.
Unfortunately, consumers haven't been very good so far at using what's available to protect themselves against hackers and data thieves. Even products designed with security in mind can't safeguard people who insist on using passwords that any 15-year-old could guess, or who disclose them to total strangers when prompted by official-looking emails. The FTC should make sure that consumers aren't fooled about the risks posed by connected-home products and that personal data aren't misused. But the government's first job is to make people better aware of where the risks are and what they ought to be doing to avoid them.
Follow the Opinion section on Twitter @latimesopinion
---
Life is stressful. Our weekly mental wellness newsletter can help.
You may occasionally receive promotional content from the Los Angeles Times.