Editorial: L.A. County residents shouldn't have to take a bus to Malibu to enjoy a beautiful park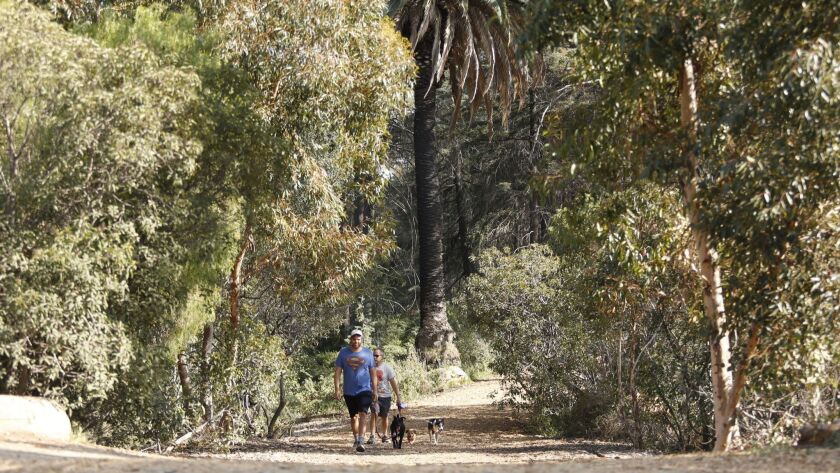 L.A.'s most famous treasures include unrivaled green spaces and hiking trails, many located in the hills that rim the county. Parks near the beaches and in the Santa Monica Mountains, the Hollywood Hills and the San Gabriels enhance the value of adjacent homes.
You can see the arc of green on a map that was prepared several years ago as part of a study showing how all that parkland — and the money to acquire, develop and maintain it — is distributed around the county.
But in the midst of that green circle are glaring swatches of red, signaling a longstanding lack of investment in local parks, pools, gyms, rec centers and gardens in densely packed neighborhoods of mostly non-white residents. Too often, L.A. County leaders addressed the gap by encouraging Angelenos without neighborhood parks to visit the mountains and beaches. And to then, of course, go home. Too little attention was paid to putting parks in park-poor areas.
Enter the Fray: First takes on the news of the minute »
That all changed in 2014, after voters defeated a measure to re-up two expiring county parks funds. Officials wisely went back to the drawing board and, more to the point, to the communities that had long been deprived of their fair share of funding. A series of hearings brought home the impact of funding inequity: a diminished quality of life, poor health and limited economic opportunity. A more carefully crafted measure, promoting a more equitable distribution of parks funding, easily won voter approval in 2016.
A follow-up process heavy on outreach and community participation has resulted in a spending plan that comes before the Board of Supervisors Tuesday. It represents an enormous and positive evolution in thinking about how to assess the needs of county residents and distribute resources accordingly.
Funds will still go to the beach and mountain areas to keep the county's famous treasures in good shape amid fire and flood, although county leaders should avoid the temptation to use recent disasters as an excuse to grab a greater share of parks funding.
What's different this time is that just under a third of funds will be directed toward high-need areas — places where residents are in most dire need of access to green space, gyms and recreation areas. The plan includes some guidelines for ensuring that newly funded amenities don't end up pricing residents out of their improving neighborhoods by driving up rents.
It's a good start, although it may not be enough. One of the primary goals of a more enlightened parks funding policy ought to be to turn those red areas in the center of the county's parks map as green as the mountains and beaches at the edges. Every county resident ought to be walking distance from a decent, well-resourced, well-maintained park — without taking a day trip to Malibu.
Follow the Opinion section on Twitter @latimesopinion and Facebook
---
A cure for the common opinion
Get thought-provoking perspectives with our weekly newsletter.
You may occasionally receive promotional content from the Los Angeles Times.