Editorial: Labor Day 2015: Uncertain times for American workers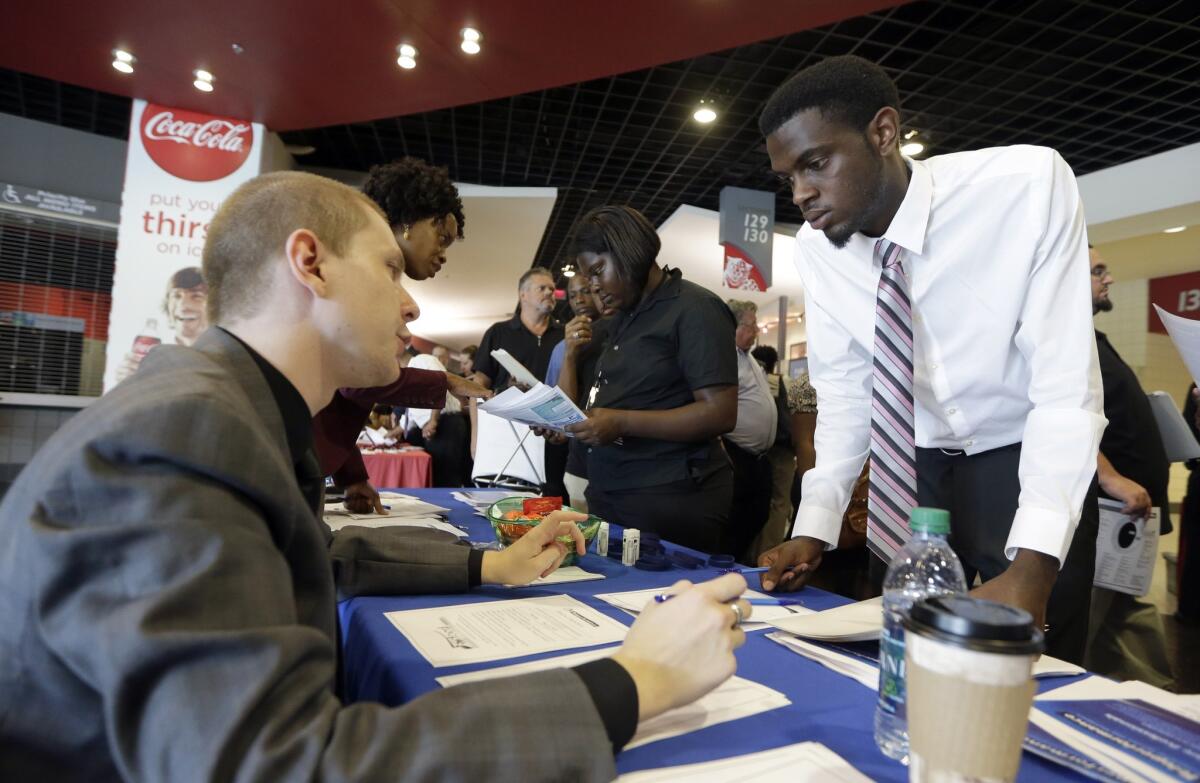 It's been a pretty good summer for workers. The Los Angeles City Council voted to bump the city's minimum wage to $15 an hour by 2020, and a nationwide movement to raise it elsewhere has gained steam, as has pressure to expand paid sick leave to more people. The Obama administration proposed changing wage and hour rules to make more salaried workers eligible for overtime pay. The National Labor Relations Board last month made it harder for employers to insulate themselves from labor infractions by outsourcing work to contractors. And the U.S. unemployment rate slipped from 5.7% in January to 5.1% at the end of August, a little above what it was a decade ago and far below the 10% peak after the Great Recession.
That's the good news.
Unfortunately, being a worker in America today isn't what it was a decade ago, and not all the changes can be blamed on the recession, though that certainly was economically cataclysmic for millions of people. The Bureau of Labor Statistics' data show that the country still hasn't recovered fully, let alone returned to the heights reached during the late 1990s' dot-com boom. Compared with late 2006, about 1.3 million more people are unemployed today and about 1 million more have been jobless for more than six months. Almost 6.5 million Americans currently working part time want full-time jobs, which is 2 million more than a decade ago.
Relationships with employers have changed as well. More people now work as independent contractors, which means they aren't covered by wage and overtime laws and don't receive workers' compensation if injured or unemployment insurance if laid off. Some workers prefer such jobs because of the flexibility it gives them, which also appeals to employers who may only need a worker for a specific task for a short time. But many companies exploit the system by misclassifying workers as independent contractors when they really are acting as employees and entitled to protections.
The skills demanded on the job are changing too. Consider, for example, the computers that have been integrated into cars in recent years. Auto mechanics no longer start by popping the hood; they download diagnostic data from a port near the steering column. Not every worker needs to be adept with software, but those skills will matter for a lot of 21st century middle-class jobs, which is why pressure has built on public schools, colleges and universities to raise the technical competence of their graduates.
We also appear to be in the early stages of a technology-driven revolution in the economy, which is creating both opportunities and challenges for workers. Thanks to the Internet, it's easier to find job openings, market one's skills or attract customers for one's services. An ever-growing assortment of online platforms, such as Uber and TaskRabbit, connects individuals with those seeking to hire them. But many of those companies classify the people providing the services as independent contractors, letting them control when and where they work but offering none of the benefits of being an employee, nor the ability to set prices for their services. A federal judge in San Francisco is considering a class-action lawsuit that could result in thousands of Uber drivers being reclassified as employees, and some sharing-economy companies, such as Instacart, have responded to the controversy by giving workers using their apps the option to become employees.
Interestingly, the Uber case arose when drivers banded together to challenge their working conditions — much like what a union does on behalf of its members. And speaking of unions, for them the news remains dour. Earlier this year Wisconsin became the 26th state (and the third since 2012) to adopt right-to-work laws that make it harder for unions to organize. Private sector union membership dropped from 7.9% in 2004 to 6.6% last year, continuing a decades-long slide that many experts cite as a contributing factor (along with increased automation and offshoring of work) in the shrinking of the middle class.
Clearly the nation's workers — and large segments of the economy — are undergoing significant transitions. On the plus side, the long, slow climb out of the recession seems to be continuing. On the minus side, it's still unclear exactly what we are transitioning to.
Follow the Opinion section on Twitter @latimesopinion and Facebook
A cure for the common opinion
Get thought-provoking perspectives with our weekly newsletter.
You may occasionally receive promotional content from the Los Angeles Times.