Editorial: What does the election of left-wing populist Lopez Obrador in Mexico mean for the U.S.?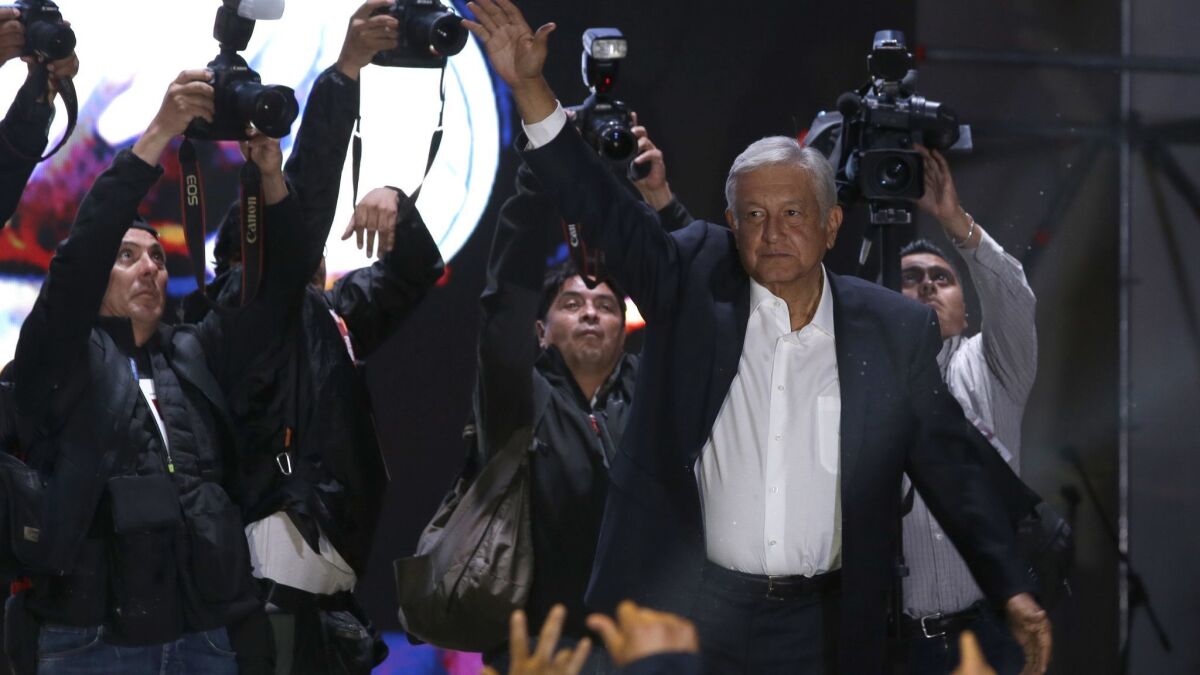 The destinies of Mexico and the United States are inextricably linked, so the election Sunday of populist Andres Manuel Lopez Obrador as president of Mexico cannot be seen with as distant an eye as, say, Italy's convulsive elections in March. Like it or not, Mexico's new president will play a prominent role in the U.S. economy and the cross-border flow of humans, drugs, guns and other goods and environmental hazards.
Of greatest importance here, though, may be the same thing that moved Mexicans to overwhelmingly choose the left-wing populist leader (and two-time failed presidential candidate) over his more staid rivals: Mexico's long-standing inability to deal with corruption and gang violence. Lopez Obrador rode to victory on a wave of widespread anger over graft and violence. If he makes headway against those problems, he will help create for the U.S. a stronger, more reliable neighbor and trading partner. Failure, though, will probably further destabilize not just his nation but also ours, exacerbating tension over immigration and undermining trade.
Many of Lopez Obrador's statements and stances are worrisome — and familiar.
He's hardly the first would-be reformer to win the presidency. But the problems of corruption and violence endure in part because they are intertwined with other, fundamental problems in that still-developing nation. Corruption has helped saddle Mexico with the worst income inequality in the developed world, among the highest rates of poverty, relatively low output per person and a volatile economy.
And that is Lopez Obrador's other broad promise: to reduce both poverty and inequality. Good luck to him; both conditions are endemic to modern Mexico, and whether he can deliver on his ambitious promises remains to be seen. They account for a huge portion of his appeal.
Many of Lopez Obrador's statements and stances are worrisome — and familiar. He dismisses the importance of independent government institutions such as courts and presents himself, rather than laws or a strong civil society, as the cure for what ails Mexico. Corruption would evaporate, he told voters, under the weight of his personal example of incorruptibility. He alone could rescue the country, he told voters during the campaign — echoing President Trump's statement to the Republican National Convention two years ago that "nobody knows the system better than me, which is why I alone can fix it."
Trump's brand of populism is ostensibly rooted in the political right and Lopez Obrador's in the left, yet the U.S. president and the Mexican president-elect have in common their contempt for the political establishment and their focus on the politics of personality. Might that unite them and pave the way for progress on both sides of the border? The odds seem long, but anything is possible. It would have been hard to guess even a year ago that Trump would be sitting down with North Korean President Kim Jong Un — or disparaging Canadian Prime Minister Justin Trudeau. Nor is it possible to say what the state of those relationships will be in a year's time.
Enter the Fray: First takes on the news of the minute from L.A. Times Opinion »
Trump, of course, based much of his campaign on fear of Mexicans and his call to stop illegal immigration across the United States' southern border. His policy of separating families, from which he has since stepped back, continues to anger Americans on both sides of the issue (many of the families involved are from Central American nations and not Mexico, a distinction often ignored by the White House). His provocative and outrageously expensive proposal to build a wall along the southern border of the U.S. has been both ridiculed and decried in Mexico.
Any change in government offers the opportunity for a reset in international relations, so it's possible Trump and his new counterpart can find some common ground in serving the interests of both countries. It may seem foolish to expect it, given the strong egos of the two leaders. But we can hope.
Follow the Opinion section on Twitter @latimesopinion and Facebook
---
Life is stressful. Our weekly mental wellness newsletter can help.
You may occasionally receive promotional content from the Los Angeles Times.