Editorial: Project near Olvera Street should be cautious with L.A.'s history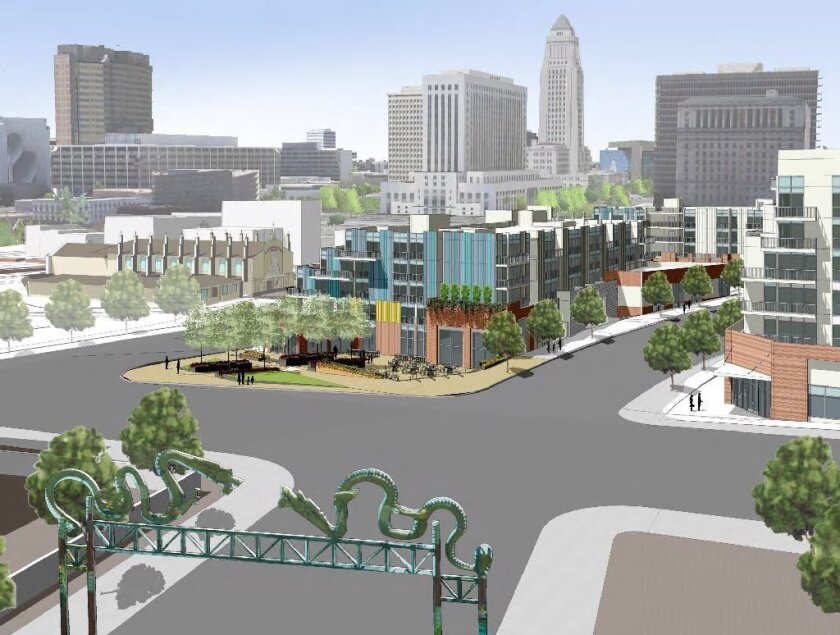 Not far from Olvera Street downtown, two sprawling parking lots soon will give way to residential apartments, shops and restaurants. Amid them, landscaping will highlight a historic trail — a reminder that this project may be situated near the birthplace of the original city of Los Angeles. But because the exact location of that original settlement remains a minor mystery, the developers should be especially careful when full-scale construction begins.
Any developer excavating in the area would do well to remember the debacle four years ago when construction crews stumbled across remnants of the city's first cemetery while building La Plaza de Cultura y Artes, a cultural center dedicated to the heritage of Mexican Americans in Los Angeles. Human remains were excavated and haphazardly removed.
The new development, La Plaza Cultura Village, is a project of the same nonprofit foundation that runs the cultural center. These days, the foundation has a new administration, and stricter protocols for the new project.
"We're pulling out all the stops when it comes to protecting the site," says archaeologist John Dietler, whose firm has been hired for archaeological oversight of the project. Dietler has already done preliminary historical research, which doesn't indicate that anything extraordinary — a cemetery or an aqueduct, for example — should be underground. Before any construction starts, the site will be assessed with ground-penetrating radar and pre-excavation digging. But he acknowledges that surprises could still greet construction crews, so they will be trained in what sorts of objects to watch for.
An archaeological monitor and a Native American representative will be on site any time digging is underway. Work will stop if any artifacts are found so that a senior archaeologist can evaluate their significance. And, of course, work will stop upon any discovery of human remains, so the appropriate authorities can be contacted.
These guidelines appear to be meticulous and proper, and if they are followed, they'll get the project off to a promising start in terms of respecting the history of Los Angeles. It's quite likely, based on the research that Dietler and others have done, that this area will not yield a dramatic find. Perhaps a trash pit — the castoffs of a long-ago community — will surface. Even that, says Dietler, would be fascinating. Los Angeles has long been regarded as indifferent to its history. But the developers are approaching this county-approved project with impressive care, mindful that even historic trash is worth protecting.
Follow the Opinion section on Twitter @latimesopinion
---
A cure for the common opinion
Get thought-provoking perspectives with our weekly newsletter.
You may occasionally receive promotional content from the Los Angeles Times.