Editorial: Why it's hard to get too excited about the Rams in the Super Bowl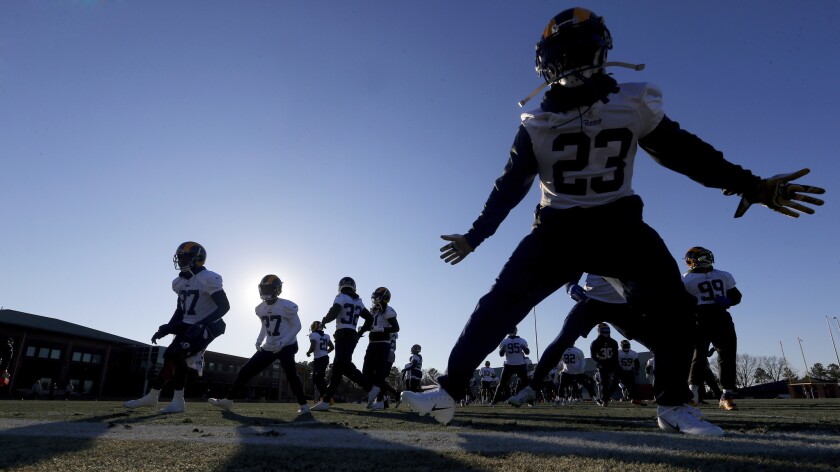 Over the last three years, Los Angeles has gone from being a city with no professional football teams to a city with two: the former San Diego Chargers and the former St. Louis Rams. Both teams had called Los Angeles home earlier in their histories only to abandon us for greener fields, which may help explain why the region has warmed so slowly to their return (at home games, a humbling portion of the fans root for the visiting team). But the teams' rapid ascent — both made it to the playoffs this season, and the Rams are playing in the Super Bowl game Sunday in Atlanta — should not only lift their profiles, but, if the Rams succeed in topping the Hall of Fame-heavy New England Patriots, make them the darlings of L.A. ... at least until opening day at Dodger Stadium.
Yet even as we celebrate the teams, we're a bit uneasy giving the NFL a full embrace. The league has struggled for years to get more diversity in top management and ownership, and has had a spotty record in addressing issues of domestic violence among its players. Most significantly, the league has not fully addressed the dark reality of brain damage among players, which in many cases has led to dementia and suicide.
For years, the league fought against arguments that the numerous and intense head impacts that players experienced were leaving many of them with significant long-term health problems, including Chronic Traumatic Encephalopathy (CTE), a degenerative brain disease. From 2012 through the end of this regular season, the NFL reported an average of 244 concussions per 256-game regular season.
Enter the Fray: First takes on the news of the minute »
The NFL initially downplayed the potential link between the violence of the game and its players' brain health later in life. A 2016 congressional report accused the NFL of trying to influence research into CTE by withholding funding; the league has since donated $100 million for research. Yet as the nation watches the game Sunday — or any other game day during the season — odds are good that we are watching athletes whose performance will lead, in some cases, to their premature deaths.
This isn't to rain on the Rams' victory parade — and getting to the Super Bowl is in itself a victory for a team that lost 75% of its games just two seasons ago, regardless of the final score. But the NFL is an entertainment business in a sport built on violence, and its failure to successfully address such troubling problems dims the allure of what should be a bright moment in this newly revived NFL town.
Follow the Opinion section on Twitter @latimesopinion or Facebook.
---
A cure for the common opinion
Get thought-provoking perspectives with our weekly newsletter.
You may occasionally receive promotional content from the Los Angeles Times.