Editorial: If you live in a car, finding a parking spot should be easier than finding an apartment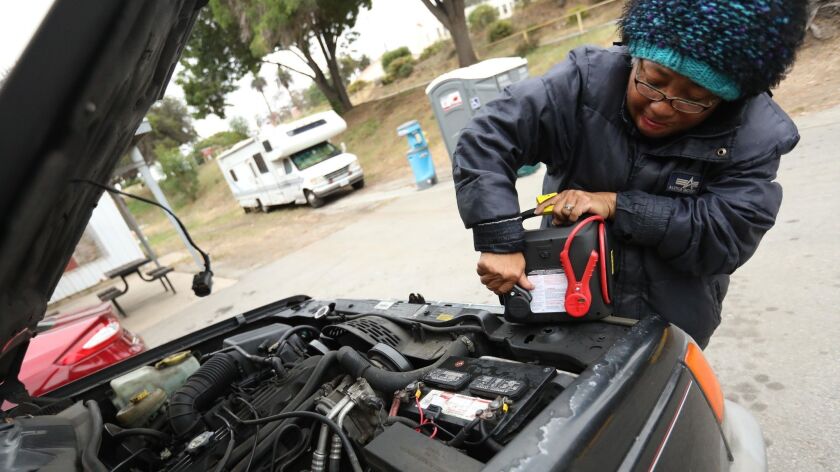 Living in your car generally means living under cover. Consider Octavio Solorio, an actor who spent years cobbling together a living from TV and film jobs, voice-over work and bookkeeping, but who finally found that he could no longer afford to pay for his apartment in Chatsworth. In September, his Volkswagen Passat became his home. He considered parking in a lot at Kaiser Permanente but a guard there patrolled up and down. He looked for dark streets. He dressed in black and covered himself with a dark blanket, hoping, once he leaned back in the seat, he would disappear into the darkness of the car and no one outside would notice him. At 5 a.m. each day, he would wake up and move his car.
Until finally, in November, he found a spot in a lot specifically designated for homeless people living in their vehicles in North Hollywood. The lot is run by a nonprofit called Safe Parking L.A., and indeed, the homeless actor says he does feel safe when he's there.
On the spectrum of ways to help homeless people — housing, shelter, counseling — a safe overnight parking lot for people living in their cars isn't the most life-altering option, but it should be among the simplest to put in place. However, even with some financial support from both the city and the county over the past couple of years, the patchwork quilt of parking lots across the city of Los Angeles willing to take homeless people in their cars at night is too sparse to begin to fill the need.
Fewer than a dozen parking lots have been opened in the city for homeless people under its "safe parking" pilot program.
There are about 15,700 people in Los Angeles County living in vehicles, according to the 2018 homeless count, about 8,900 of them in the city of L.A. Meanwhile, the number of legal places to park overnight on the streets continues to dwindle. A city law bans people from living in their cars in residential neighborhoods or near parks or schools. As more neighborhoods successfully petition the city to restrict parking, signs forbidding overnight parking on commercial and industrial streets go up, block by block.
Fewer than a dozen parking lots have been opened in the city for homeless people under its "safe parking" pilot program. Most park no more than 10-15 vehicles a night. (A couple are expanding to 25.) Safe Parking L.A, the nonprofit organization, has contracts through the Los Angeles Homeless Services Authority to run six lots across the city. Two more lots are run by other nonprofits.
Enter the Fray: First takes on the news of the minute »
Some of the lots are at capacity. Others are not. One lot outside Councilman Mike Bonin's district office has been so underutilized since it opened in December that it has been shut down sporadically to save money. (With security officers and restrooms, it costs about $120,000 a year to operate one of these lots.) Yet Safe Parking's program director, Emily Kantrim, says there is a waiting list of 10 to 15 people at any one time to park in the nonprofit's lots.
Why is there a waiting list at some lots when others are begging for parkers? Each lot is required to have a homeless services organization work with the homeless occupants of the vehicles, making sure they are entered into the county's database of homeless people (the Coordinated Entry System) and helping connect them to housing, treatment programs and other social services. Sometimes that works fine. (At the Veterans Affairs lot, VA staff do that case work for each of the homeless parkers.) Other times, however, that's a heavy burden to put on already overburdened service providers, whose staffers work long days with the city's most vulnerable and chronically homeless people. The providers have only a finite number of staff members and can't get to all the parking lots at night.
It makes sense that homeless people living in their vehicles should be offered not just a safe place to park but a way out of their cars and into long-term housing. That's why it's important that they be connected to social services. But at the moment, that requirement is undermining the safe parking program and not allowing it to function as it should. City and county elected officials should direct LAHSA to hire one or more outreach workers to go to these lots at night, meet with the people who stay there, enter them in the database, figure out what services they need and make sure they get them.
Follow the Opinion section on Twitter @latimesopinion or Facebook
---
Life is stressful. Our weekly mental wellness newsletter can help.
You may occasionally receive promotional content from the Los Angeles Times.