Editorial: Are LASD gangs terrorizing communities? L.A. County has no idea. It better find out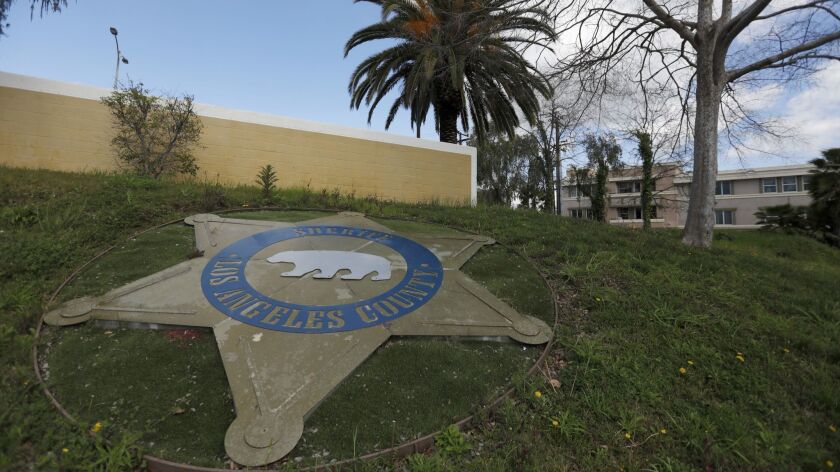 A Times story last July reported on allegations that secret cliques of violent, tattooed sheriff's deputies continue to operate in stations around Los Angeles County and that one may have played a role in a fatal shooting in 2016. County leaders reacted with alarm, and appropriately so, because it had been generally thought that these sorts of dangerous deputy gangs had been stamped out following a series of reforms several years earlier. It was necessary to find out if they had returned, or if indeed they had never left. Then-Sheriff Jim McDonnell promised a study and he was immediately joined by county lawyers, the inspector general and the Sheriff Civilian Oversight Commission in a task force to get to the bottom of the issue. We expected to be learning their preliminary findings just about now.
So it was startling to hear what the Board of Supervisors and the commission had to say about the status of the inquiry in recent days. Had it been completed? No. Was it in progress? Kind of, but not really. What had happened to it? No one was quite sure. The task force had agreed at some point to hire a consultant to do the real work, and they had spent some weeks interviewing candidates but then stopped. They were somehow slowed by the 2018 sheriff election — although just why that would be the case is unclear. New Sheriff Alex Villanueva, in office since December, said no one had informed him about the process or asked him to participate.
Meanwhile, a brawl last September at the East Los Angeles Sheriff's station involving a group of deputies that called themselves the Banditos resulted in the hospitalization of some younger members of the department, as reported by WitnessLA.com. Injured deputies filed legal claims against the county last month.
So much for the quaint notion that violent deputy cliques no longer exist.
Oh, but they're just expressing inter-generational rivalries between training officers and trainees, Villanueva told the oversight commission last week, and with his strong leadership everything will be set right.
The Los Angeles County Sheriff's Department has a long history of violent gang-like deputy groups beginning in the 1970s.
"You can save yourself a lot of money on your studies," Villanueva told the commission, "because that is going to be the conclusion of the whole thing. This is hazing run amok."
So there are no deputy gangs? No, the sheriff said. There were in the 1980s, but not now. But communities believe they are being victimized by deputy gangs, a commissioner said. No, you don't know what the community thinks because you have not done a statistically valid survey, the sheriff said.
This is a combination horror show and farce. The Los Angeles County Sheriff's Department has a long history of violent gang-like deputy groups beginning in the 1970s, and the problem isn't just hazing of fellow employees that gets out of hand. This is also about deputies brutalizing members of the public. A federal judge in 1991 branded a Lynwood station group called the Vikings a "neo-Nazi, white supremacist gang" that committed unconstitutional acts, tacitly authorized by department leaders. Other such deputy gangs were spotlighted by the landmark Kolts Commission in 1992 and again by the Citizens Commission on Jail Violence in 2012.
Enter the Fray: First takes on the news of the minute »
Jail deputies from "competing" floors in Men's Central Jail brawled with each other and brutally beat inmates and even visitors without just cause. The county continues to pay hundreds of millions of dollars to plaintiffs — both in and outside the department — who say they have been victimized by deputies acting as part of cliques like the Banditos. One female deputy said she was assaulted and harassed after declining a demand by Banditos for sex.
A 2013 probe led to the firing of seven deputies associated with the Jump Out Boys, whose tattoo depicted a skeleton holding a revolver. Deputies involved in shootings would alter their tattoos to add new wisps of smoke coming from the gun.
Various reports and studies have concluded that patrol deputy cliques — or subgroups, or gangs, or whatever you want to call them — run their stations, scoff at direction from department headquarters, protect their members with a code of silence and encourage the use of force against members of the public as part of their initiations. These are fundamental problems in policing, and the failure to complete a report on these gangs in the Los Angeles County Sheriff's Department is a fundamental failure of leadership and oversight.
That latter failure, at least, can be swiftly remedied. Supervisor Hilda Solis demanded that the effort to get answers be put back on track. It is appalling that such a reminder was necessary. It is essential that a competent study be completed — without any more foot-dragging.
Follow the Opinion section on Twitter @latimesopinion and Facebook
---
A cure for the common opinion
Get thought-provoking perspectives with our weekly newsletter.
You may occasionally receive promotional content from the Los Angeles Times.