Editorial: An erosion of ethics oversight should make us all more cynical about Trump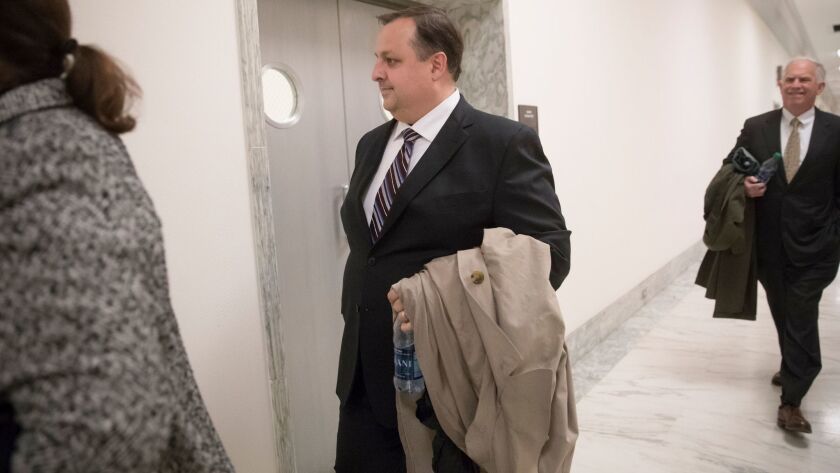 President Trump's problems with ethics are manifest, from his refusal to make public his tax returns to the conflicts posed by his continued stake in the Trump Organization and its properties around the world — including the Trump International Hotel just down the street from the White House, in a building leased from the federal government he's now in charge of. The president's stubborn refusal to hew to the ethical norms set by his predecessors has left the nation to rightfully question whose best interests are foremost in his mind.
Some of the more persistent challenges to the Trump administration's comportment have come from the Office of Government Ethics, whose recently departed director, Walter M. Shaub Jr., fought with the administration frequently over federal conflict-of-interest regulations. Under agency rules, chief of staff Shelley K. Finlayson should have been Shaub's successor until the president nominated a new director, who would need Senate confirmation.
But Trump upended that transition last month by naming the office's general counsel, David J. Apol, as the interim director. Apol has a reputation within the agency for taking contrarian — and usually more lenient — stances on ethics requirements than did Shaub and the consensus opinion of the staff (including Finlayson). And that, of course, raises the question of whether the White House replaced Finlayson with Apol in hopes of having a more conciliatory ethics chief without enduring a grueling nomination fight.
Of course, it's possible that a person who plays devil's advocate in internal discussions over issues could take a different, and more conventional, view once placed in charge. So Apol deserves the benefit of the doubt, for now. But it doesn't take a deep vein of cynicism to suspect a deeper play here.
As an interim appointment, Apol won't face Senate approval, where an incoming ethics chief would undoubtedly face sharp questions that would again rivet a spotlight on the Trump administration's persistent ethical conflicts. Apol can serve as interim director for 210 days, and then could hold the position for another 210 days if Trump nominates a permanent director. That means Trump, by naming a sympathetic interim director, could effectively mute a key ethics watchdog for more than a year.
So in an Orwellian turnabout, a respected Washington watchdog agency now bears watching itself, to see just how much Apol shares Trump's permissive view of federal ethics rules. Much like "draining the swamp" turned out to be code for "rotating in a new team of alligators," Trump could well be trying to make sure that the people who are supposed to oversee ethics rules will instead overlook them. And the more Trump muddies the waters like this, the more confident Americans can be that their best interests are not the ones the Hotelier-in-Chief is looking out for.
Follow the Opinion section on Twitter @latimesopinion or Facebook
---
A cure for the common opinion
Get thought-provoking perspectives with our weekly newsletter.
You may occasionally receive promotional content from the Los Angeles Times.