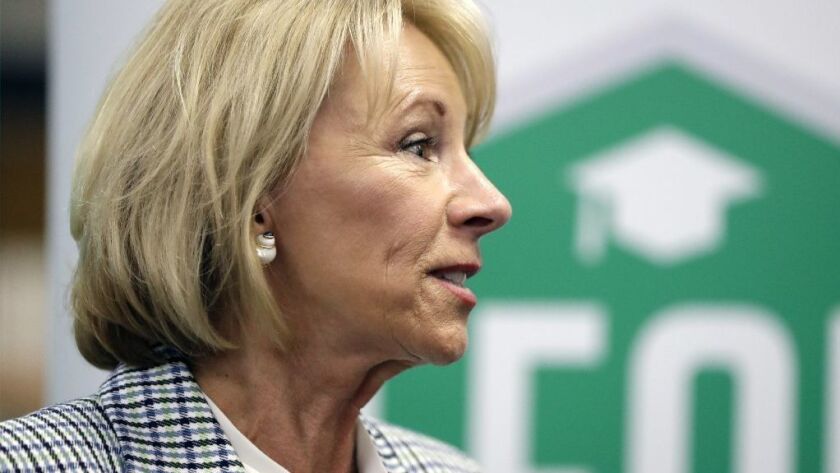 Several news organizations are reporting that the Trump administration in February reached an agreement with Texas Tech University under which the university will stop using race as a factor in admitting students to its medical school.
According to the Wall Street Journal, the Department of Education, headed by Secretary Betsy DeVos, faulted Texas Tech for not conducting an annual review of its admissions policies to see if it could enroll a diverse class by giving preferences for non-racial factors, such as whether the applicant was a first-generation college student or bilingual.
It's not news that the Trump administration is skeptical about race-conscious admission policies. Last July it withdrew guidance from the Obama administration that arguably interpreted court decisions on affirmative action in a way that encouraged the use of race. The Los Angeles Times editorial board commented at the time: "This is an administration that lacks a commitment to meaningful racial diversity in education or to the kind of affirmative action policies that encourage it."
The change in policy from one administration to another was made possible by the Supreme Court. The court's decisions on affirmative action have been so ambivalent and tortured that it's easy for a Democratic administration to emphasize the court's approval of the use of race in some circumstances while a Republican administration can cite language from those same decisions decrying the use of race.
Enter the Fray: First takes on the news of the minute »
The court's most recent pronouncement came in a 2016 ruling upholding the University of Texas' use of race in filling some slots in its freshman class. Writing for a 4-3 majority, now-retired Justice Anthony Kennedy reiterated that the use of race by a university was subject to "strict scrutiny" by the courts.
Kennedy added that the university must continually "scrutinize the fairness of its admissions program; to assess whether changing demographics have undermined the need for a race-conscious policy; and to identify the effects, both positive and negative, of the affirmative-action measures it deems necessary."
The Obama administration chose to view the Supreme Court's affirmative-action jurisprudence as half-full; the Trump administration sees it as half-empty. In this realm as in others, elections have consequences.
Follow the Opinion section on Twitter @latimesopinion and Facebook
---