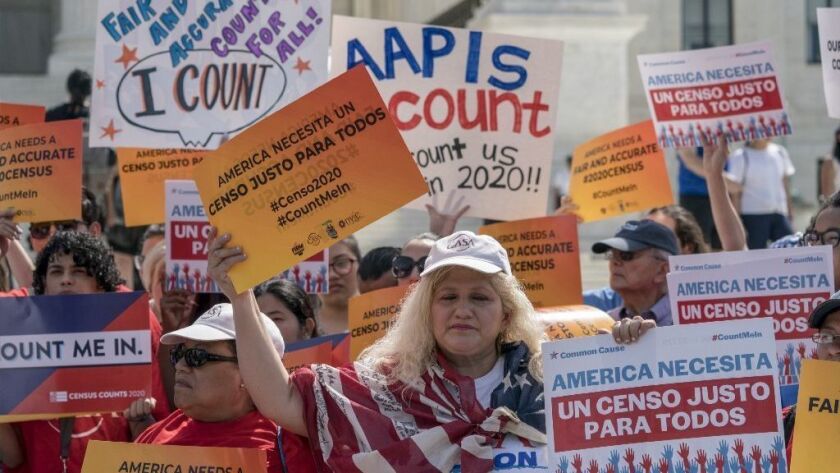 On Tuesday the Supreme Court heard arguments in one of the most momentous cases it will decide this year: whether Secretary of Commerce Wilbur Ross violated the law by insisting that a question about U.S. citizenship be added to the 2020 census.
But if you want to listen to the justices spar with the lawyers, you'll have to wait until Friday, when a recording will be added to the court's website. Until then, the court will maintain its version of the cone of silence from the "Get Smart" TV series.
It's true that a transcript of the argument in Department of Commerce vs. New York was posted on the same day as the argument, per the court's usual practice. And, of course, readers can get an informed account of what was said — and what the justices' comments might portend about a ruling — by reading coverage by reporters such as my savvy colleague David Savage.
But the audio also should have been posted shortly after the argument concluded. That's what the court has done in more than two dozen cases in the past, including the 2012 argument over the constitutionality of the Affordable Care Act, the 2015 argument over same-sex marriage and, and 2018 argument over the legality of President Trump's travel ban.
That the court refused to allow same-day posting of the audio in the census case — despite a plea from the media, transparency activists and members of Congress — suggests that the justices are becoming less accessible to interested citizens.
So why does it matter that we have to wait until Friday to hear, as opposed to reading, the justices' questions and comments?
Delaying the audio makes it less likely that excerpts will be aired in news coverage, most of which will occur on the same day. Relatively few readers or listeners will go to the website on Friday to listen to comments they've already heard quoted.
There is no rational argument for not posting the audio until the end of the week. It's thought that some justices worry about "selective soundbites" from their questions being broadcast. Even if that were a legitimate concern, and it isn't, print coverage of oral arguments also "selectively" quote from the justices.
Ideally the Supreme Court would follow the example of other courts and allow television coverage of its arguments — and the comments justices make when they announce decisions. Alas, resistance to that idea on the court remains strong. But posting recordings of arguments is an established practice. Doing it on the same day would be an incremental — but still important — change.
Just do it.
Enter the Fray: First takes on the news of the minute »
Follow the Opinion section on Twitter @latimesopinion and Facebook
---