Op-Ed: Trump's plan to release detained immigrants in 'sanctuary cities' won't stand. Here's why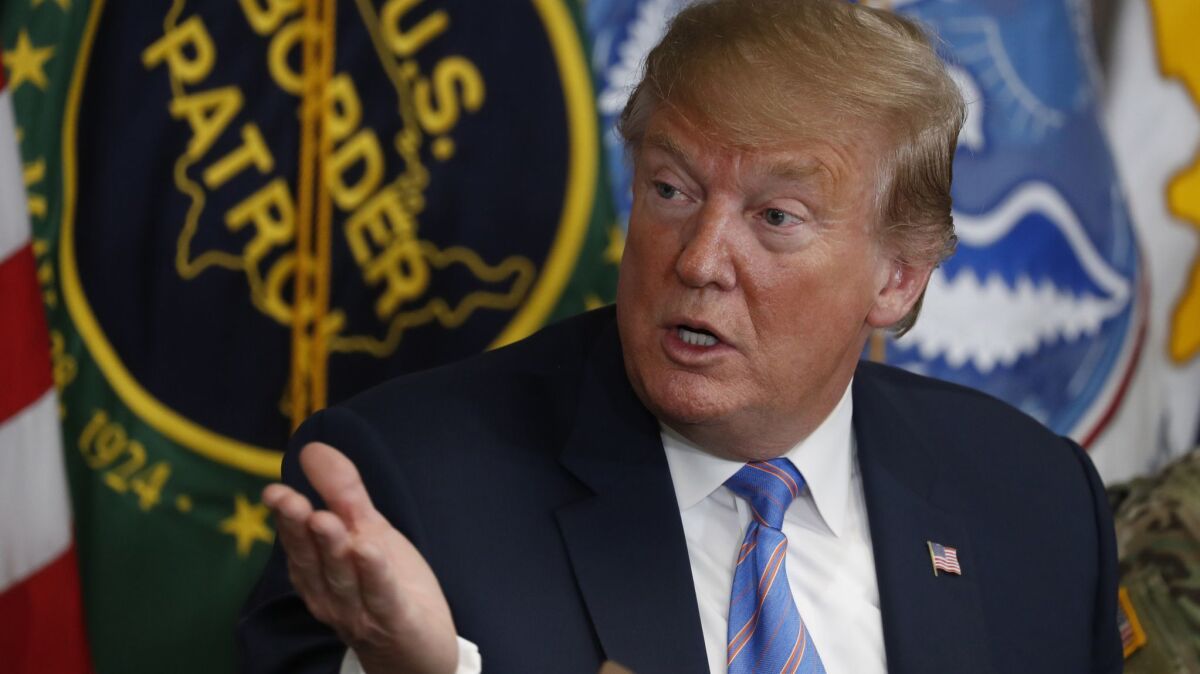 President Trump's threat to begin releasing detained immigrants in "sanctuary cities" seems like dirty politics, even in 2019. It is also, almost certainly, illegal.
While there is nothing explicit in the Constitution prohibiting presidents (or Congress) from punishing states and localities for their policies, long-established precedent suggests Trump's plan wouldn't survive legal scrutiny.

For the record:
8:00 a.m. April 16, 2019An earlier version of this story said the Supreme Court decision in the case of New York vs. United States was in 1995. It was in 1992.
Some critics of Trump's proposal have cited the 1st Amendment's protection of those voicing disagreement with federal policy as relevant in this instance. But state and local governments, even though they certainly can and should express themselves, don't necessarily enjoy 1st Amendment protections the way individuals do.
The 10th Amendment provides a more germane legal argument. The Supreme Court has three times held that the federal government cannot coerce states and cities into assisting the federal government in the adoption or implementation of federal policies.
This so-called anti-commandeering doctrine was first recognized by the Supreme Court in 1992 in New York vs. United States. In that case, the federal government wanted each state to regulate nuclear waste according to federal guidelines. Under the federal statute, if a state did not adopt the policies the federal government favored, that state was required to "take title" to all the waste generated by utility companies and other producers within in its boundaries — and thus assume liability for any harm the waste caused.
The court held that the federal government cannot simply require states to implement federal policies, and it cannot punish states for failing to cooperate.
To some, the rule was poetic justice: If a state was unwilling to deal with a problem in the way the federal government had deemed best, then it should have to own any harms thereby caused. But the court held that the federal government cannot simply require states to implement federal policies, and it cannot punish states for failing to cooperate.
The Roberts court doubled down on this doctrine just last year, holding in a New Jersey case that Congress cannot require states to prohibit sports gambling. Presumably, the court that decided that case would also have frowned on the federal government attempting to coerce New Jersey to play ball by relocating persons convicted of gambling-related crimes to the state.
Trump's proposal for releasing immigrant detainees in sanctuary cities would do something very similar: punish jurisdictions that decline to honor requests to notify the federal government of noncitizens the state has in custody and detain them until the feds arrive. Sanctuary cities, even when they don't provide information or assistance to the federal government, are not saying they want additional noncitizens to locate there.
Under the anti-commandeering doctrine, cities cannot obstruct federal enforcement. But they do have the option to refuse requests from the federal government without being punished for exercising that choice.
In articulating the anti-commandeering doctrine, the Supreme Court explained in the New York case that it didn't want potential liability to incentivize state and local legislators to disregard the preferences of local voters. The original Constitution and subsequent amendments and decisions make clear that states and cities have rights, and that it is important for them to serve their residents rather than simply march lockstep with federal dictates.
Enter the Fray: First takes on the news of the minute »
One provision in the Constitution, for example, says that federal taxes cannot be targeted to impose higher liability on citizens based on the fact that they live in a particular state. And in the voting rights area, the Supreme Court has recently reiterated that whenever the federal government treats one state differently from another, there must be compelling, evidence-backed reasons.
Of course, the federal government still finds ways to discriminate against states for partisan reasons and get away with it. For example, some suspect that the president's tax plan, which reduces the deductibility of state taxes, was designed to punish blue states with higher state tax rates. But proving impermissible intent can be difficult, as was illustrated by last year's so-called travel ban case in which the court upheld executive orders regulating entry into the country despite allegations they were motivated from an anti-Muslim bias.
In the present instance, it's not just the rights of immigrants at issue: It is a states' rights concern. From the president's tweets and in statements from the administration in recent days, it is clear that the policy would be aimed at imposing a burden on cities or states precisely because they have lawfully declined to assist the federal government. That kind of punishment is something the Supreme Court would almost certainly find troubling.
Vikram Amar is dean and a professor at the University of Illinois College of Law.
---
Life is stressful. Our weekly mental wellness newsletter can help.
You may occasionally receive promotional content from the Los Angeles Times.