Op-Ed: As development transforms Inglewood, the city wants to share the wealth with residents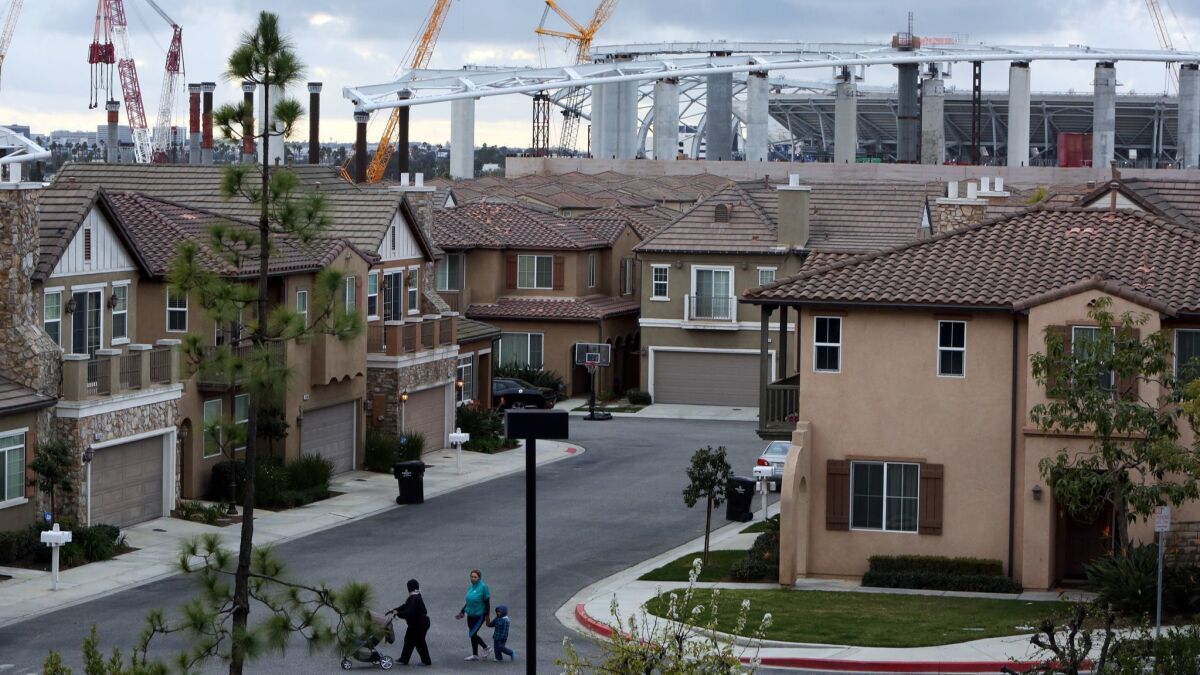 Not that many years ago, few would have thought that the gentrification of Inglewood would be a cause for concern among the city's residents and leaders. Yet major and historical development is leading many citizens to ask: How will this personally benefit me?
It's been a hot topic at Inglewood City Hall since the city began its economic recovery at the end of 2012. Anxiety has increased as the future rises all around us. Chief among the developments are a a new, roughly $4.9-billion NFL stadium and entertainment district along Century Boulevard and a $14.5-million Frank Gehry-designed home for the Los Angeles Philharmonic's youth orchestra.
The perception, of course, is that high-profile construction projects like these, along with the relocation of the Rams and Chargers to Inglewood, will contribute to rising property values and rents — and force out longtime residents. This is already happening, and the city is taking steps to address it.
People are also concerned about whether the city can make the axiom "a rising tide lifts all boats" ring true economically for as many residents as possible in Inglewood.
The value of all this economic activity is enormous. Within the next decade, Inglewood is scheduled to host a Super Bowl, a college football national championship, a World Cup final and the opening ceremonies of the 2028 Olympic Games.
In March, the Inglewood City Council approved a temporary citywide moratorium on rent increases, limiting them to no more than 5% of current rent.
In most any city in the country, developments such as these would be cause for proud celebration, but they are especially welcome in a city that was headed toward bankruptcy after the Lakers and Kings left town in 1999 for Staples Center. For a city that tends to get dismissed as crime-ridden and gang-infested, the surge of economic opportunity is especially sweet. Our city budget, once mired in red in red ink, produced a $35-million surplus in fiscal 2018.
As mayor of Inglewood, I can attest that our city is trying to help all residents benefit from the surge in the local economy as we work to ensure that the most economically vulnerable are not harmed.
Our development agreements include local-hire provisions, which have helped produce a dramatic decline in Inglewood's unemployment rate, from a high of more than 17% in 2010 to about 5% today. That drop compares favorably to Los Angeles County's unemployment rate, which went from 13% in 2010 to about 4.5% today.
A major project such as building a stadium would be expected to draw construction workers and tradespeople from broader Southern California. Hundreds of millions of dollars in contracts for construction supplies and services would ordinarily go to preferred vendors with no ties to the local community.
Our agreements with the developers of the stadium and other projects set a 35% goal for local hires, which means they must live in an area with an Inglewood ZIP Code. More than 1,200 of the 3,000 people who strap on tool belts each day at the stadium site are from Inglewood or neighboring Lennox. In the first two months of 2019, they earned more than $55 million collectively in wages and benefits.
Employers must file payroll data with the city every 60 days to show they are complying with the agreements, which also require that as many supplies and services as practical be secured through firms in Inglewood.
By working closely with the developers of these projects, we are trying to benefit Inglewood residents and small businesses, which are sharing in the windfall of wages and profits from construction projects.
More than half of the nearly 200 apprentices on the stadium construction site are previously incarcerated gang members, many of them from the area. As a former Inglewood deputy police chief, I find that fact particularly uplifting. Most are earning $60 to $90 an hour, including benefits, while learning life-changing trades as ironworkers, electricians and carpenters. These are people who once lived lives of criminality born of desperation and nonexistent opportunity.
At the behest of Inglewood, the stadium construction team has awarded 80 local minority and women-led businesses contracts for supplies and services estimated to be worth more than a half-billion dollars.
The redevelopment also includes completed projects — the renovated Forum and the Hollywood Park Casino — and the recently opened regional headquarters for the Girl Scouts of Greater Los Angeles.
Enter the Fray: First takes on the news of the minute from L.A. Times Opinion »
As Inglewood transforms into a major destination for entertainment and culture, we are taking steps to protect those who might be squeezed out by rising rents. About two-thirds of Inglewood residents are renters, so our restrictions will have a broad impact.
After receiving reports of rents potentially doubling, I personally intervened with the owner of two apartment buildings, who ended up delaying the rate hikes by six months, trimming the rent increases by about two-thirds and offering a $10,000 relocation allowance to residents who wanted to move.
In March, the Inglewood City Council approved a temporary citywide moratorium on rent increases, limiting them to no more than 5% of current rent. This is a placeholder until we fashion a permanent housing protection ordinance to protect renters and provide options for them.
Will these moves be enough to ease the sting of gentrification in Inglewood? Time will tell, but we are heading in the right direction.
James T. Butts has been mayor of Inglewood since 2011.
---
Life is stressful. Our weekly mental wellness newsletter can help.
You may occasionally receive promotional content from the Los Angeles Times.