Op-Ed: Matthew Whitaker is the new Harriet Miers. Conservatives should make Trump withdraw his appointment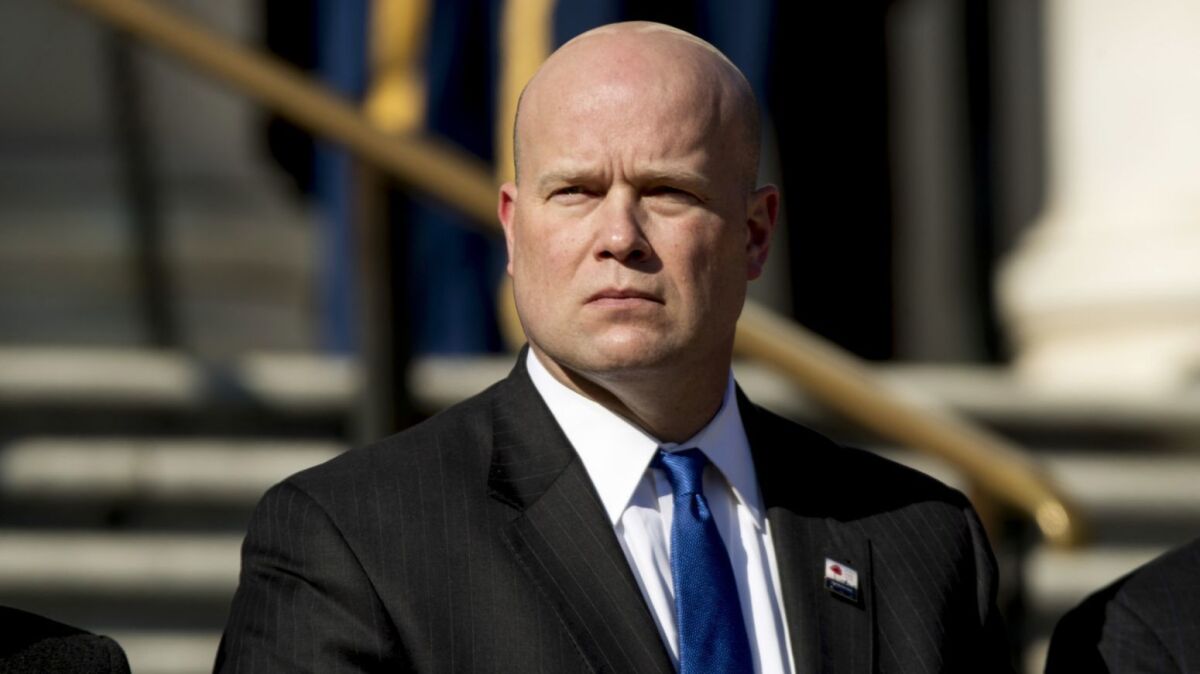 Matthew Whitaker, the new acting attorney general, is President Trump's Harriet Miers. Remember her?
Miers was White House counsel under President George W. Bush. When Bush nominated her to replace Sandra Day O'Connor on the Supreme Court in 2006, he immediately faced a storm of criticism from prominent legal conservatives deriding her intellectual mediocrity and lack of experience. Some of this criticism was elitist and mean-spirited, but its essential truth was undeniable.
The parallels to Trump and Whitaker are strong, and the outcome should be the same. Trump should withdraw his interim appointment of Whitaker, just as Bush was compelled to withdraw his nomination of Miers. Legal conservatives should make him do it.
Much of the commentary about Whitaker's appointment has focused on Trump's apparent interest in curtailing special counsel Robert S. Mueller III and Whitaker's public expressions of support for that goal. Others have questioned the constitutionality of appointing Whitaker, who has been serving as Atty. Gen. Jeff Sessions chief of staff, without a Senate confirmation hearing. These are grave concerns, but they are not the only ones that Whitaker's new role raises.
Whitaker is manifestly unqualified for reasons that even conservatives — in fact, especially conservatives — should recognize.
The position of acting attorney general carries enormous responsibility. Yet Whitaker is manifestly unqualified for reasons that even conservatives — in fact, especially conservatives — should recognize. They are the same reasons that prominent conservatives offered for opposing Miers.
Like Miers, Whitaker seems to have been chosen almost entirely based on his personal rapport with the president. Miers famously described Bush as "the best governor ever" and the "most brilliant man she had ever met." Prior to her service as White House counsel, she had been Bush's personal lawyer, and no one other than Bush ever seems to have considered her as potential Supreme Court material.
Roughly the same goes for Whitaker, who first won Trump's favor with strongly partisan television appearances on CNN. Contrary to Trump's claim that he barely knows Whitaker, the two men have met at the White House over a dozen times. According to media reports, they have an "easy chemistry." Vox has reported that Whitaker secretly advised Trump about how to pressure the Justice Department into investigating the president's political enemies.
Like Miers, Whitaker lacks the high-level legal and political experience that have historically been prerequisites for the job he is being asked to perform. Before serving as White House counsel, Miers was the president of the State Bar of Texas and head of a midsize law firm. Whitaker is a former federal prosecutor; he worked for Sessions for just over a year.
These are respectable, even impressive, credentials. Both Miers and Whitaker are said by colleagues to be decent, upstanding people and competent lawyers. Neither of them, however, could claim to be among the top 100 most qualified persons for the jobs they were tapped to perform.
Finally, like Miers, Whitaker has demonstrated a conspicuously weak command of the constitutional issues that will be central in his new job. This is the most important point by far, and it alone should be decisive.
When Miers made the rounds as a Supreme Court nominee, then-Sen. Tom Coburn (R-Okla.) told her, "You flunked." One leading conservative commentator summed it up this way: Miers was "ill-prepared and uninformed on the law. "
When an interviewer asked Whitaker about the worst Supreme Court decisions in U.S. history, he first named Marbury vs. Madison, the canonical source of the court's power to declare acts of Congress unconstitutional. This is a decision that conservative Justice Brett M. Kavanaugh recently lauded as "one of the four greatest moments" in American constitutional history.
Whitaker's answer got worse from there. After Marbury, he next pointed to "New Deal cases that were expansive of the federal government. Those would be bad. Then all the way up to the Affordable Care Act and the individual mandate."
Whitaker's disapproval of Marbury and the Supreme Court's decisions upholding the New Deal place him well outside the mainstream of American constitutional thought. These positions are also contradictory. On the one hand, he criticizes Marbury for making the Supreme Court "the final arbiter of constitutional issues." On the other, he criticizes modern decisions for not exercising this supposedly dangerous power more aggressively.
Enter the Fray: First takes on the news of the minute from L.A. Times Opinion »
This is like saying that the two best Supreme Court cases are Brown vs. Board of Education, which struck down school segregation, and Plessy vs. Ferguson, which infamously upheld whites-only railroad cars. It simply makes no sense, except as an impromptu riff from a man who has never thought about these questions seriously.
Conservative columnist Charles Krauthammer pilloried Miers' nomination as "a joke." The issue, he wrote at the time, "is not the venue of Miers's constitutional scholarship, experience and engagement. The issue is their nonexistence."
Other leading conservatives, especially those associated with the Federalist Society, were similarly caustic in 2006. They demanded a nominee with sterling credentials akin to those of Chief Justice John G. Roberts Jr., who had been confirmed the year before. More recently, legal conservatives have justifiably prided themselves on the unimpeachable resumes of nominees such as Samuel A. Alito Jr. and Neil M. Gorsuch.
An attorney general is not a Supreme Court justice. But Americans are entitled to expect the president to fill such jobs with people of high stature, chosen for their outstanding professional qualifications and experience rather than personal loyalty. Legal conservatives — and the rest of us — should demand no less, especially in these turbulent times.
Andrew Coan is a professor of law at the University of Arizona and author of the forthcoming book "Prosecuting the President: How Special Prosecutors Hold Presidents Accountable and Protect the Rule of Law."
Follow the Opinion section on Twitter @latimesopinionand Facebook
---
Life is stressful. Our weekly mental wellness newsletter can help.
You may occasionally receive promotional content from the Los Angeles Times.