Op-Ed: When every suicide in the news is a reminder of a death in your family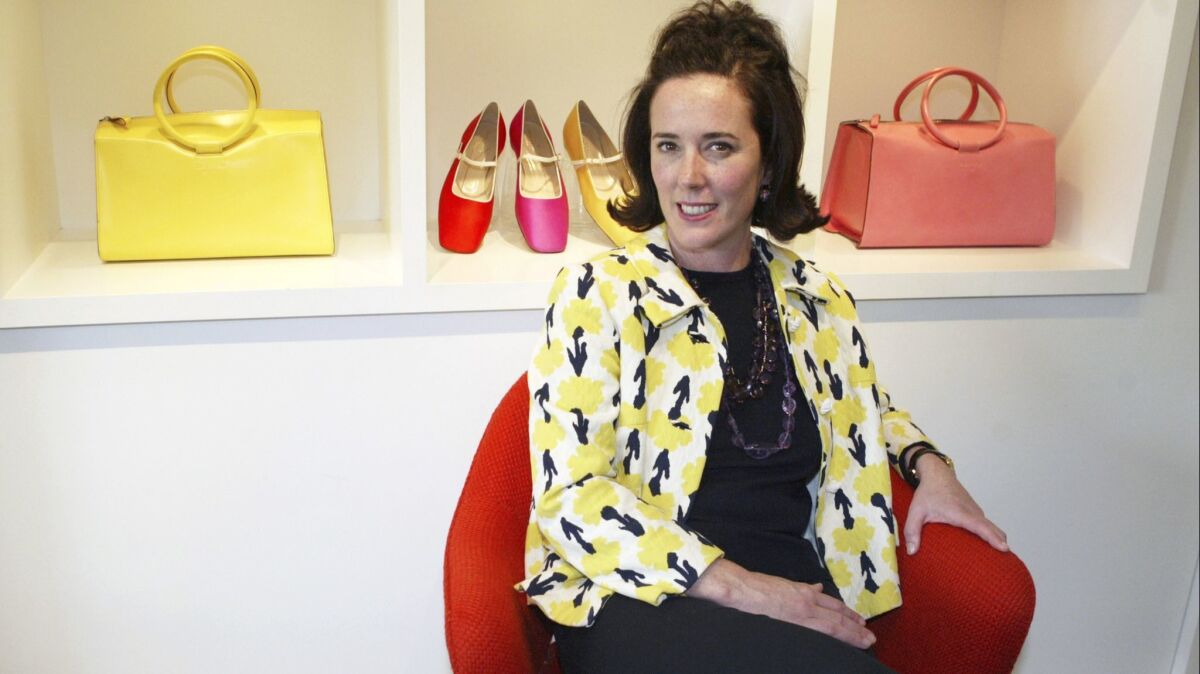 The news of Kate Spade's suicide and now, in the same tragic week, Anthony Bourdain's, made me think of Jeanne and Michael again, which is what always happens.
I was 14 when my mother's sister, my Aunt Jeanne, walked into the ocean in West Palm Beach and drowned, presumably on purpose. She didn't leave a note. The day before, her ex-husband, Benny, had brought his new fiancée, Lila, to meet her. The next morning, Jeanne was found dead on the beach not far from the motel she ran called "C'est La Vie by the Sea." She was 47, the mother of two sons, and a grandmother to 2-year-old Rose. Jeanne didn't live to meet her other granddaughter, Juanita; she left too soon. She was a former nurse who had struggled with alcoholism and addiction, and so it was suggested that maybe she had found peace at last.
We were told to pray for her soul and move on.
I was 17 when my father's brother, my Uncle Michael, drove his Plymouth Gold Duster into the white garage behind his home in Washington, D.C., closed the garage door and left the engine running. His mother was upstairs in the house, asleep, as he did it. Michael, 22, had graduated from Notre Dame six months earlier, an art major. He spent the summer traveling in Europe and Ireland. The family searched for him for nearly a week, before his brother, Lefty, looked in the tiny garage, which had only ever been used for storage. When Michael decided to leave, he did leave a note — two notes written at different times — which meant he'd been thinking about it or had possibly attempted suicide before. Still, it was bewildering. GrandMary, as we called his mother, declared a brain tumor caused it. I came to believe he was gay, unacceptable then in our Irish Catholic family of doctors and lawyers and sports coaches.
We were told to pray for his soul and move on.
Spade's and Bourdain's deaths, however, sent me right back to Oct. 9, 1976, the night my grandfather called to tell me about Aunt Jeanne. I also went right back to that long-ago January morning in 1979 when my mother burst into my room and sank to her knees, sobbing Michael's name. We'd just moved to Knoxville then, and to tell Dad in person Mom had to drive to his office at the University of Tennessee. She got lost, the streets of Knoxville unrecognizable in her fog of sorrow.
I wish all people thinking of taking their lives had a hardheaded friend to call them every day and say, 'Have you found a therapist yet?'
I wrote about Jeanne and Michael in my first novel to hold the conversations we never got to have. I searched online for Jeanne's granddaughters for years. During the last two summers, I retraced Michael's trip to Malin Head, Donegal, to find our relatives at the most northern tip of Ireland. One of Michael's best friends found two of his art journals and sent them to me; I carried them with me to Italy to the places he'd sketched and loved.
In ways like this and others I have tried to atone for taking Jeanne and Michael for granted. Maybe I will always be summoning the details of their too-short lives.
Yet there have been times when I have imagined leaving, too. When addiction dug its hooks into our beautiful kid, I thought of ways to leave quietly and permanently, discreetly, because I blamed myself for messing up the gift of this radiant child.
I considered strolling into traffic and evaporating.
I thought of pills, but how and where?
I pictured walking deep into the woods and never coming out again.
The only methods I ruled out were drowning and carbon monoxide poisoning.
But I kept thinking of my husband and our children, my sister, my brothers, and my parents who quietly bore the loss of their siblings. They'd be OK, eventually, I thought, maybe even better off — and yet and yet and yet I couldn't go through with any plan. I stayed stuck in the malaise of grief, faking it for all.
Fortunately, I had a hardheaded friend, who emailed or called every day during the worst times to say basically the same thing: "Have you found a therapist yet? I am not going to stop asking."
I was terrified at the thought of crying over the phone to some therapist's office, but ultimately I did and figured I surely wasn't the first person to cry while making an appointment to "talk to somebody." I also found Al-Anon, meetings for families of alcoholics and addicts, and a loving sponsor who continues to help me work the 12 Steps. The combination of therapy and meetings, a sweet dog, walks in bright sunshine, and beloved family and friends kept me from leaving.
Not a day passes that I don't think of Michael and Jeanne. Their decisions to leave, one made apparently in an instant and the other deliberated for months, were carved into our lives forever, creating a hole of loss and longing and if-only.
I found Jeanne's granddaughters on Facebook last year, and now we're in a private group chat with another cousin. I send them pictures of a grandmother they never knew. I also found Michael's friends over the years. At a recent Notre Dame reunion they gathered to share memories of him, weeping still as if 35 years were only yesterday.
I wish Kate Spade and Anthony Bourdain could have found a way to stay longer among us. I wish their grieving families nothing but love and peace as they learn to live without them in the world. I wish all people thinking of taking their lives had a hardheaded friend to call them every day and say, "Have you found a therapist yet? I'm not going to stop asking."
Kerry Madden-Lunsford is the director of creative writing at the University of Alabama at Birmingham. She is the author of eight children's and young adult books.
Follow the Opinion section on Twitter @latimesopinion and Facebook
Our six-week newsletter will help you make the right decision for you and your property.
You may occasionally receive promotional content from the Los Angeles Times.