Op-Ed: Ukraine, where some of history's worst attacks on Jews happened, now has a Jewish president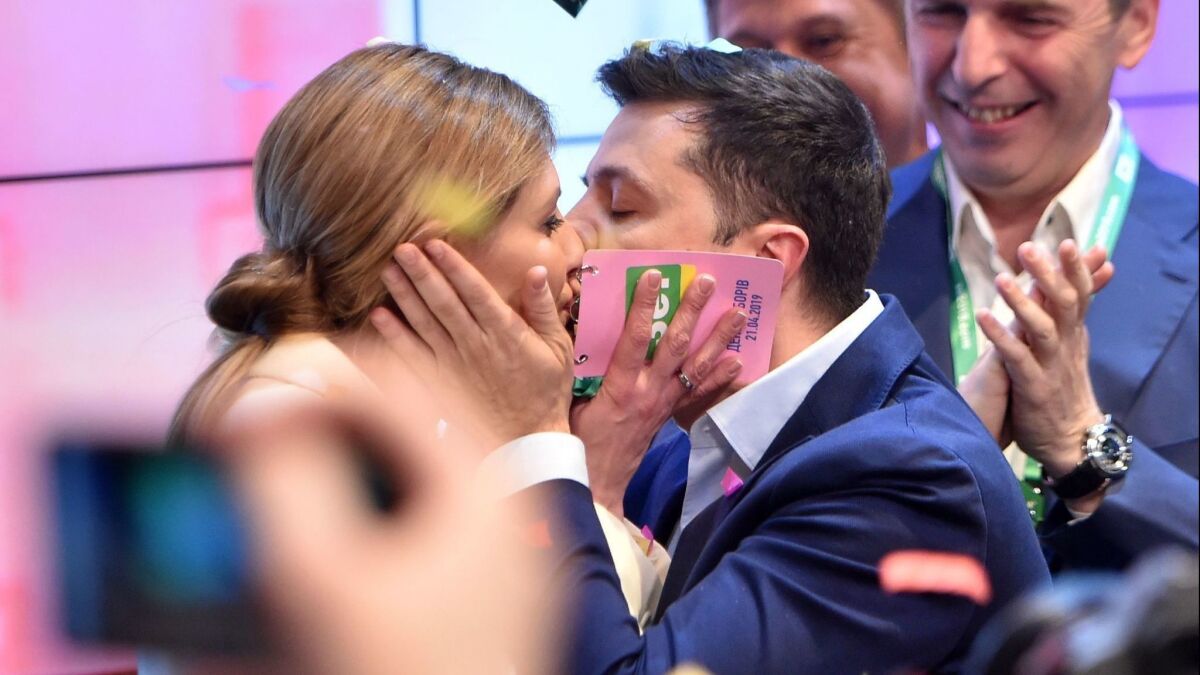 With all the very real worries worldwide about the rise of anti-Semitism, the results of Ukraine's election this week provide a welcome counter-narrative. Ukrainians elected Volodymyr Zelensky, a television comedian of Jewish origin, as their next president. Ukraine's prime minister, Volodymyr Groysman, is also Jewish.
What's ironic about this turn of events is that, although Ukraine had one of the largest Jewish populations in Europe before World War II, there are relatively few Jews left in the country today. Over the course of its history, the country has witnessed terrifying and murderous bouts of anti-Semitism. This year, for example, is the anniversary of an ignoble moment in Ukrainian history. One hundred years ago, in the final year and then aftermath of World War I, Jews were caught in a battle between Ukrainian nationalists and Russian Bolshevik forces. Although not the primary target, they soon became the victims of barbarous violence that killed as many as 100,000 Jews.
A similar number may have been killed in a massive outbreak of violence 270 years earlier. In 1648, Jews were caught in the middle between Polish nobles and local Ukrainians known as Cossacks, who uprooted hundreds of Jewish communities. And of course, during the Second World War, local collaborators aided Nazi forces in murdering as many as 1.5 million Jews in Ukraine, most infamously at Babi Yar, the ravine that became a gruesome killing field and has since been enshrined in our memory by the poem of that name by Yevgeny Yevtushenko.
In our current moment of global illiberalism, Zelensky's election reminds us of the possibility of swimming against the tide of xenophobic populism.
What Yevtushenko noted in his poem has become a stock feature of Ukrainian public memory; that is, it typically ignores the country's blood-soaked Jewish history. To add salt to the wound, some of the great villains in Ukrainian Jewish history — Bogdan Chmielnicki from 1648, Simon Petlyura from 1919 and Stepan Bandera from the Second World War — are heroes in Ukrainian national lore.
This makes the election of Volodymyr Zelensky all the more remarkable, especially in the post-Soviet era when Holocaust denial and veneration of fascist leaders have become standard fare across Eastern Europe. We have no idea how, if at all, Zelensky's Jewishness will figure in his policy predilections. Will he be close or hostile to Vladimir Putin? Donald Trump? Benjamin Netanyahu? Will he seek to exhume Ukraine's complicated past, or regard his election as turning a new page in Ukrainian-Jewish relations?
Enter the Fray: First takes on the news of the minute »
Still, there may be some early lessons to learn. In our current moment of global illiberalism, Zelensky's election reminds us of the possibility of swimming against the tide of xenophobic populism. He, a 41-year-old Jewish comedian who played a high school teacher who became president in a television series, took on and trounced a powerful billionaire businessman known as the "Chocolate King" for his candy company. On the way to his overwhelming victory, Zelensky invoked none of the stock themes from the illiberal populist playbook: no anti-immigrant rhetoric, no railing against minorities and open borders. Neither did Zuzana Caputova, the 45-year-old environmental lawyer elected Slovakia's president last month. She campaigned and won handily on a decidedly progressive platform — pro-reproductive rights, pro-LGBT, and deeply committed to protecting all under the law.
Might Zelensky and Caputova represent a new wave of young politicians who instinctively recognize the benefits of a tolerant, multiethnic, pluralist world? Might they push back against the unabashed chauvinism that has taken root across the world, including in our own country? The case of Viktor Orban, an erstwhile liberal turned architect of "illiberal democracy" in Hungary, is a cautionary tale. But Volodymyr Zelensky has the potential of following a different path, one in which a rich Jewish history is reinserted into the story of Ukraine. This would be of immense value not only for Jews and their place in that country's history, but for Ukraine itself as it seeks to overcome its own past and the world's current dark moment.
David N. Myers is the Sady and Ludwig Kahn professor of Jewish history at UCLA, where he directs the Luskin Center for History and Policy.
Our six-week newsletter will help you make the right decision for you and your property.
You may occasionally receive promotional content from the Los Angeles Times.