Op-Ed: Trump keeps making bad American foreign policy worse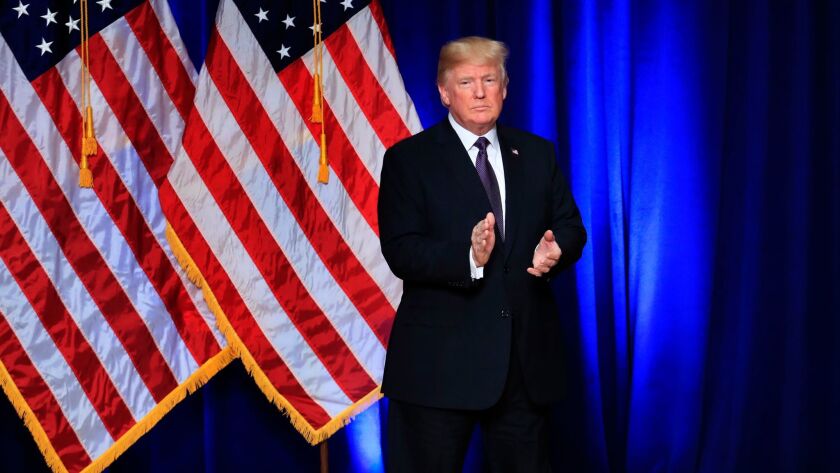 As Iran erupted in turmoil this past week, President Trump uncharacteristically offered a swift and generally constructive expression of support for the protesters. He did this via Twitter, of course, on Dec. 29, and immediately drew praise, even from his frequent critics.
But then almost as quickly, the administration's foreign policy team regrouped and torpedoed the achievement. Within a day, Trump's tweets about Iran were referring threateningly to the "vast military power of the United States" and then insultingly asserting that the Iranian people's protests were a new phenomenon among a citizenry that was "finally getting wise." The president appropriately criticized Tehran for suppressing freedom of expression and then undercut his credibility by calling on the FBI to jail his political opponents and by attacking the free press in the U.S.
Worse, Trump looks ready to back his tweets with dangerous actions. Suggesting that the lifting of sanctions in the Obama-era nuclear deal is what's driving Iranian corruption, he seems to be setting the stage for the U.S. to pull out of that agreement. That's still a bad idea. If the U.S. withdraws, it will isolate America more than Iran, fragmenting the international community when coordinated outside pressure on Tehran is exactly the kind of support the protesters need.
America's "abdication" of its world leadership role has been a long time coming.
America's inability to play a constructive leadership role in Iran is only exacerbated by the systematic erosion of U.S. diplomatic capabilities under Trump. Regionally, the president keeps shooting himself in the foot: Witness the weekend's flippant and ill-timed verbal attack on Pakistan (as China pushes for closer ties to that country and to Afghanistan), his blind support for the Israeli right wing, which keeps making it harder to come to terms with the Palestinians, and his failure to see that his policies are bolstering the Iranian regime (with help from the Russians) in Syria, Iraq and elsewhere.
Kim Jong Un, like Trump, took the opportunity of the new year to broadcast a bellicose message. With unity between South Korea and America essential to U.S. interest, it's not surprising Kim wants to facilitate a break in the alliance, and it seems the South Koreans are willing. They may seek rapprochement with the North on their own, without the inflammatory, erratic and often deeply contradictory actions and words of Trump and his team.
In all, China and other nations are scrambling to take advantage of, or at least deal with, what Council on Foreign Relations President Richard Haass has accurately called America's "abdication" of international leadership under Trump. The retreat extends to trade: The already smashed Asian trade compact and the anticipated blowup of NAFTA after a quarter-century of success. Our allies are undercut. Our enemies are strengthened. And almost every time Trump tweets, the United States seems to grow weaker and the rest of the world stronger.
Trump foreign policy calls to mind baseball manager Casey Stengel's question about the dreadful 1962 N.Y. Mets: "Can't anybody here play this game?" Sadly, however, the ghastliness is not so much in contrast with Trump's predecessors as it is an extension of their mistakes. Obama said too little, too late when protesters took to the streets of Iran in 2009. His Iran deal was at best a mixed bag, and his Syria, Iraq and Afghanistan policies fell somewhere between lousy and dreadful. George W. Bush gave us the disaster of the Iraq War.
Although Trump is in a class by himself when it comes to incompetence, greed, mendacity, absence of values and unfitness for office, America's "abdication" of its world leadership role has been a long time coming. We have gone from overreach to inertia to incompetence, and damaged our standing at every step along the way.
In part, this is because Americans seem to think we can elect presidents — five out of the last six — with very little foreign policy experience. We act as though U.S. world leadership is a God-given right rather than something that must be earned again and again. Most Americans mistakenly think the rest of the world matters little to them. Unlike the Greatest Generation, who through World War II and the Cold War came to see informed foreign policy leadership and the international system as essential to peace and our way of life, the baby boomers who took over a quarter-century ago have been complacent, distracted and then ineffectual.
Trump is without a doubt the worst foreign policy president in American history. But our international problems are not, contrary to what some might think, all about him. They are about us. The only hope for fixing things requires a national awakening; only then can we expect one in the White House.
David Rothkopf is a senior fellow at the School of Advanced International Studies at Johns Hopkins University and a visiting scholar at the Carnegie Endowment for International Peace.
Follow the Opinion section on Twitter @latimesopinionand Facebook
---
A cure for the common opinion
Get thought-provoking perspectives with our weekly newsletter.
You may occasionally receive promotional content from the Los Angeles Times.