Op-Ed: The best thing Trump could do for Israel is grow up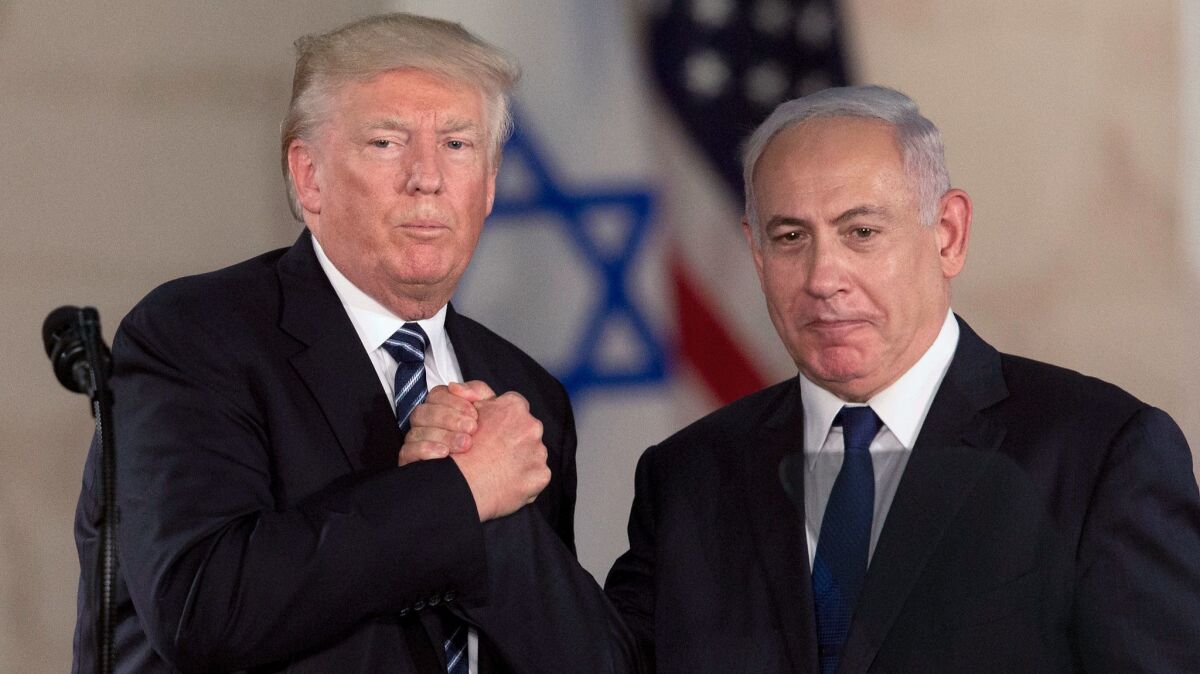 If foreign policy were composed solely of bumper stickers and hashtags, President Trump would be Israel's greatest ally. Like any good sound-bite specialist, he says all the right things when it comes to the safety and security of Israel. But international diplomacy requires more than vivid slogans; it requires smart, careful action as well. This is where Trump has underwhelmed.
White House sources indicated that Trump would declare later this week that Jerusalem is the official capital of Israel, a long-overdue decision for which he deserves credit. But his campaign promise to move the U.S. Embassy from Tel Aviv to Jerusalem appears to have been delayed yet again. His administration recently threatened to close the Palestinian Authority's office in Washington, then quietly reversed the decision. Trump was the first American president to visit the Western Wall, a welcome correction to President Obama's decision to avoid the Jewish state entirely on his first trip in office to the Middle East. But more critically, Trump carelessly shared classified Israeli intelligence in a meeting with senior Russian government officials, endangering a covert Israeli counter-terrorism unit.
Support for a Jewish state is at unprecedented risk of becoming an intractably partisan issue in American politics.
If the president is serious about enhancing Israel's security by bringing peace to the Middle East, he must move beyond the catchphrases and photo opportunities and commit his administration to a series of much more meaningful undertakings. For example:
Trump's decision last spring to take military action against Syria in the face of Bashar Assad's atrocities was a welcome reversal of his predecessor's fecklessness when confronted with this same challenge. Lately, however, Trump has largely ceded leadership in Syria to Russian President Vladimir Putin, who is allowing Iran to dramatically expand its military influence in the area. The possibility of Iran creating a "land bridge" that extends from its border to the Mediterranean Sea will place Israel at substantial risk. Trump must refocus his attention, warn Russia that peace in Syria can only come as a result of a cooperative effort, and make it clear that there is no acceptable presence for Iran in the territory closest to Israel's borders.
The Palestinian government provides financial compensation to the families of suicide bombers and other anti-Israel terrorists. Congress has been moving toward the passage of the Taylor Force Act, legislation named for a young U.S. Army veteran killed by a Palestinian terrorist. The bill would cut off American financial support to the Palestinian Authority until such compensation has been halted. But the Trump administration has slowed the act's passage by repeatedly proposing exceptions to the funding ban. If Trump truly wants to curb terrorist activity directed toward the Israeli people, he will support the Taylor Force Act without additional conditions or delay.
For Israel to survive, countries other than the U.S. must stand with her. The United States has always played a key role in building support for Israel on the world stage. Under Secretary of State Rex Tillerson, however, the U.S. Foreign Service has been dramatically downsized, leaving key diplomatic positions vacant around the globe. Israel's security is inextricably linked to our nation's global leadership and engagement. Until the Trump administration reverses the evisceration of the State Department's career officers, Israel will grow only more isolated and more endangered.
In addition to these three actions, there is one other step that Trump could take to help Israel — but it would be the most difficult and the most unlikely: For the sake of both countries, Trump should grow up.
Trump is skilled at picking fights — whether against Muslims, football players or Democrats — and at using these battles as a way to motivate his most loyal supporters. These tactics, which worked to his benefit on the campaign trail, now carry a much heavier price.
Although Democrats and Republicans have long been united in their support for Israel, Trump's penchant for confrontation, invective and nastiness may pollute the bipartisan consensus on Israel, turning a pro-Israel position into yet one more part of the Trump agenda that Democrats feel justified in rejecting. Indeed, mainstream Democrats are already facing pressure from their party's most liberal members to distance themselves from Israel. The end result is that support for a Jewish state is at unprecedented risk of becoming an intractably partisan issue in American politics.
Trump is not going to change, of course, which means the U.S. political divide over Israel will continue to deepen for the next three years. But if Trump takes my more tangible recommendations, he can demonstrate legitimate support for the state of Israel and its people.
Dan Schnur is the director of the American Jewish Committee's Los Angeles region.
Follow the Opinion section on Twitter @latimesopinion or Facebook
---
Life is stressful. Our weekly mental wellness newsletter can help.
You may occasionally receive promotional content from the Los Angeles Times.