Op-Ed: Three Earth Day lessons for Green New Deal activists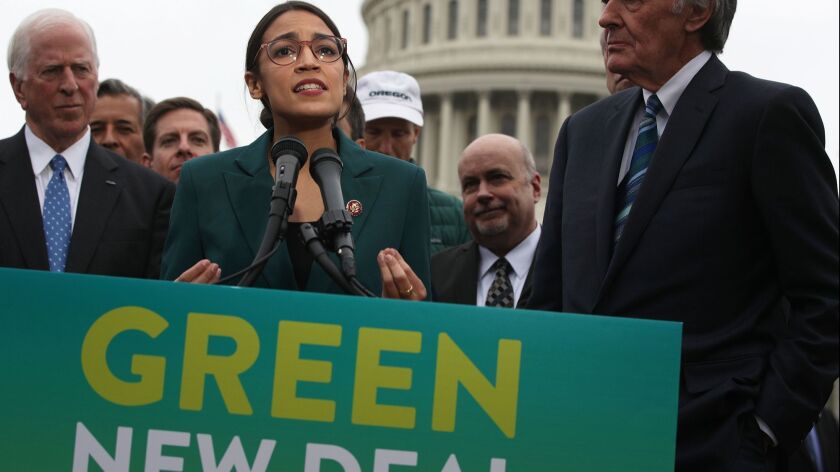 In April 1970, about 20 million Americans turned out for the first Earth Day, attending speeches, demonstrations and other community-based events in what the New York Times called "among the most participatory political actions in the nation's history."
Nearly 50 years on, the movement spawned by that historic gathering is rallying around calls for a Green New Deal to embody the aggressive action required to fight global climate change, create good-paying jobs and advance a more just and equitable society.
As Congress begins crafting legislation to turn those bold aspirations into law, the original Earth Day provides three key lessons.
First, national movements are born of local concerns.
In the year before the first Earth Day, industrial pollution was so bad in Ohio that the Cuyahoga River caught fire. An estimated 3.3 million gallons of oil spilled along the Santa Barbara coast killing thousands of birds, fish and sea mammals. Acid rain was taking out Adirondack forests. Every car in America was spewing lead into the air we breathed.
We must make sure clean-energy jobs spread to the regions and people that need them most.
Those local crises, and dozens more, sparked the national environmental movement. Similarly, climate change is imposing mounting costs and growing peril on families and communities across the country — including the drowning of the Midwest in epic spring floods, catastrophic wildfires in California and Gulf Coast hurricanes and sea-level rise.
Climate change amps up these kinds of natural disasters and makes them more devastating. That's why seven in 10 respondents told Monmouth University pollsters they expect national action to fight it.
Second, national solutions flow from local opportunities.
On the first Earth Day, neither state nor federal governments were fully organized to confront toxic pollution, reckless development or industrial ruin. We were a nation in search of solutions. It was, though, an earnest search that we faced as Americans, not something that split us into red and blue factions.
Out of a national consensus for change came bedrock federal safeguards such as the Clean Air Act, the National Environmental Policy Act, the Clean Water Act and the Endangered Species Act — laws that passed Congress with overwhelming bipartisan majorities. States set up environmental agencies to help monitor pollution and enforce those laws.
Fighting climate change now means once again connecting the dots between national policies and local opportunities.
For example, even as national climate progress stalls under President Trump, more than 3,700 city, state, business and academic leaders have pledged to put in place policies that support the aims of the 2015 Paris climate accord. And 25 cities nationwide — including Los Angeles, San Jose and San Diego — are working to accelerate climate action through participation in the Natural Resources Defense Council-sponsored American Cities Climate Challenge. Meanwhile, policies that speed a just and equitable transition to clean energy are supporting millions of good-paying local jobs.
Already, the NRDC affiliate Environmental Entrepreneurs counts about 3.3 million Americans working to make our homes and workplaces more efficient; building all-electric, hybrid and fuel-efficient cars; and helping us get clean, homegrown American power from the wind and sun. That's nearly three times the jobs fossil fuel production provides.
We must make sure these clean-energy jobs spread to the regions and people that need them most. That includes areas — rural and urban — traditionally dependent on coal, gas and oil production.
Enter the Fray: First takes on the news of the minute »
Earth Day's final lesson is connected to environmental justice. The effort Earth Day kicked off relied on grassroots citizen activism forged in the 1960s movements for civil rights, women's rights and opposition to the Vietnam War. It was about empowering people who'd not been heard to stand up, speak out and work for change. A half-century later, we must listen again to the voices that have been silenced too long, from people of color, low-income communities, indigenous people and others who often pay the highest price for environmental hazard and harm.
As a new generation brings fresh energy and ideas to the mission of protecting our environment and health, we're called to confront environmental injustice, to achieve 100% clean energy and to protect ourselves from the dangers and costs of climate change. I believe we can build on what we've learned; bridge racial, economic and political chasms; and spark a renewed national effort to save the planet and leave our children a livable world.
Rhea Suh is president of the Natural Resources Defense Council.
Follow the Opinion section on Twitter @latimesopinionand Facebook
---
A cure for the common opinion
Get thought-provoking perspectives with our weekly newsletter.
You may occasionally receive promotional content from the Los Angeles Times.